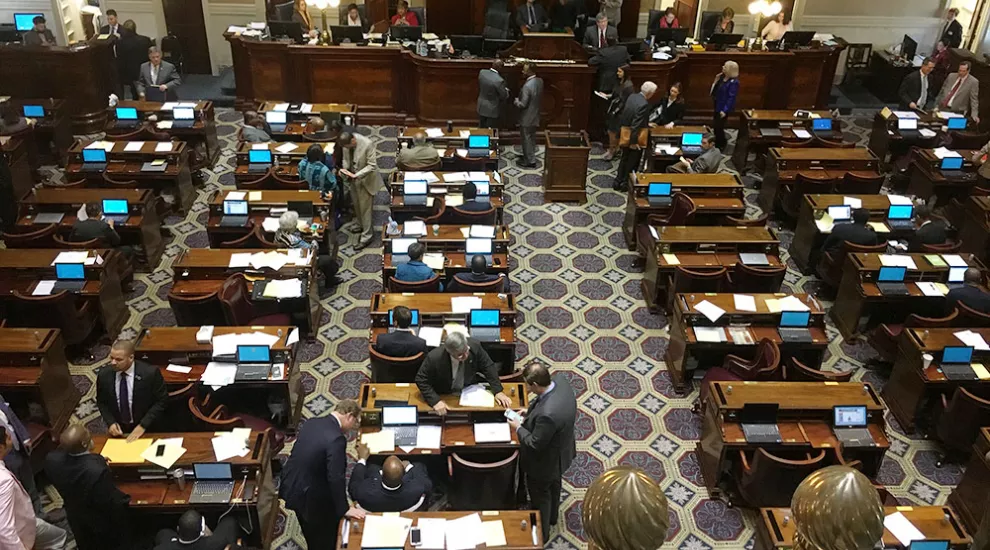 Legislative Update
February 7, 2017
Vol. 34, No. 5
The House of Representatives amended, approved, and sent the Senate H.3218, a bill to provide for "DAMS AND RESERVOIRS SAFETY ACT" ENHANCEMENTS in light of problems experienced during the catastrophic floods of October 2015 and Hurricane Matthew one year later. The legislation affords the Department of Health and Environmental Control regulatory authority over smaller dams that are currently exempt from regulation in instances where DHEC determines that the dam's failure or improper reservoir operation may cause serious damage to homes, industrial and commercial facilities, public utilities, main and secondary highways, or railroads. Such smaller dams have only been subject to DHEC regulation when the department determines that their failure may cause loss of human life. The legislation makes provisions for maintaining more extensive and up-to-date records on regulated dams and reservoirs by requiring their owners to provide DHEC annually no later than July first of each year with current contact information regarding the owner, including name, home or business address, phone number, and any email address, together with a completed dam owner checklist on a form provided by the department. The owner of a dam or reservoir classified as a high or significant hazard is required to provide DHEC annually no later than July first of each year a current emergency action plan, including updated contact information for emergency management officials, such as police, fire, EMS, or utility departments or personnel, and for downstream residents and business owners located in the inundation zone for that dam or reservoir. The legislation specifies that it is not, however, the owner's responsibility to notify any downstream residents or business owners located in the inundation zone of a failure or potential failure. The owner must, instead, notify emergency officials and DHEC's Dams and Reservoirs Safety program of the actual or potential failure, and it is the responsibility of the emergency management officials identified in the emergency action plan to inform those located in the inundation zone and to cause them to be evacuated if it is considered necessary. Under the legislation, DHEC shall not require any changes to a dam or its appurtenant works due to the reclassification of the dam unless failure would likely cause loss of life, or the department, through inspection, identifies repairs that must be made.
The House amended, approved, and sent the Senate H.3340, a bill addressing the REPAIR OF ROADS IN THE STATE HIGHWAY SYSTEM THAT RAN ALONG THE TOP OF BREACHED DAMS. In the interest of public health and safety, the legislation establishes deadlines for the owner of a failed or breached dam which has a public road or highway in the state highway system running across the top of it to provide a written notification to the State Department of Transportation and the Department of Health and Environmental Control indicating whether or not the owner intends to repair the dam to appropriate standards and the date by which the repairs are anticipated to be completed. Provisions are made for notifying dam owners of these reporting requirements. The legislation establishes a protocol for how the Department of Transportation is to proceed with road repair efforts if no written communication is received from a dam owner, if a communication indicates a dam owner does not intend to repair the dam, or if intended dam repairs are not completed as scheduled.
The House approved and sent the Senate H.3221, a bill establishing a statewide program for ADDRESSING UNSOUND SCHOOL DISTRICT FINANCES which affords the State Department of Education authority that extends beyond academic matters to include fiscal affairs. Under the legislation, the State Department of Education is to work with district superintendents and finance officers to develop and adopt a statewide program with guidelines for: (1) identifying fiscal practices and budgetary conditions that, if uncorrected, could compromise the fiscal integrity of a school district; and (2) advising districts that demonstrate these financial problems on the corrective actions that should be taken. The department must establish three escalating levels of fiscal and budgetary concern so that the State Superintendent of Education can declare a 'fiscal watch', a 'fiscal caution', and a 'fiscal emergency' with regard to school district finances. The succeeding levels of budgetary concern carry increasingly stringent requirements for school district recovery plans, audits, and inspections as well as more intensive technical support from the state department. Should a school district's finances warrant the most severe level of concern prompting the State Superintendent of Education to declare a 'fiscal emergency', the State Department of Education is authorized to take intensive steps including assuming control over the district's financial operations to preclude a default on any type of debt and prevent further decline in the district's finances.
The House amended, approved, and sent the Senate H.3220, a bill reestablishing the SOUTH CAROLINA EDUCATION AND ECONOMIC DEVELOPMENT COORDINATING COUNCIL to review the progress, results, and compliance with the Education and Economic Development Act and to make recommendations for better achieving the act's goals of implementing career pathways in the state's public schools and fostering a better prepared workforce and student success in postsecondary education. The council is comprised of the following members representing the geographic regions of the state and must be representative of the ethnic, gender, rural, and urban diversity of the state: (1) State Superintendent of Education or his designee; (2) Executive Director of the South Carolina Department of Employment and Workforce or his designee; (3) Executive Director of the State Board for Technical and Comprehensive Education or his designee; (4) Secretary of the Department of Commerce or his designee; (5) Executive Director of the South Carolina Chamber of Commerce or his designee; (6) Chief Executive Officer of the South Carolina Manufacturers Alliance or his designee; (7) Executive Director of the South Carolina Commission on Higher Education or his designee; (8) Executive Director of the Office of First Steps to School Readiness or his designee; (9) the following members who must be appointed by the State Superintendent of Education: (a) a school district superintendent; (b) a principal; (c) a school guidance counselor; (d) a teacher; and (e) the director of a career and technology center; (10) the following members who must be appointed by the Chairman of the Commission on Higher Education: (a) the president or provost of a research university; (b) the president or provost of a four-year college or university; and (c) the president of a technical college; (11) ten representatives of business appointed by the Governor, at least one of which must represent small business and one whom must represent the health care industry. Of the representatives appointed by the Governor, five must be recommended by statewide organizations representing business and industry. The chair is to be selected by the Governor from one of his appointees; (12) Chairman of the Education Oversight Committee or his designee; (13) a member from the House of Representatives appointed by the Speaker of the House; and (14) a member from the Senate appointed by the President Pro Tempore. A sunset provision is included in the legislation so that the council will expire after five years unless it is reauthorized by the General Assembly.
The House approved and sent the Senate H.3442, a bill AFFIRMING RIGHTS TO ADOPT CHILDREN IN THE TEMPORARY CUSTODY OF THE DEPARTMENT OF SOCIAL SERVICES in response to recent South Carolina court opinions that the state's laws do not accommodate such adoptions.
The House approved and sent the Senate H.3517, a bill providing SPECIAL AUTHORIZATION FOR CHARITABLE HUNTING AND FISHING PROGRAMS FOR TERMINALLY ILL YOUTH. Under the legislation, the Director of the Department of Natural Resources may issue special authorization for hunting and fishing to any person not more than twenty-one years of age who has been diagnosed with a terminal or life threatening illness or injury where all license, tags, and fees are waived. Those seeking special authorization must be sponsored by a nonprofit charitable organization that has within its mission to provide opportunities and experiences to persons with life threatening illnesses or injuries.
The House amended, approved, and sent the Senate H.3531, a bill that imposes RESTRICTIONS ON THE OWNERSHIP OF LARGE WILD CATS, NON-NATIVE BEARS AND GREAT APES as a means of protecting conservation efforts for the welfare of vulnerable, threatened, and endangered species and protecting the public against potential safety risks relating to holding these wild animals in captivity. The legislation's restrictions on keeping all lions, tigers, leopards, jaguars, cougars, cheetahs, snow leopards, and clouded leopards, all bears that are not native to South Carolina and not subject to oversight by the state's Department of Natural Resources, and all species of chimpanzees, gorillas, and orangutans do not apply to a list of exemptions, such as nonprofit animal protection organizations, veterinary hospitals, university laboratories and research facilities, and properly licensed zoos, circuses, and animal breeders. The legislation provides that it is unlawful for a person to import into, possess, keep, purchase, have custody or control of, breed, or sell within this state, by any means, a large wild cat, non-native bear, or great ape, including transactions conducted via the Internet. Someone in legal possession of a large wild cat, non-native bear, or great ape prior to January 1, 2018, is authorized to keep the animal for the remainder of its life subject to the conditions of the legislation which include registering the animal with the animal control authority for the city or county in which the animal is located and immediately notifying the animal control authority and local law enforcement agencies upon discovery that the animal has escaped. The possessor of the animal shall be liable for any and all costs associated with the escape, capture, and disposition of a registered animal. The legislation makes provisions for animal registration, including fees, inspections by local animal control authorities, and the confiscation of noncompliant animals. A violator of the legislation must be fined not more than one thousand dollars or imprisoned for not more than thirty days for a first offense, and must be fined not more than five thousand dollars or imprisoned for not more than ninety days for a second offense.
The House amended, approved, and sent the Senate H.3289, a bill relating to VEHICLE SPACING by revising provisions specifying the distance that must be maintained between vehicles traveling along a highway to provide that these distance requirements do not apply to an operator of any non-leading vehicle travelling in a procession of vehicles when the speed of each vehicle is automatically coordinated. The legislation accommodates driving practices allowed by newer technologies, such as the arrangement known as platooning where trucks are able to follow one another closely in order to reduce wind resistance by using wireless technology to coordinate the vehicles' braking and acceleration.
The House amended, approved, and sent the Senate H.3296, a bill providing authority for the Department of Motor Vehicles to issue VIRGINIA TECH SPECIAL LICENSE PLATES.
HOUSE COMMITTEE ACTIONLABOR, COMMERCE AND INDUSTRY
The House Labor, Commerce and Industry Committee met on February 1 and gave a report of favorable with amendments on H.3529, a bill establishing the GENERAL ASSEMBLY'S EXCLUSIVE AUTHORITY OVER THE REGULATION OF AUXILIARY CONTAINERS, such as plastic grocery bags, disposable cups, and takeout food boxes. This legislation provides that any regulation regarding the use, disposition, sale, or any imposition of any prohibition, restriction, fee imposition, or taxation of auxiliary containers must be done only by the General Assembly. This authority supersedes and preempts any local ordinance enacted by a political subdivision, but the legislation only applies to auxiliary container regulations enacted after January 1, 2017. The legislation does not impose limitations on county or municipal ordinances regulating solid waste disposal or recycling programs and does not apply to the use of auxiliary containers on a property owned by a county or municipality. Under the legislation, an "auxiliary container" means a bag, cup, package, container, bottle, or other packaging that is: (1) designed to be either reusable or single-use; (2) made of cloth, paper, plastic, including foamed or expanded plastic, cardboard, expanded polystyrene, corrugated material, aluminum, glass, postconsumer recycled, or similar material or substrates, including coated, laminated, or multilayer substrates; and (3) designed for, but not limited to, consuming, transporting, or protecting merchandise, food, or beverages from or at a food service or retail facility.
BILLS INTRODUCED IN THE HOUSE THIS WEEK
AGRICULTURE, NATURAL RESOURCES AND ENVIRONMENTAL AFFAIRS
H.3601 BEAR HUNTING Rep. Clemmons
Among many things, the bill increases the nonresident fee from $100 to $300 to obtain a bear tag. The bill also deletes the provision that provides for the random drawing of tags by bear tag applicants in games zones other than Game Zone 1. The bill states that open season for hunting and taking bear in Game Zone 4 for still gun hunts is October 17 through October 30. The hunting and taking of bear on private lands in Game Zone 4 is October 17 through 30.
H.3665 SIZE LIMIT FOR FLOUNDER Rep. Hixon
The bill increases the size limit from 14 inches to 15 inches for flounder that may be lawfully taken, possessed, landed, sold or purchased.
EDUCATION AND PUBLIC WORKS
S.197 MOPEDS Sen. Hembree
This bill relates to the various provisions governing licenses and mopeds.
S.198 PERMITS AND LICENSES Sen. Shealy
This bill provides that a minor may apply for a beginner's permit, instruction permit, or driver's license under the authorization of a responsible adult willing to assume the obligation imposed.
H.3615 DYLAN PAUL MITCHELL BICYCLE AND PEDESTRIAN SAFETY ACT Rep. Herbkersman
This bill enacts the "Dylan Paul Mitchell Bicycle and Pedestrian Safety Act" and involves changes to the laws governing bicyclists operating bicycles with helper motors and to pedestrian control signals and the attendant laws governing a pedestrian's right of way in a crosswalk.
H.3618 SCHOOL HOLIDAYS Rep. Atwater
This bill provides that Martin Luther King, Jr. Day and Memorial Day must be recognized as holidays for all local school districts of the state and that the schools and offices of the districts must be closed on those dates.
H.3646 JUNKYARD TRANSACTIONS Rep. Henderson
This bill provides that any transaction by anyone engaged in the business of operating a junk yard or salvage yard that involves a junk automobile or salvage automobile must be reported to the Department of Motor Vehicles in an electronic format and to provide a penalty for failure to comply with this provision.
H.3663 HEALTHY YOUTH ACT Rep. Bernstein
This bill enacts the "Healthy Youth Act", relating to definitions in the comprehensive health education program and relates to the requirement that the State Board of Education adopt certain related instructional units, so as to require such units must be evidence-based beginning with the 2018-2019 school year.
JUDICIARY
H.3599 SOUTH CAROLINA EQUAL PAY FOR EQUAL WORK ACT
Rep. Cobb-Hunter
Enacts the "South Carolina Equal Pay for Equal Work Act" to prohibit paying a worker of one sex a lesser wage than what is paid to a worker of the opposite sex for work that requires the same knowledge, skill, effort, and responsibility. Provides definitions for "commissioner," "employ," "employee," "employer," "occupation," and "wage." Specifies exceptions to this general prohibition as well as procedures to be followed by employees who experience this wage discrimination. Allows judicial remedies for violations.
H.3602 LIMITED ATTORNEY GENERAL REIMBURSEMENTS
Rep. Cobb-Hunter
Lists the specific reimbursements that the Attorney General may claim after representing our state in judicial proceedings. The Attorney General may obtain these reimbursements after approval by the Department of Administration.
H.3605 CONFEDERATE FLAGS Rep. King
Prohibits the South Carolina Infantry Battle Flag of the Confederate States of America, or any other confederate flag, from being flown or displayed in or on any public building, except for a museum.
H.3606 CHILD SUPPORT ENFORCEMENT VIA LICENSE REVOCATION
Rep. King
Revises, for the purposes of child support enforcement, the list of licenses that may be revoked due to nonpayment of child support. Removes driver's licenses, commercial licenses, and other professional licenses from this list.
H.3617 PROTECTION FOR PEOPLE WITH DISABILITIES
Rep. Collins
Transfers the administration of the S.C. Protection and Advocacy System for the Handicapped Program to the entity known as Protection and Advocacy for People with Disabilities, Inc.
H.3619 TATTOOING AND PIERCING COMPANION ANIMALS Rep. Atwater
Prohibits the tattooing or piercing of companion animals. Specifies exceptions to these prohibitions. Defines the term "companion animal." Sets penalties for violations.
H.3641 REVENGE PORN ACT Rep. Bernstein
The "Revenge Porn Act" criminalizes unlawfully disseminating sexually explicit materials without the consent of the person depicted. Establishes penalties for violations.
H.3643 ANTISEMITISM AS DISCRIMINATION Rep. Clemmons
Requires higher learning institutions statewide to consider the "antisemitism" definition contained in this proposed legislation when reviewing, investigating, or deciding whether there has been an institutional policy violation of any policy prohibiting religious discriminatory practices. Nothing in this proposed legislation is to be construed to diminish or infringe upon any rights afforded by the First Amendment to the US Constitution or Section 2, Article I of the SC Constitution.
H.3645 PUBLIC SERVICE RETIREMENT BENEFITS FORFEITURE Rep. Ballentine
Before taking public office, South Carolina public officials must first acknowledge that they will forfeit all retirement benefits attributable to their service in that office if they are convicted, plead guilty, or enter a nolo contendere plea to listed crimes stemming from actions taking place during their term in office. This legislation would apply to state public officials who were not members of any state retirement system before July 1, 2017.
H.3662 STRANGULATION DESIGNATED A FELONY CRIME Rep. Willis
Makes strangulation a felony offense. Provides an affirmative defense to this criminal charge if the strangulation occurred as part of a legitimate medical procedure.
LABOR, COMMERCE AND INDUSTRY
H.3607 REGULATING THE RELATIONSHIP BETWEEN RECREATIONAL VEHICLE DEALERS, MANUFACTURERS AND SUPPLIERS Rep. Hayes
This bill establishes procedures that regulate the relationship between recreational vehicle dealers, manufacturers and suppliers for the purpose of maintaining competition, and providing consumer protection and fair trade.
H.3644 RESIDENT VENDOR PREFERENCES IN STATE PROCUREMENT PROVISIONS Rep. Bernstein
This bill revises resident vendor preferences, so as to provide that, before making a final award determination, the procurement officer shall provide resident bidders with the opportunity to match the lowest nonresident bid and give preference to a resident bidder who matches the lowest nonresident bid price.
H.3647 RESALE VACATION TIMESHARE SERVICES Rep. Sandifer
This bill revises provisions for vacation time sharing plans to establish requirements of resale vacation timeshare services and providers of these services.
H.3648 "DEPARTMENT OF WORKFORCE STATUTORY REVIEW STUDY COMMITTEE" Rep. G. R. Smith
This bill revises provisions relating to the reports concerning the Unemployment Trust Fund made by the Department of Employment and Workforce Review Committee, so as to remove requirements concerning cost-shifting, and to create the "Department of Workforce Statutory Review Study Committee" to review recommendations of the Legislative Audit Council and recommend statutory changes needed to implement recommendations of the council.
H.3649 JURISDICTION OF THE BOARD OF ARCHITECTURAL EXAMINERS Rep. Crawford
This bill makes revisions relating to rules and officers of the Board of Architectural Examiners, so as to provide the board may provide advice and make recommendations to the Department of Labor, Licensing and Regulation concerning the development of statutory revisions and other matters as the department requests concerning the administration of architectural practice statutes. The legislation makes revisions to the jurisdiction of the board. The legislation revises exceptions under the architecture practice act to revise criteria for certain exempt buildings and detached single-family or two-family dwellings.
H.3650 "SOUTH CAROLINA BUSINESS LICENSE TAX STANDARDIZATION ACT" Rep. Sandifer
This bill enacts the "South Carolina Business License Tax Standardization Act" to provide the sole manner in which a county or municipal business license tax may be imposed, including duration, calculation, and payment.
H.3651 DISALLOWING THE COLLECTION OF BUSINESS LICENSE TAXES AND INSURANCE PREMIUM TAXES BY MUNICIPAL AGENTS Rep. Sandifer
This bill provides that the Municipal Association of South Carolina or any other nongovernmental entity may not collect a business license tax, a business license tax levied by a municipality on the sale of telecommunication services, an insurance premium tax or broker's premium tax on behalf of a municipality or any other political subdivision.
H.3652 ACCEPTABLE PIPING MATERIAL IN LOCAL GOVERNMENT PROCUREMENT PROJECTS Rep. Forrester
This bill provides that county governments, municipalities, school districts, water or sewer districts, special purpose districts, and other governmental agencies are required to consider all piping material in determining project requirements when state funds are used for a water supply, wastewater, stormwater, or storm drainage project. These provisions do not prohibit an official or an engineer of the governmental agency from choosing a piping material in its discretion for such projects.
H.3653 NUISANCE SUITS RELATED TO MANUFACTURING AND INDUSTRIAL USES OF REAL PROPERTY Rep. Forrester
This bill establishes provisions limiting nuisance suits related to manufacturing and industrial uses of real property.
WAYS AND MEANS
S.58 "PORT ENHANCEMENT ZONE ACT" Sen. J. Matthews
This bill enacts the "Port Enhancement Zone Act" to provide tax credits and incentives to facilitate the development of cargo handling facilities in a trade zone located within a twenty-three mile radius of the intersection of two interstate highways that is no more than sixty miles from the Port of Charleston and is capable of being used to enhance port operations.
S.67 FEES FOR THE REDEVELOPMENT OF CERTAIN FEDERAL INSTALLATIONS Sen. Hutto
This bill revises provisions relating to redevelopment fees for the redevelopment of certain federal installations.
S.250 UPDATING STATE TAX LAW REFERENCES TO THE FEDERAL INTERNAL REVENUE CODE Sen. Leatherman
This bill makes provisions for updating references to the federal Internal Revenue Code in state income tax laws.
H.3600 EMPLOYEES AND RETIREES, AND THEIR DEPENDENTS, OF ANY POLITICAL SUBDIVISION OF THE STATE ALLOWED TO PARTICIPATE IN THE STATE HEALTH PLAN Rep. Felder
This bill revises eligibility criteria to allow employees and retirees, and their dependents of a political subdivision of the State of South Carolina, or a governmental agency or instrumentality of such a political subdivision, to participate in the State Health Plan.
H.3609 AUTHORIZATION FOR NONPROFIT CORPORATIONS TO TRANSFER TAX CREDITS Rep. Neal
This bill provides authorize a nonprofit corporation to transfer tax credits unless the transfer of a credit is specifically prohibited. To be effectual, such a transfer requires written notification to, and approval by, the Department of Revenue with the transferred credit maintaining all of its original attributes in the hands of the recipient. Unless specifically authorized, the recipient may not transfer the acquired credit.
H.3610 COMPENSATION FOR SOUTH CAROLINA HIGHWAY PATROL OFFICERS WORKING OVERTIME Rep. Bamberg
This bill revises provisions relating to compensatory time for working overtime, so as to provide that an officer of the South Carolina Highway Patrol may elect either compensatory time or payment at one and one-half times the officer's regular rate of pay in exchange for working overtime.
H.3614 "REGULATORY REVIEW AND RESCISSION ACT" Rep. Atwater
This bill enacts the "Regulatory Review and Rescission Act" to establish a process for subjecting regulations to a cost-benefit analysis performed by the Revenue and Fiscal Affairs Office. The Governor is authorized to rescind a regulation if the Revenue and Fiscal Affairs Office determines the costs exceed the benefits.
H.3616 INCOME TAX DEDUCTION FOR INDIVIDUALS EXHIBITING SAFE DRIVING HABITS Rep. Hart
This bill provides that if a resident individual taxpayer does not receive any points on his driving record, has not been involved in a motor vehicle accident, and does not have his license suspended, revoked, or cancelled during the tax year, then the individual is allowed a deduction from South Carolina taxable income equal to two hundred fifty dollars. The amount of the credit shall increase by two hundred fifty dollars each consecutive year thereafter in which the person meets the same requirements, except that the deduction may not exceed one thousand dollars.
H.3620 INCOME TAX CREDITS FOR PROVIDING MEDICAL AND NURSING CARE IN UNDERSERVED AREAS Rep. G. M. Smith
This bill establishes provisions for income tax credits for each clinical rotation served by a physician, advanced practice nurse, or physician assistant as a preceptor for certain programs providing health care to underserved areas.
H.3642 FORMER MEMBERS OF THE GENERAL ASSEMBLY WHO COMMIT CERTAIN CRIMES ARE INELIGIBLE TO PARTICIPATE IN STATE HEALTH AND DENTAL PLANS Rep. Ballentine
This bill revises eligibility provisions for the State Health and Dental Plans, so as to disallow certain former members of the General Assembly from participating in the plans if the member is convicted of, pleads guilty or no contest to a crime that is a felony, a crime that involves moral turpitude, a crime that has a sentence of two or more years, or a crime that violates election laws.
H.3664 REVISIONS TO THE SURTAX ON CIGARETTES Rep. Bernstein
This bill makes revisions relating to the surtax on cigarettes. The legislation revises the definition of "cigarette", so as to change the weight limitation on cigarettes from three pounds or less per one thousand cigarettes to four and one-half pounds or less per one thousand cigarettes and to exempt those wrapped totally in tobacco leaf with no filter, and to define "cigarette" to include 0.325 ounces of tobacco likely intended to be purchased to roll your own cigarettes. The legislation requires the Director of the Department of Revenue to determine if there are barriers to the enforcement or collection of cigarette taxes, to make recommendations to remove these barriers, and to report findings to the General Assembly.
H.3666 DEPARTMENT OF MENTAL HEALTH CRISIS STABILIZATION UNIT FACILITIES Rep. G. M. Smith
This bill makes provisions for a crisis stabilization unit facility operated or authorized by the Department of Mental Health which provides a short-term residential program offering psychiatric stabilization services, detoxification services, and brief, intensive crisis services twenty-four hours a day, seven days a week. The legislation exempts a crisis stabilization unit facility from the Certificate of Need process and requires a crisis stabilization unit facility to obtain a license from the Department of Health and Environmental Control.
The Legislative Update is on the Worldwide Web. Visit the South Carolina General Assembly Home Page (http://www.scstatehouse.gov) and click on "Publications," then click on "Legislative Updates." This will list all of the Legislative Updates by date. Click on the date you need. Also available on the website is a bill summary index, where bills referenced in one or more issues of the Legislative Update are listed in numeric order. Links to the specific text of the Legislative Update issue are provided in the bill summary index.
NOTE: THESE SUMMARIES ARE PREPARED BY THE STAFF OF THE SOUTH CAROLINA HOUSE OF REPRESENTATIVES AND ARE NOT THE EXPRESSION OF THE LEGISLATION'S SPONSOR(S) OR THE HOUSE OF REPRESENTATIVES. THEY ARE STRICTLY FOR THE INTERNAL USE AND BENEFIT OF MEMBERS OF THE HOUSE OF REPRESENTATIVES AND ARE NOT TO BE CONSTRUED BY A COURT OF LAW AS AN EXPRESSION OF LEGISLATIVE INTENT.