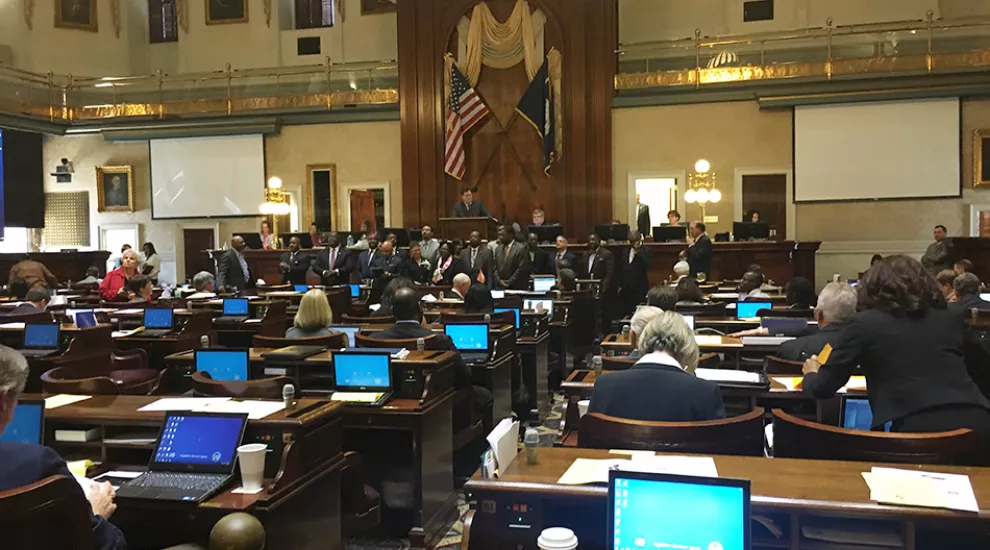 Legislative Update
February 21, 2017
Vol. 34, No. 7​
The House of Representatives amended, approved, and sent the Senate H.3429, a bill providing for ADDITIONAL EXEMPTIONS IN BANKRUPTCY PROCEEDINGS. The legislation allows a surviving spouse, who has not remarried, to claim the deceased's homestead exemption in a bankruptcy proceeding by adding an exemption from attachment, levy, or forced sale that applies to up to fifty thousand dollars owned in the inherited residence. The legislation also adds an exemption in bankruptcy proceedings that applies to no more than ten thousand dollars in value in any rifle, shotgun, pistol, or any combination of those firearms owned by the debtor.
The House approved and sent the Senate H.3176, a bill providing for more expansive IRA EXEMPTIONS FROM ATTACHMENT IN BANKRUPTCY PROCEEDINGS by eliminating the current limitation that individual retirement accounts and other similar plans are exempt from attachment, levy, and sale, only to the extent permitted under Section 522(d) of the Federal Bankruptcy Code.
The House amended, approved, and sent the Senate H.3515, a joint resolution addressing SCHOOL DAY WAIVERS IN DISTRICTS AFFECTED BY HURRICANE MATTHEW. The legislation provides for the waiver of five or fewer days for schools in counties for which federal major disaster declarations were made as a result of Hurricane Matthew. The provisions of this joint resolution apply to school districts in Allendale, Bamberg, Barnwell, Beaufort, Calhoun, Charleston, Clarendon, Colleton, Darlington, Dillon, Dorchester, Florence, Georgetown, Hampton, Horry, Jasper, Lee, Marion, Marlboro, Orangeburg, Sumter, and Williamsburg Counties that missed school days due to Hurricane Matthew in October of 2016. The districts must first make up the statutorily required three days, the local district three day wavier and also the State Board three day wavier. If a district needs more than those nine days, this legislation authorizes the local board to waive up to five additional days.
HOUSE COMMITTEE ACTIONAGRICULTURE, NATURAL RESOURCES AND ENVIRONMENTAL AFFAIRS
The full Agriculture, Natural Resources and Environmental Affairs committee met on Thursday, February 16, 2017 and reported our several bills.
H.3619, legislation prohibiting TATTOOS AND PIERCINGS FOR PETS, was given a favorable recommendation by the committee. The legislation prohibits the piercing or tattooing of a companion animal except for when conducted by veterinarians for purposes of providing means of identification or supplying a medical benefit. The legislation defines a companion animal as any animal that is kept inside a residential dwelling and any dog or cat regardless of where it is kept. The definition does not include livestock, fowl, or any wild animal. A violation is a misdemeanor subject to a fine of up to one thousand dollars and/or imprisonment for up to thirty days. The provisions do not apply to a person who is the owner or possessor of a companion animal that has any piercing or tattooing before the effective date of this provision.
The full committee gave a favorable with amendment recommendation to H.3719, a bill dealing with the regulation of CAMPFIRES. As a result of a wildfire last year that caused a huge financial loss to the state, the legislation outlines that, in the interest of public safety, the State Forester may prohibit all open burnings regardless of whether a permit or notification is required, including campfires, bonfires, and other fires for recreational purposes. The legislation does not apply to fires used for nonrecreational purposes such as those for human warmth or for the preparation of food for immediate consumption.
Violators may be deemed guilty of a misdemeanor or upon conviction, may be fined not more than two hundred dollars or imprisoned for not more than thirty days for a first offense. For any second or subsequent offense, a fine of not less than five hundred dollars or imprisonment for not more than sixty days or both.
The committee gave a favorable report to H.3698, a bill that revises the period of time for open season STRIPED BASS fishing extending by 15 days. The bill outlines that in the Santee River system from October first through June 15, it is unlawful to take or possess a striped bass less than twenty-three inches or greater than twenty-five inches, provided that one striped bass taken or possessed may be greater than thirty-six inches.
The bill also deletes the provision that requires the Department of Natural Resources to conduct a study of the striped bass fishery on the Santee and Cooper River Systems.
The committee gave a favorable with amendment report to H.3665, a bill that increases the SIZE LIMIT FOR FLOUNDER from 14 inches to 15 inches statewide. In addition, the bill also reduces the bag limit from 15 to 10 in a day and from 30 to 20 in a day on a boat.
JUDICIARY
The House Judiciary Committee met Tuesday, February 14, 2017 and passed out two bills.
The full committee gave a favorable recommendation, with amendments, to H.3240 NATIONAL CONCEALED WEAPONS PERMIT RECIPROCITY ACT that would enact the "National Concealed Weapons Permit Reciprocity Act." Valid out-of-state concealed weapons permit holders who are 21 years or older would be allowed to carry their permitted weapon in our state so long as they do so in compliance with South Carolina concealed weapon permit laws. This age limit does not apply to active or reserve members of the military or the National Guard.
It also gave a favorable recommendation, with amendments, to H.3565 ADMINISTRATIVE APPEAL AUTOMATIC STAY. This legislation establishes, under the SC Administrative Procedures Act, an automatic 30-day stay of any license denials, revocations, suspensions, approvals, or renewals when a contested case hearing is requested. Also lists circumstances when this automatic stay may be lifted or extended by the Administrative Law Court judge. Furthermore, when a preliminary injunction is requested during the pendency of the appeal, an appeal bond may be required. However, state agencies are exempt from this bonding requirement.
MEDICAL, MILITARY, PUBLIC AND MUNICIPAL AFFAIRS
The Medical, Military, Public and Municipal Affairs met on Tuesday, February 14, 2017 and reported out several bills.
H.3420, a Joint Resolution creating the SHINGLES VACCINATION STUDY COMMITTEE, was given a favorable recommendation from the full committee. Currently, the shingles vaccine is given to the uninsured and the underinsured at county health clinics. This bill creates this committee to study and determine whether DHEC should establish a shingles vaccination program for all adults over 60 years of age. The study committee is to be comprised of a representative from DHEC's Division on Health Services, to serve as chairperson; SC Medical Association, appointed by the Governor; USC's Arnold School of Public Health, appointed by the Governor; SC Pharmacy Association, appointed by the Governor; USC's College of Pharmacy, appointed by the Governor; SC House of Representatives 3M committee, appointed by the committee's chairperson; and SC Senate Medical Affairs Committee, appointed by the committee's chairperson. Members of this study committee will serve without mileage, per diem or subsistence.
The Senate and the House staff will assist the study committee. A report will be due to the General Assembly by December 31, 2017, at which time the study committee will dissolve.
The committee gave a favorable with amendment recommendation to H.3438, a bill regarding INTERCHANGEABLE BIOLOGICAL PRODUCTS. This bill revises the SC Pharmacy Practice Act and allows a pharmacist to substitute an FDA approved interchangeable biological product for a prescribed reference product. When a substitution is dispensed it must be noted as a substitution on the prescription label unless the prescribing practitioner indicates that information should not appear on the label.
Within five business days following the dispensing of a biological product, the pharmacist must make an accessible electronic record entry of the specific biological product provided to the patient, including the name of the biological product and the manufacturer. This information may be made accessible through an interoperable electronic medical records system; an electronic prescribing technology; a pharmacy benefit management system; or a pharmacy record.
The bill also requires the Pharmacy Board to maintain a link on its website to the current list of all biological products that the FDA has determined to be interchangeable biological products.
Finally, the committee gave a favorably with amendment recommendation to H.3349, a bill revising the provisions of the NURSE LICENSURE COMPACT. The Nurse Licensure Compact, consisting of 25 states including South Carolina, allows a nurse who is licensed and is in good standing in a compact state to practice in any of the other compact states.
This bill revises South Carolina's existing nurse licensure compact statute to be in compliance with the updated model legislation. The updated nurse licensure compact adds a requirement for a fingerprint based criminal background check, which already is a requirement for licensure as a nurse in South Carolina. If a nurse's criminal background check is positive for a felony, the nurse will not be issued a multistate license. A positive finding includes a conviction, being found guilty or entering into an agreed settlement of a felony. A nurse with a positive felony background may be issued a single-state license in his or her home state if allowed under that state's practice act. If a nurse's criminal background check shows a conviction, being found guilty or entering into an agreed settlement for a misdemeanor offense related to the practice of nursing, a case-by-case analysis will be made before a multistate license is issued. A nurse with a positive misdemeanor offense may be issued a single-state license in his or her state according to that state's practice act.
A nurse who holds a multistate licensed under the current compact will be grandfathered in and is not affected by the new provision concerning positive background checks. A nurse enrolled in an alternative program (i.e. rehabilitation/treatment program) will have his or her multistate privilege converted to a single state license from the primary state until completion of the rehabilitation/treatment program. The update requires graduates from foreign nursing schools to pass an English proficiency examination. It creates a joint public entity known as the Interstate Commission of Nurse Licensure Compact Administrators with rulemaking authority that will be legally binding in all member states. It includes procedural requirements that are based on the national Model Administrative Procedures Act. The update revises dispute resolution and enforcement provisions to address compliance issues with the compact provisions by member states.
WAYS AND MEANS
The Ways and Means Committee met on Thursday, February 16, and gave a report of favorable with amendments on H.3726, the RETIREMENT SYSTEM FUNDING AND ADMINISTRATION ACT. This bill implements recommendations of the joint legislative committee formed to study the unfunded liability facing the state retirement systems and propose changes that could allow the state's pensions to remain viable by continuing to deliver benefits to retirees without undermining the state's finances.
The legislation decouples employer and employee contribution rates into pension systems by eliminating the required differential between the two rates which is currently set at 2.9% for the largest pension plan, the South Carolina Retirement System which serves most state government employees, teachers, various local government employees, and others, and 5% for the Police Officers Retirement System. A 2% increase in the employer contribution rates for these systems effective July 1, 2017, so that the SCRS employer contribution rate will increase from the current 11.56% to 13.56% and the PORS employer contribution rate will increase from the current 14.24% to 16.24%. Each year thereafter, a 1% increase in scheduled for these employer contribution rates until Fiscal Year 2023. The legislation increases and places a cap on the employee contribution rate for these systems with the SCRS employee contribution rate increasing from the current 8.66% to 9% and the PORS employee contribution rate increasing from the current 9.24% to 9.75%. The assumed rate of return on pension plan investments is reduced from 7.5% to 7.25%. Future changes to the assumed rate of return, beginning no later than Fiscal Year 2022, are to be recommended by the Public Employee Benefit Authority, with the General Assembly afforded an opportunity to disagree with PEBA's recommendation prior to the new rate taking effect. The total cost contemplated for state general fund agencies and the Education Improvement Act for both SCRS and PORS is $73.6 million for Fiscal Year 2018 and an additional $36.8 million for each of the next 5 years. The amortization period for unfunded liabilities is reduced from 30 years to 20 years over the course of the next 10 years. By applying the 2% employer contribution rate increase in year 1, the funding period will be reduced an additional 3 years in the first year, and an additional $100 million payment would be applied to the negative interest payment, which is now approximately $220 million annually.
The legislation implements recommendations for improving governance of the retirement systems and simplifying lines of authority which draw upon findings of South Carolina's Legislative Audit Council and the private firm that conducted the independent audit of the state's pension systems. The legislation provides greater definition for the role of the Executive Director of the Public Employee Benefit Authority, who is designated by PEBA's Board of Directors and serves and the pleasure of the board. PEBA's organizational structure is clarified such that all employees are hired by and report to the Executive Director. The legislation provides revisions for PEBA's Board of Directors in order to: extend terms for board members from two years to five years to match terms of the Retirement System Investment Commission; stagger terms so that they do not all expire at the same time; include diversity language for new appointees; allow for board members to be removed only for cause by the Governor; and, require the board to meet quarterly rather than monthly. The Board of Directors and Executive Director are named fiduciaries of PEBA, and penalties are established for failing to fulfill fiduciary responsibilities that are identical to those already established for the Retirement System Investment Commission. The legislation provides greater definition for the role of the Chief Executive Officer of the Retirement System Investment Commission, who is designated by the commission and serves at the commission's pleasure. The organizational structure of the RSIC is clarified such that all employees, including the Chief Investment Officer, report to the CEO. Qualification requirements for the RSIC are revised to allow for a more diverse composition, including commissioners with a significant amount of broad business experience and commissioners with investment experience reliant on professional certifications. Diversity language is included for new appointees. Term limits are provided such that commissioners are allowed to serve two consecutive five-year terms. The legislation provides an additional voting member to avoid tie votes. Rather than serving on the RSIC, the State Treasurer is to appoint a member to the commission. The retired stakeholder position appointed by the commission is removed and an appointment is given instead to the President Pro Tempore of the Senate. An active stakeholder positon is added to be appointed by the Speaker of the House of Representatives. A certification process is added to ensure that commission members meet qualifications. The RSIC is authorized to engage attorneys in consultation with the Attorney General on a fee basis for investment and management of assets. The legislation adds prohibitions regarding lobbyists, placements agents, and investments in which a commissioner has an interest. Fee reporting requirements are included. The commission is authorized to delegate to the CIO, under the direct oversight of the CEO, the authority to invest up to 2% of assets in publicly-traded investments of up to 1% of assets if the investments that are not publicly-traded. The legislation establishes a four-year rotation schedule for fiduciary audits of PEBA and RSIC conducted by a private firm hired by the State Auditor. The legislation simplifies and clarifies fiduciary governance by reducing conflicting and overlapping authority of the State Treasurer, the State Fiscal Accountability Authority, and PEBA. SFAA approval is no longer required for implementation of PEBA policy decisions. The Treasurer is removed as the custodian of the state's five retirement systems. PEBA and RSIC are to be co-trustees of retirement system assets and SFAA is removed as a co-trustee. The PEBA Board, rather than the Treasurer, is to be the custodian of the retirement system assets. The RSIC is afforded the exclusive authority to select the custodial bank that meets minimum qualifications.
BILLS INTRODUCED IN THE HOUSE THIS WEEK
EDUCATION AND PUBLIC WORKS
H.3739 DOT CONSTRUCTION Rep. Loftis
This bill provides that the Department of Transportation shall bear costs, not to exceed seven and one-half percent of the total project costs, for construction projects or improvements, to provide that this section does not grant the Department the authority to prevent or materially limit a public water system's utilization of property located within a state transportation improvement project's right of way, and to provide that the Department may acquire additional rights of way to facilitate the location of utilities outside of rights of way currently contained in the public highway system.
H.3743 POWERING THE PALMETTO STATE Rep. Willis
This bill provides that the Department of Motor Vehicles may issue "Powering the Palmetto State" special license plates honoring South Carolina's electrical linemen.
S.338 SCHOOL OPENING (SOLAR ELLIPSE) Sen. Hembree
This bill provides that the opening date for students to attend public schools during the 2017-2018 school year may be as early as Thursday, August seventeenth, at the discretion of the school district board of trustees. This bill is in connection to the August 2017 solar ellipse.
S.365 COASTAL CAROLINA UNIVERSITY 2016 COLLEGE WORLD SERIES CHAMPIONS Sen. Rankin
This bill provides that the department of Motor Vehicles shall issue "Coastal Carolina University 2016 College World Series Champions" special license plates.
JUDICIARY
S.6 MALTREATING POLICE HORSES OR DOGS Sen. Bryant
Explains penalties for teasing, maltreating, or injuring police dogs or horses. Allows fines up to $10,000 and/or up to 10 years in jail for anyone who tortures, mutilates, injures, disables, poisons, or kills a police dog or horse. Victims of these incidents are entitled to recover restitution to pay the cost of the dog or horse injured or killed. Offenders can be required to serve up to 500 community service hours at an animal-related organization or foundation.
S.18 WRITTEN VICTIM STATEMENTS AT PAROLE HEARINGS Sen. Campsen
After receiving notice of parole hearings, adds the right of victims and members of their immediate family to submit written statements to the Board of Probation, Parole and Pardon Services. These written statements, along with any film or videotape of victims or their families, must be considered by the Board before making any parole decision. The Board must retain all of these records and consider them at subsequent parole hearings.
S.90 MAGISTRATE ELIGIBILITY EXAMINATIONS Sen. Campsen
Magistrate eligibility exam results will be valid for one prior to, and two years after, a magistrate is appointed to a seat.
S.176 UNLAWFUL UNMANNED AERIAL VEHICLE Sen. Sheheen
Unmanned aerial vehicle would be banned within 500 feet and any altitude lower than 250 feet of any SC Department of Corrections facilities, absent written permission allowing their presence. Sets penalties for violations.
S.234 EMERGENCY MEDICAL SERVICES DATA Sen. Massey
The identities of patients and emergency medical technicians appearing in information collected as part of rendering these services will be subject to a subpoena in any administrative, civil, or criminal legal action.
H.3740 MEDICAL MALPRACTICE LAWSUIT MEDIATION Rep. Fry
Medical malpractice lawsuit defendants who fail to enter a notice of appearance after a notice of intention to file these lawsuits will give plaintiffs the right to file a motion to dispense with mediation before any medical malpractice lawsuit can proceed.
H.3742 OFFENDER SUPERVISION SPECIALISTS Rep. Pitts
Allows the SC Probation, Parole, and Pardons Department to employ 'offender supervision specialists' with qualifications the department sets to supervise standard and low-risk offenders. Also allows this department to set the authority and duties for these specialists.
H.3745 UNIFORM ANTIDISCRIMINATION ACT Rep. Rutherford
Extends the authority of the SC Human Affairs Commission authority, as well as of the Religious Freedom Act, Fair Housing Act, Multiple Listing Services, Home Health Agencies, Hospice Programs, Hotel, Motel, Restaurant, and Boardinghouse laws to instances of discrimination based upon someone's gender identity or sexual orientation.
H.3746 JUDICIAL MERIT SELECTION COMMISSION Rep. Clary
Increases the membership of this commission from 10 to 15. The Governor would appoint 5 public citizens as part of this membership.
H.3750 GENERAL SESSIONS CASE TRANSFERS Rep. Stavrinakis
Criminal cases on any General Sessions Court docket that carry penalties of less than 3 years imprisonment as their maximum jail time could be transferred from General Sessions Courts to other courts. Current law limits this transfer authority to cases carrying a maximum jail sentence of one year.
H.3781 AN ELECTED SECRETARY OF TRANSPORTATION Rep. Putnam
Beginning with the 2022 statewide general election, the Secretary of Transportation would be an elected, not appointed, office.
H.3784 DEPARTMENT OF TRANSPORTATION REFORM BILL Rep. Putnam
Makes several modifications to the Department of Transportation management structure. The Department Secretary, and not the Transportation Commission, would have full authority to manage all departmental operations. Makes the Secretary a member of the Transportation Infrastructure Bank Board. Removes the Bank Board Chairman as a member. The Department would have to submit an itemized transportation projects list to the General Assembly that corresponds with that fiscal year's budget. Makes conforming changes to show that the Transportation Department and not the Transportation Commission will have authority over its real estate, bridges, roads, districts, turnpikes, signs, road transfers, and other related functions that currently show the Transportation Commission as providing oversight.
H.3785 DUI VIDEOTAPING EXCEPTIONS Rep. Norman
For driving under the influence [DUI] of alcohol or illegal drugs, driving with an unlawful alcohol concentration, and felony DUI cases, provides exceptions from videotaping requirements. Also modifies videotaping procedures.
H.3789 SOUTH CAROLINA YOUTH CHALLENGE ACADEMY AND SOUTH CAROLINA JOBS CHALLENGE PROGRAM EXPUNGEMENT ACT Rep. Govan
Allows criminal record expungements for successful, eligible graduates of these programs. Allows a program director to attest to a successful graduate's eligibility.
H.3794 DISTURBING SCHOOLS Rep. Bernstein
Contains a list of actions that must be considered disturbing schools criminal offenses. Exempts school-sponsored athletic events.
LABOR, COMMERCE AND INDUSTRY
H.3747 "RYAN'S LAW": ENHANCED INSURANCE COVERAGE FOR AUTISM SPECTRUM DISORDER TREATMENTS Rep. Ballentine
This bill enacts "Ryan's Law" to revise provisions relating to insurance coverage for autism spectrum disorder treatments, so as to remove exclusions for certain types of insurance and eliminate certain eligibility requirements.
H.3749 CERTIFIED PUBLIC ACCOUNTS AND PUBLIC ACCOUNTANTS REGULATION REVISIONS Rep. Sandifer
This bill revises provisions governing the regulation of certified public accounts and public accountants so as to: revise the definition of the term "compilation"; make acceptance of certain evidence of academic qualifications for licensure optional to the Board of Accountancy and eliminate a reference to the implementation of a computer-based version of an examination required for licensure; and, revise disclaimers required for licensees to associate their names or the names of their firms with compiled financial statements, so as to replace the existing statutory disclaimer language with the requirement that disclaimers comply with the most recent version of the Statement of Standards for Accounting and Review Services issued by the American Institute of Certified Public Accountants.
H.3774 PROFESSIONAL EMPLOYER ORGANIZATIONS Rep. Henderson
This bill establishes circumstances in which professional employer organizations may be eligible for certain tax credits and economic incentives under the Enterprise Zone Act of 1995. The legislation provides for the determination of tax credits and economic incentives based on employment with respect to client companies of professional employer organizations. The legislation revises provisions relating to the ability of the Department of Insurance to provide by regulation for the acceptance of affidavit or certification of approval of qualified assurance organizations, so as to eliminate the requirement that these functions be provided by regulation. The legislation revises requirements of professional employment organization services agreements between professional employer organizations and assigned employees, so as to provide organizations shall provide assigned employees with certain written notice of how the agreement affects them. The legislation revises requirements of professional employment organization services agreements between professional employer organizations and client companies, so as to provide that the terms of the agreement must be established by written contract. The legislation prohibits professional employer organizations from engaging in the sale of insurance or act as third party administrators, and provides that the sponsoring and maintaining of employee benefit plans for the benefit of assigned employees does not constitute the sale of insurance.
H.3792 MINIMUM STANDARDS FOR RESTROOMS AVAILABLE AT MIDDLE AND HIGH SCHOOL FOOTBALL STADIUMS Rep. Thayer
This bill establishes new minimum standards for the numbers of toilets and lavatories available for men and women at middle school football stadiums and high school football stadiums as a means of relieving public schools from the financial burden placed upon them by current requirements. The legislation's minimum standards apply notwithstanding otherwise applicable building codes and plumbing codes.
MEDICAL, MILITARY, PUBLIC AND MUNICIPAL AFFAIRS
H.3751 Genetic Counselors Rep. Parks
This bill creates the Board of Genetic Counselor Examiners to license genetic counselors under the administration of the Department of Labor, Licensing and Regulation. Among many things, the bill provides for the regulation of genetic counselors, as well as for the powers and duties of the board. The practice of genetic counseling means, but is not limited to, obtaining and evaluating individual, family, and medical histories to determine genetic risk for genetic/medical conditions and diseases in a patient, his/her offspring, and other family members.
H.3772 CERTAIN NURSING PROFESSIONALS Rep. Clary
Among many things dealing with the nursing profession, the legislation adds that a nurse practitioner, certified nurse midwife, or clinical nurse specialist may provide noncontrolled prescription drugs at an entity that provides free medical services for indigent patients.
H.3775 ORIGINAL BIRTH CERTIFICATES OF ADOPTED PERSONS Rep. Knight
This bill allows an adult adoptee twenty-one years of age or older to obtain a copy of the adoptee's own original birth certificate. The bill also allows a biological parent to execute a contact preference form, at any time to be provided to the adult adoptee, with the copy of the original birth certificate.
H.3776 DIVISION OF CHILD PROTECTIVE SERVICES Rep. Loftis
The bill requires the Division of Child Protective Services to notify DSS's Division of Economic Services and any other divisions or agencies when a child is removed from the home so that any public assistance benefits can be recalculated, if necessary, as a result of the child's physical removal from that home.
H.3790 SOUTH CAROLINA INTELLECTUAL DISABILITY, RELATED DISABILITIES, HEAD INJURIES, AND SPINAL CORD INJURIES ACT" Rep. Erickson
The bill revises the definition of "Autism Spectrum Disorder" to mean any of the pervasive development disorders or autism spectrum disorders as defined by the most recent addition of the Diagnostic and Statistical Manual of Mental Disorders (DSM) or the edition in effect at the time of diagnosis.
H.3791 "KELLIE RYNN'S LAW" Rep. Erickson
This bill enacts the "Kellie Rynn's Law" outlining changes to the Licensure or Registration of Childcare Facilities statute. The bill states that a person or entity that knowingly operates a private childcare center or group childcare home without a required license is guilty of a felony and, upon conviction, must be fined not more than one thousand five hundred dollars or imprisoned not less than two years or more than five years, or both.
WAYS AND MEANS
S.214 REMOTE RETAILERS SUBJECT TO SALES AND USE TAXES Sen. Kimpson
This bill revises the South Carolina Sales and Use Tax Act by providing that a retailer is presumed to be liable for the sales tax or responsible for collecting and remitting the use tax if the retailer enters into an agreement with a resident of this state under which the resident, for a commission or consideration, refers potential customers, whether by an Internet link or otherwise. The legislation requires such retailers to obtain a retail license and remit sales and use tax on all taxable retail sales. Exceptions are provided.
H.3744 ENHANCED FUNDING FOR MAGISTRATES Rep. G. M. Smith
This bill revises the method of setting a base salary for magistrates and provides for additional supplements to full-time chief and assistant chief magistrates. The legislation adds an assessment of fifteen dollars to all civil filings in magistrates court and makes provisions so that proceeds fund these salary supplements and support magistrates courts and training for magistrates.
H.3769 PUBLIC ASSISTANCE ELIGIBILITY, CASE REVIEW, AND FRAUD DETECTION Rep. Loftis
This bill requires the South Carolina Department of Health and Human Services to establish a computerized income, asset, and identity eligibility verification service to verify a person's identity and eligibility for public assistance and use this service as part of determining whether to award an applicant or recipient public assistance. Provisions are included to enable other departments providing public assistance to use the service. The legislation establishes reporting requirements to the South Carolina Attorney General and the Office of Inspector General regarding cases of suspected fraud. The Department of Health and Human Services and the Department of Social Services are subjected to new reporting requirements.
H.3770 DEPARTMENT OF SOCIAL SERVICES PROHIBITED FROM ESTABLISHING SUPPLEMENTAL NUTRITION ASSISTANCE PROGRAM FINANCIAL RESOURCE LIMITS THAT EXCEED FEDERAL LIMITS Rep. Loftis
This bill prohibits the Department of Social Services from establishing financial resource limits applicable to determining eligibility for the Supplemental Nutrition Assistance Program that exceed federal limits. The legislation provides that in no case shall categorical eligibility exempting a household from these resource limits be granted for any noncash, in-kind or other benefit, unless expressly required by federal law.
H.3771 COOPERATION WITH CHILD SUPPORT SERVICES REQUIRED AS A CONDITION OF SUPPLEMENTAL NUTRITION ASSISTANCE PROGRAM ELIGIBILITY Rep. Loftis
This bill requires an individual applying or reapplying for benefits through the Supplemental Nutrition Assistance Program to cooperate with the Department of Social Services' Division of Child Support Services as a condition of eligibility for those benefits.
H.3777 CIGARETTES LACKING REQUIRED STAMPS CONSIDERED CONTRABAND Rep. White
This bill makes provisions that cigarettes found at any point not having affixed to the package required tax stamps are considered contraband goods that are subject to seizure.
H.3780 SALES TAX EXEMPTIONS REPEALED Rep. Putnam
This bill repeals exemptions from the state sales tax.
H.3782 TEMPORARY AUTHORITY FOR THE SECRETARY OF TRANSPORTATION TO ASSUME CONTROL OVER DEPARTMENT OF TRANSPORTATION OPERATIONS Rep. Putnam
This joint resolution suspends laws pertaining to the duties and authority of the Commission of the Department of Transportation and laws pertaining to the use of state funds by the Department of Transportation for specific road projects for six years so as to allow the Department of Transportation to be operated at the discretion of the Secretary of Transportation.
H.3783 REPEAL OF THE REAL PROPERTY VALUATION REFORM ACT Rep. Putnam
This bill repeals the South Carolina Real Property Valuation Reform Act, restores certain former methods utilized before adoption of the act, and establishes alternative provisions governing the taxation of residential property.
H.3786 LIMITATION OF ROLLBACK TAXES WHEN LAND CLASSIFIED AS AGRICULTURAL REAL PROPERTY IS APPLIED TO ANOTHER USE Rep. Long
This bill makes revisions to classification of property and assessment ratios for the taxation of real property, so as to limit rollback taxes to one year when land classified as agricultural real property is applied to another use.
The Legislative Update is on the Worldwide Web. Visit the South Carolina General Assembly Home Page (http://www.scstatehouse.gov) and click on "Publications," then click on "Legislative Updates." This will list all of the Legislative Updates by date. Click on the date you need. Also available on the website is a bill summary index, where bills referenced in one or more issues of the Legislative Update are listed in numeric order. Links to the specific text of the Legislative Update issue are provided in the bill summary index.
NOTE: THE LEGISLATIVE UPDATE IS AVAILABLE TO LEGISLATIVE TRACKING SUBSCRIBERS. YOU MAY REGISTER FOR THIS FREE SERVICE ON THE SOUTH CAROLINA GENERAL ASSEMBLY HOME PAGE BY CLICKING ON "TRACK LEGISLATION" (ON THE VERTICAL MENU BAR). 
NOTE: THESE SUMMARIES ARE PREPARED BY THE STAFF OF THE SOUTH CAROLINA HOUSE OF REPRESENTATIVES AND ARE NOT THE EXPRESSION OF THE LEGISLATION'S SPONSOR(S) OR THE HOUSE OF REPRESENTATIVES. THEY ARE STRICTLY FOR THE INTERNAL USE AND BENEFIT OF MEMBERS OF THE HOUSE OF REPRESENTATIVES AND ARE NOT TO BE CONSTRUED BY A COURT OF LAW AS AN EXPRESSION OF LEGISLATIVE INTENT.