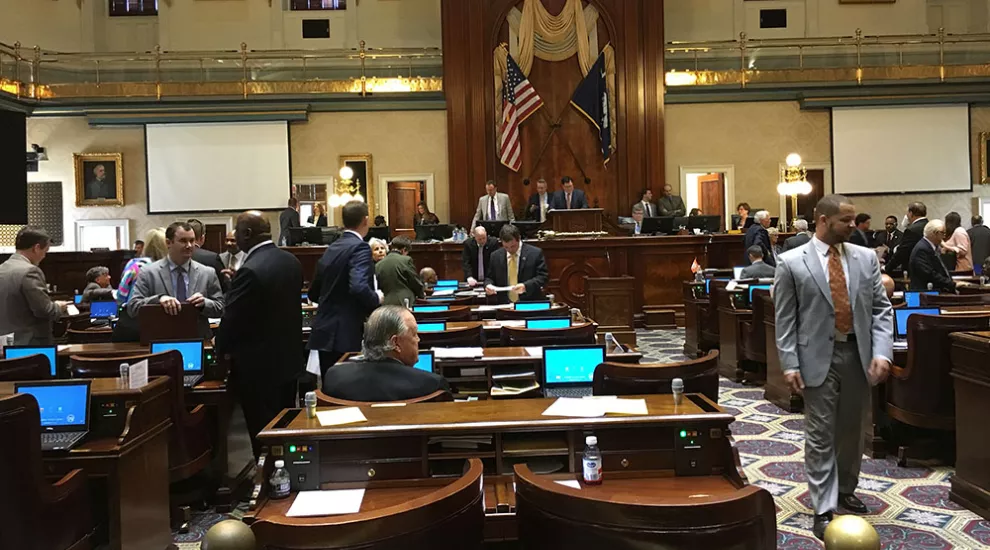 Legislative Update
February 14, 2017
Vol. 34, No. 6
The House of Representatives amended, approved, and sent the Senate H.3035, a bill revising eligibility criteria for IN-STATE HIGHER EDUCATION TUITION RATES FOR VETERANS AND THEIR DEPENDENTS. The legislation provides that honorably-discharged veterans of the Armed Services of the United States, who have evidenced intent to establish domicile in South Carolina and their dependents, are entitled to receive in-state tuition and fees at state institutions of higher learning without the requirement of a one year of physical presence in this state.
The House approved and sent the Senate H.3465, a bill making revisions relating to TERMINATION OF PARENTAL RIGHTS AND ADOPTION OF CHILDREN IN DEPARTMENT OF SOCIAL SERVICES ABUSE AND NEGLECT CASES. The legislation includes consent to an adoption among the decisions of substantial legal significance affecting the child that the parent or guardian retains the right to make unless otherwise provided by court order. The legislation includes an agency and a caregiver among those considered interested parties in court proceedings. The Department of Social Services is charged with more expansive responsibilities in providing notice of court hearings concerning a child including those involving a permanent child placement plan. The legislation provides that when a child in an out-of-home placement has resided with the same foster parent or other caregiver for more than one hundred twenty days, the foster parent or caregiver has the unconditional right to intervene in any court action pertaining to the child and to seek any relief pertaining to custody of the child and the child's best interests. Any other person or entity may move to intervene in the case pursuant to the rules of civil procedure. The legislation revises provisions governing termination of parental rights including revisions that allow for closer coordination between a petition seeking termination of parental rights regarding a child and a petition seeking adoption of the child. The legislation expands the authority for nonresidents to adopt children in South Carolina to include circumstances when a parent has specifically consented to the adoption by the nonresident and when DSS or any agency under contract with the department has placed the child with the nonresident for purposes of adoption.
The House approved and sent the Senate H.3458, a joint resolution directing the South Carolina members of the Jasper Ocean Terminal Joint Project Office Board of Directors to name the proposed Jasper Ocean Terminal to be located in Jasper County the "HENRY PARKS MOSS, JR. MEMORIAL PORT".
The House approved and sent the Senate H.3677, a joint resolution officially ADOPTING REVISED CODE VOLUMES 6 AND 16 of the Code of Laws of South Carolina.
HOUSE COMMITTEE ACTIONEDUCATION AND PUBLIC WORKS
The Committee on Education and Public Works met Wednesday February 8, 2017 and passed out six bills.
H.3508 is a joint resolution that passed the Committee with amendment regarding the SCHOOL START DATE for 2017-2018. The bill provides that the opening date for students to attend public schools during the 2017-2018 school year (and only for that year) may (at the election of the school district board of trustees) be as early as Thursday, August seventeenth, 2017. Schools that open prior to the third Monday in August must provide grade appropriate science, mathematics, and other relevant instruction to students regarding the solar eclipse. Students must be provided the opportunity to safely observe the eclipse prior to and during totality.
The Committee passed H.3515 with amendment regarding SCHOOL WAIVERS (HURRICANE MATTHEW). The Joint Resolution provides for the waiver of five or fewer days for schools in counties for which federal major disaster declarations were made as a result of Hurricane Matthew. The provisions of this joint resolution apply to school districts in Allendale, Bamberg, Barnwell, Beaufort, Calhoun, Clarendon, Colleton, Darlington, Dillon, Dorchester, Florence, Georgetown, Hampton, Horry, Jasper, Lee, Marion, Marlboro, Orangeburg, Sumter, and Williamsburg Counties that missed school days due to Hurricane Matthew in October of 2016. The districts must first make up the statutorily required three days, the local district three day wavier and also the State Board three day wavier. If they need more than those nine days, the local board may waive up to five additional days.
H.3591 reauthorizes FIRST STEPS TO SCHOOL READINESS and pertains to the comprehensive long-range initiative, so as to provide that the benchmarks and objectives must be approved by the First Steps to School Readiness Board of Trustees, makes changes to numerous reporting requirements and provisions for legislative review. In addition, First Steps will be reviewed either by House and Senate Legislative Oversight Committees, a joint House and Senate committee shall conduct a review.
The Committee passed H.3583 to provide a PALMETTO FELLOWS SCHOLARSHIP DEFERMENT. Students eligible for the Palmetto Fellows Scholarship award may elect to defer enrollment in an eligible four-year institution for one academic year after graduation, without declining the award.
The Committee passed H.3247 MOPEDS which requires that a moped operated on a public road or highway be registered (deemed the owner) and licensed with the Department of Motor Vehicles (DMV) in the same manner as passenger vehicles. The amended bill expands the definition of motor vehicle to include mopeds for the purpose of uninsured and underinsured coverage. In addition to the current $2 fee, the amended bill allows the Department to charge a $20 moped operator license fee (to offset the costs of administering and producing the moped operator's license). The amended bill also allows the Department to charge a $20 biennial registration fee for every motorcycle, motorcycle three wheel vehicle or moped. Mopeds are not required to be titled. Additions and amendments are made to the provisions governing daylight hours, restricted licenses and the approved destinations (to add church and approved sports activities). Moreover, the bill requires a reflective safety vest during night time hours, a helmet for underage operator and riders and restricts the moped to a maximum speed limit of 35 mph and that the moped may not operation on a public higher with a speed in excess of 45 mph.
The Committee passed H.3358 REAL ID. The bill provides a framework for the issuance and renewal of state driver's licenses and identification cards to comply with standards set forth in the federal Real ID Act of 2005. The compliance deadline of January 31, 2017 was extended by DHS upon the request of former Governor Haley until June 6, 2017, contingent upon the state's commitment to attain compliance. Without this extension, those without REAL ID compliant documents will not be allowed to enter federal buildings, military installations, and beginning in late January of 2018, board commercial aircraft. South Carolina is currently out of compliance with six of the forty-four provisions of the Federal REAL ID Act of 2005. The bill repeals SC Code 56-1-85 which was an outright prohibition on South Carolina agencies from complying with the provisions of the Federal REAL ID Act. In order to comply with Federal mandates, the bill transitions South Carolina licenses from ten year to eight years; includes a Department of Homeland Security approved image (a star) for marking compliant state licenses or IDs; and scanning and retaining copies of original personal documents like birth certificates, social security cards and proof of residency (a REAL ID compliant card may only be issued to individuals who present all supporting documents required for a compliant credential). The SC DMV may issue a compliant or non-compliant license or ID; that is, obtaining such a card is optional with the understanding that entering federal buildings, military installations and commercial aircraft would be restricted or prohibited without a compliant SC license/ID or a United States passport. Passage of the bill would indicate to the federal government South Carolina's intention to comply with the mandates; however, even with directed changes in the bill, South Carolina has largely become comparable with many aspects of the law and similar to other states. To that end and given budget constraints (and about the time of the bill's passage in Committee), a letter from Speaker Lucas and the Chairs of Education and Ways and Means dated February 8, 2017 was sent to the new Secretary of Homeland Security John F. Kelly seeking regulatory relief from the six outstanding requirements on the grounds of budgetary limits and South Carolina's continued efforts for compliance (H. 3358).
JUDICIARY
The House Judiciary Committee met Tuesday, February 7, 2017 and passed out four bills.
The full committee gave a favorable recommendation to H.3176 IRA EXEMPTIONS FROM ATTACHMENT that eliminates all requirements that individual retirement accounts and other similar plans are exempt from attachment, levy, and sale, only to the extent permitted under Section 522(d), of the Federal Bankruptcy Code.
They also gave a favorable recommendation, with amendments to H.3278 ATTORNEY ACCESS TO INCARCERATED PERSONS, which provides that a detention facility cannot prohibit an in-person meeting between any inmates and their attorneys so long as the meetings do not prohibit normal operations or jeopardize the security of any detention facilities.
In addition, they gave a favorable recommendation, with amendments, to H.3352 OFFICE OF FREEDOM OF INFORMATION ACT REVIEW, creating the Office of Freedom of Information Act Review within the Administrative Law Court. Sets out the duties and functions of the office. This office will be considered part of the unified judicial system for the purposes of certain ethics, government accountability, and campaign reform statutes. Includes electronic transmissions among the record formats available for inspection. Establishes record request limitations for prisoners, and retains other limitations existing under state and federal laws. Public bodies are not required to create electronic versions of public records to fulfill records requests. Revises fees chargeable to fulfill records requests as well as the manner for responding to records requests. Public record holders can require a 25% deposit of anticipated total record production costs. Shortens record request response times to ten days. Sets a schedule for handing over copies of public records, depending on the age of the requested documents. Certain law enforcement recordings, including body and dash camera footage, are added to records as potentially exempt from disclosure. A deceased's dying statements on an E911 recording are excluded from disclosure. Allows law enforcement to apply for injunctive relief in circuit court if there is clear and convincing evidence of specific harm posed by the releasing any recordings. Removes criminal penalties for Act violations. Vests exclusive jurisdiction over cases arising from requests for records and exemptions from disclosure. Extends prohibitions to using information obtained from local governments and political subdivisions of the state for commercial purposes.
Also receiving a favorable report, with amendments, was H.3429 HOMESTEAD/BANKRUPTCY EXEMPTION REVISIONS, that adds as property exempt from bankruptcy proceedings-- as well as attachment, levy, or forced sale-- to include the interest of a surviving spouse [who has not remarried], up to $50,000 as well as up to $10,000 worth of firearms.
LABOR, COMMERCE AND INDUSTRY
The House Labor, Commerce and Industry Committee met on Thursday, February 9, and reported out three bills.
The committee gave a report of favorable with amendments on H.3651, a bill DISALLOWING THE COLLECTION OF BUSINESS LICENSE TAXES AND PREMIUM TAXES BY MUNICIPAL AGENTS. The legislation provides that a business license tax, a business license tax levied by a municipality on the sale of telecommunication services, an insurance premium tax or broker's premium tax may not be collected by the Municipal Association of South Carolina or any other nongovernmental entity on behalf of a municipality or any other political subdivision.
The committee gave a report of favorable with amendments on H.3650, a bill enacting the "SOUTH CAROLINA BUSINESS LICENSE TAX STANDARDIZATION ACT" to provide the sole manner in which a county or municipal business license tax may be imposed, including duration, calculation, and payment. The standardized system is proposed to simplify compliance for businesses and offer more equitable taxation that avoids imposing a business license tax on items that have already been subjected to other taxes. Under the legislation, a business has the option of making direct payments to a local government in person or by mail, or paying online by utilizing a single statewide internet Business License Tax Portal managed by the Office of the Secretary of State, who in turn makes distributions to the various local governments. The Secretary of State may retain no more than one quarter of one percent of the revenue collected to defray the costs of administering the business license tax program, but the Secretary of State may not retain more than its actual administrative costs. The Secretary of State's Office is authorized to contract out the operation of the new online portal. An oversight board is created within the Secretary of State's Office that is composed of legislators and non-legislators and structured to include representation from the private sector ranging from manufacturing to small business. The board is charged with producing and updating a scale on which business license rates are set. Instead of the current practice where a license tax is imposed on the gross revenue of a business, the legislation provides for the business license tax to be imposed upon an adjusted gross revenue which is calculated by deducting a list of exemptions from the total revenue of the business. A uniform appeals process is also established.
The committee gave a report of favorable with amendments on H.3652, a bill relating to ACCEPTABLE MATERIALS FOR WATER PIPES IN LOCAL GOVERNMENT PROCUREMENT PROJECTS utilizing state funds. The legislation provides that county governments, municipalities, school districts, water or sewer districts, special purpose districts, and other political subdivisions and governmental bodies are required to consider all piping material in determining project requirements when state funds are used for a water supply, wastewater, stormwater, or storm drainage project. These provisions do not prohibit an official or an engineer of the governmental agency from choosing a piping material in its discretion for such projects.
WAYS AND MEANS
The Ways and Means Committee met on Thursday, February 9, and gave a report of favorable with amendments on H.3516, a bill providing for additional ROAD FUNDING to serve as reliable sources of revenue for addressing South Carolina's deteriorating roads and supporting the infrastructure system needed for public safety, quality of life, and economic development. In order to increase infrastructure funding by an estimated $214 million in the first year and an estimated $570 million a year upon full implementation, the legislation increases existing fees and establishes new fees to allow for more effective collection of revenue from all those who make use of South Carolina's roads, including out-of-state residents and businesses. The legislation provides for an increase in the state's motor fuel user fee of 10 cents a gallon that is phased in gradually with an increase of 2 cents each year over the course of five years. The increase is expected to generate $69 million in the first year and ultimately allow for an additional $401 million each year for the state's roads. The first 2 cents of revenue is devoted to the South Carolina Department of Transportation's Rural Road Safety Program. A $16 dollar increase is provided for the state's biennial motor vehicle registration fees to generate an estimated $25 million a year. New fees are established for vehicles that make little or no use of the gasoline and other motor fuels that have been the traditional revenue source for infrastructures needs. Biennial fees of $60 for hybrid vehicles and $120 for electric vehicles are established to generate an estimated $1.35 million a year. The state's motor vehicle sales tax is eliminated and an infrastructure maintenance fee is established instead. For a vehicle purchased in South Carolina the one-time fee is set at 5% with a cap of $500 and is collected by dealers at the point of sale. For a vehicle purchased in another state and registered in South Carolina the one-time fee is set at 5% with a $250 cap. Collected by the Department of Motor Vehicles upon initial registration, the fee is expected to produce $20 million a year in previously uncaptured revenue. Active duty military, spouses, and dependents are exempt from this fee for transferring vehicles into the state. The infrastructure maintenance fee is expected to produce $127 million in new revenue each year. In order to collect revenue from out-of-state motor carriers, a motor carrier road use fee is imposed on large commercial vehicles instead of property taxes. Expected to generate $9 million a year in new revenue, the fee is based on fair market value, the average statewide millage rate, an assessment ratio of 9.5%, and the portion of miles driven in South Carolina compared to total miles driven. All additional revenue generated by the legislation is to be deposited in a newly-created Infrastructure Maintenance Trust Fund and used only for repairs, maintenance, and improvements to the existing transportation system. All interest earned on trust fund deposits is retained by the fund.
The legislation also provides clarifications and revisions for some of the Department of Transportation restructuring provisions approved in Act 275 of 2016.H.3516 clarifies that SCDOT exercises the central coordinating authority over transportation infrastructure funding by authorizing the department to delay transfers of funds indefinitely in the interest of the state's infrastructure needs. Debt service payments on bonds are, however, considered automatic transfers and may not be delayed by the department. While retaining the composition of the commission that oversees the Department of Transportation, H.3516 eliminates the Joint Transportation Review Committee along with the elaborate legislative approval and screening process for the Governor's appointees, and instead simply provides that DOT Commissioners are to be appointed by the Governor upon the advice and consent of the General Assembly.
BILLS INTRODUCED IN THE HOUSE THIS WEEK
AGRICULTURE, NATURAL RESOURCES AND ENVIRONMENTAL AFFAIRS
H.3698 GEOGRAPHICAL BOUNDARIES FOR CERTAIN BODIES OF WATER Rep. V. S. Moss
The bill outlines that the "Intracoastal Waterway (Horry County)" means all waters of the Intracoastal Waterway from its confluence with the Waccamaw River upstream to U.S. Highway 17. Among many things the bill revises the periods of time when striped bass may be taken in various bodies of water. As well as deletes the provision that requires the Department of Natural Resources to conduct a study of the striped bass fishery on the Santee and Cooper River systems.
H.3719 STATE FORESTER'S AUTHORITY Rep. Burns
When extreme conditions exist, the State Forester may prohibit all open burning regardless of whether a permit is required, including campfires, bonfires, and other fires for recreational purposes. This prohibition shall not apply to fires used for non-recreational purposes such as those for human warmth or for the preparation of food for immediate consumption. The bill also revises penalties for this provision.
H.3723 FLOUNDER STUDY PROGRAM Rep. Hewitt
This bill deletes the provisions relating to the Department of Natural Resources' Flounder Study Program. The bill also provides that it is unlawful to use any type of artificial illumination produced by motor fuel-powered generators while gigging or fishing for flounder in waters of Pawleys Inlet north to the northern terminus of Main Creek at Garden City Beach and Murrells Inlet.
EDUCATION AND PUBLIC WORKS
S.263 CLEMSON UNIVERSITY 2016 FOOTBALL NATIONAL CHAMPIONS Sen. Peeler
This bill provides that the Department of Motor Vehicles shall issue "Clemson University 2016 Football National Champions" special license plates.
H.3703 SECRETARY OF TRANSPORTATION Rep. Elliott
This bill relates to the establishment of the Department of Transportation and its duties and responsibilities, so as to eliminate the Department of Transportation Commission and its responsibilities, to devolve the Commission's responsibilities upon the Secretary of Transportation who would be appointed by the Governor and other attendant changes to include deleting the terms "routine operation and maintenance" and "emergency repairs" and their definitions, and the provision that grants the Secretary authority to approve requests regarding these matters and to delete the provision that requires the Commission to approve certain highway projects, among other things.
JUDICIARY
H.3599 SOUTH CAROLINA EQUAL PAY FOR EQUAL WORK ACT
Rep. Cobb-Hunter
Enacts the "South Carolina Equal Pay for Equal Work Act" to prohibit paying a worker of one sex a lesser wage than what is paid to a worker of the opposite sex for work that requires the same knowledge, skill, effort, and responsibility. Provides definitions for "commissioner," "employ," "employee," "employer," "occupation," and "wage." Specifies exceptions to this general prohibition as well as procedures to be followed by employees who experience this wage discrimination. Allows judicial remedies for violations.
H.3602 LIMITED ATTORNEY GENERAL REIMBURSEMENTS
Rep. Cobb-Hunter
Lists the specific reimbursements that the Attorney General may claim after representing our state in judicial proceedings. The Attorney General may obtain these reimbursements after approval by the Department of Administration.
H.3605 CONFEDERATE FLAGS Rep. King
Prohibits the South Carolina Infantry Battle Flag of the Confederate States of America, or any other confederate flag, from being flown or displayed in or on any public building, except for a museum.
H.3606 CHILD SUPPORT ENFORCEMENT VIA LICENSE REVOCATION
Rep. King
Revises, for the purposes of child support enforcement, the list of licenses that may be revoked due to nonpayment of child support. Removes driver's licenses, commercial licenses, and other professional licenses from this list.
H.3617 PROTECTION FOR PEOPLE WITH DISABILITIES
Rep. Collins
Transfers the administration of the S.C. Protection and Advocacy System for the Handicapped Program to the entity known as Protection and Advocacy for People with Disabilities, Inc.
H.3619 TATTOOING AND PIERCING COMPANION ANIMALS Rep. Atwater
Prohibits the tattooing or piercing of companion animals. Specifies exceptions to these prohibitions. Defines the term "companion animal." Sets penalties for violations.
H.3641 REVENGE PORN ACT Rep. Bernstein
The "Revenge Porn Act" criminalizes unlawfully disseminating sexually explicit materials without the consent of the person depicted. Establishes penalties for violations.
H.3643 ANTISEMITISM AS DISCRIMINATION Rep. Clemmons
Requires higher learning institutions statewide to consider the "antisemitism" definition contained in this proposed legislation when reviewing, investigating, or deciding whether there has been an institutional policy violation of any policy prohibiting religious discriminatory practices. Nothing in this proposed legislation is to be construed to diminish or infringe upon any rights afforded by the First Amendment to the US Constitution or Section 2, Article I of the SC Constitution.
H.3645 PUBLIC SERVICE RETIREMENT BENEFITS FORFEITURE Rep. Ballentine
Before taking public office, South Carolina public officials would first have to acknowledge that they will forfeit all retirement benefits attributable to their service in that office if they are convicted, plead guilty, or enter a nolo contendere plea to listed crimes stemming from actions taking place during their term in office. This legislation would apply to state public officials who were not members of any state retirement system before July 1, 2017.
H.3662 STRANGULATION DESIGNATED A FELONY CRIME Rep. Willis
Makes strangulation a felony offense. Provides an affirmative defense to this criminal charge if the strangulation occurred as part of a legitimate medical procedure.
LABOR, COMMERCE AND INDUSTRY
S.218 POLITICAL SUBDIVISIONS PROHIBITED FROM REQUIRING AN EMPLOYEE BENEFIT Sen. Massey
This bill revises labor and employment provisions, by providing that a political subdivision of this state may not establish, mandate, or otherwise require an employee benefit.
H.3702 OUTDOOR ADVERTISING SIGNS DAMAGED OR DESTROYED BY VANDALISM Rep. Sandifer
This bill revises provisions relating to permits for erecting and maintaining outdoor signs, so as to revise the categories of permits that are void, and to provide the Department of Transportation shall reissue permits for nonconforming signs damaged or destroyed by vandalism. Such signs may, however, only be reerected in kind.
WAYS AND MEANS
S.44 RENEWABLE ENERGY PROPERTY TAX EXEMPTIONS Sen. Gregory
This bill revises property tax exemptions, so as to exempt eighty percent of the fair market value of certain distributed energy resources and to exempt the value of renewable energy resource property for residential use. The legislation also makes provisions for a tax exemption for solar energy property located on property owned by the Pinewood Site Custodial Trust.
S.46 "TAXPAYER INFLATION PROTECTION ACT" Sen. Campsen
This bill revises provisions relating to inflation adjustments to state individual income tax brackets, by eliminating the provision that limits the inflation adjustment to one-half of the actual inflation rate.
S.61 EMPLOYEES AND RETIREES, AND THEIR DEPENDENTS, OF ANY POLITICAL SUBDIVISION OF THE STATE ALLOWED TO PARTICIPATE IN THE STATE HEALTH PLAN Sen. Hutto
This bill revises eligibility provisions to allow employees and retirees, and their dependents, of any political subdivision of the state to participate in the State Health Plan.
S.75 RETENTION OF THE OWNER-OCCUPIED RESIDENTIAL PROPERTY TAX ASSESSMENT RATION WHILE IN A NURSING HOME OR A COMMUNITY RESIDENTIAL CARE FACILITY Sen. Young
This bill establishes provisions that allow a property owner to retain eligibility for the four percent owner-occupied residential property tax special assessment ratio while a patient at a nursing home or a community residential care facility so long as the owner intends to return to the property and does not rent out the property.
H.3684 PUBLIC ACCESS TO TAX LIEN RECORDS Rep. G. R. Smith
This bill revises tax lien provisions to allow the Department of Revenue to implement a system of filing and indexing liens which is accessible to the public over the Internet or through other means.
H.3725 TAX CREDITS FOR AGRIBUSINESSES AND AGRICULTURAL PACKAGING OPERATIONS THAT INCREASE PURCHASES OF CERTIFIED SOUTH CAROLINA GROWN PRODUCE Rep. Simrill
This bill allows a tax credit to an agribusiness operation or an agricultural packaging operation that increases its purchases of agricultural products which have been certified as South Carolina grown. The legislation revises jobs development credit provisions, so as to make certain qualifying service-related facilities eligible for the credit.
H.3726 STATE RETIREMENT SYSTEM REMEDIATION Rep. Herbkersman
This bill provides for the implementation of recommendations of the joint legislative committee formed to study the unfunded liability facing the state retirement systems and recommend changes that could allow the state's pensions to remain viable, continuing to deliver benefits to retirees without undermining the state's finances.
The Legislative Update is on the Worldwide Web. Visit the South Carolina General Assembly Home Page (http://www.scstatehouse.gov) and click on "Publications," then click on "Legislative Updates." This will list all of the Legislative Updates by date. Click on the date you need. Also available on the website is a bill summary index, where bills referenced in one or more issues of the Legislative Update are listed in numeric order. Links to the specific text of the Legislative Update issue are provided in the bill summary index.
NOTE: THE LEGISLATIVE UPDATE IS AVAILABLE TO LEGISLATIVE TRACKING SUBSCRIBERS. YOU MAY REGISTER FOR THIS FREE SERVICE ON THE SOUTH CAROLINA GENERAL ASSEMBLY HOME PAGE BY CLICKING ON "TRACK LEGISLATION" (ON THE VERTICAL MENU BAR). 
NOTE: THESE SUMMARIES ARE PREPARED BY THE STAFF OF THE SOUTH CAROLINA HOUSE OF REPRESENTATIVES AND ARE NOT THE EXPRESSION OF THE LEGISLATION'S SPONSOR(S) OR THE HOUSE OF REPRESENTATIVES. THEY ARE STRICTLY FOR THE INTERNAL USE AND BENEFIT OF MEMBERS OF THE HOUSE OF REPRESENTATIVES AND ARE NOT TO BE CONSTRUED BY A COURT OF LAW AS AN EXPRESSION OF LEGISLATIVE INTENT.