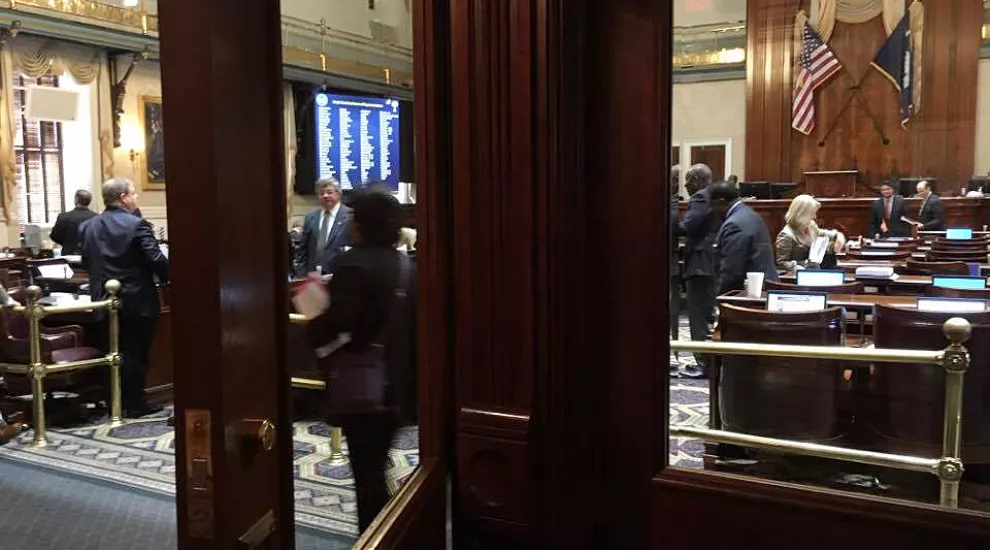 Legislative Update
April 25, 2017
Vol. 34, No. 15
The House of Representatives concurred in Senate amendments to H.3792, a bill addressing MINIMUM STANDARDS FOR RESTROOMS AVAILABLE AT MIDDLE AND HIGH SCHOOL STADIUMS, and enrolled the legislation for ratification. This legislation establishes minimum standards for the numbers of restroom plumbing fixtures available for men and women at middle school and high school stadiums as a means of relieving public schools from the financial burden placed upon them by current requirements. The legislation's minimum standards apply notwithstanding otherwise applicable building codes and plumbing codes.
The House approved S.181 and enrolled the bill for ratification. The legislation provides RECYCLING COMPANIES with the same protections afforded suppliers of virgin materials under South Carolina's Hazardous Waste Management Act. The revisions are in keeping with changes adopted at the federal level under the Superfund Recycling Equity Act.
The House amended, approved, and sent the Senate H.3549, legislation ALLOWING THE ISSUANCE OF PERMITS FOR ON-PREMISES CONSUMPTION OF ALCOHOLIC LIQUOR WITH THE CONSENT OF NEARBY SCHOOLS. The legislation revises provisions that prohibit liquor licenses and permits from being issued to businesses located within certain distances of churches, schools, or playgrounds, so as to allow a permit for on-premises consumption of alcoholic liquor to be issued to a business so long as the local school board of any school located within the proximity provides a statement that it does not object to a permit being issued. Legislation was approved in 2014 to allow nearby churches and playgrounds to provide such permission.
The House approved and sent the Senate H.3926, a bill providing updates and REVISIONS TO THE PHARMACY PRACTICE ACT to add definitions, provide specific guidelines, health and safety standards, and procedures for compounding pharmacies and pharmacists regarding the preparation of compounded medications. The legislation establishes current good pharmacy practices for the preparation and dispensing of compounded products, workplace safety, equipment maintenance, record-keeping, and consumer protection. The legislation provides public health standards for the compounding area environment, preparation, labeling, storing, dispensing, and distribution of sterile preparations. Authority is included for compounding materials in advance and storing them when a need for the supply can be anticipated.
The House approved and sent the Senate H.4119, a bill providing AUTHORITY FOR RENAL DIALYSIS FACILITIES TO DELIVER LEGEND DRUGS OR DEVICES TO PATIENTS.
The House approved and sent the Senate H.4005, a bill designating the third week in October of each year as "SOUTH CAROLINA NATIVE PLANT WEEK".
BILLS INTRODUCED IN THE HOUSE THIS WEEK
AGRICULTURE, NATURAL RESOURCES AND ENVIRONMENTAL AFFAIRS
S.367 WATERCRAFT Sen. Alexander
The bill increases the distance between a watercraft and another object near which a watercraft may be operated in excess of idle speed. The bill also provides that certain watercraft may not be operated upon the Intracoastal Waterway in excess of idle speed within fifty feet of certain objects.
S.570 RELATING TO REGISTRATION REQUIREMENTS FOR THE SHIPMENT AND SALE OF TREES, PLANTS, AND SHRUBS Sen. Massey
This bill provides a nursery registration fee schedule and a nursery dealer registration fee schedule. The also provides for the definition of necessary terms.
H.4163 SOUTH CAROLINA AQUATIC PLANT MANAGEMENT COUNCIL MEMBERSHIP Rep. Lowe
This bill changes the membership of the Council. The bill also outlines that the Aquatic Plant Management Plan shall seek to balance aquatic plant management with the preservation of fish and wildlife
EDUCATION AND PUBLIC WORKS
S.478 CHILD PASSENGER RESTRAINT Sen. Hutto
This bill revises the age, weight, and position of a child who must be secured in a child passenger restraint system.
S.479 INTRASTATE VISION WAIVER PROGRAM Sen. Hutto
This bill establishes the intrastate vision waiver program relating to qualifications for a commercial driver's license.
S.617 WOMEN'S BASKETBALL NATIONAL CHAMPIONS" SPECIAL LICENSE PLATES Sen. McLeod
This bill provides that the Department of Motor Vehicles shall issue "University of South Carolina 2017 Women's Basketball National Champions" special license plates.
S.626 SPECIAL LICENSE PLATES Senate Transportation Committee
This bill provides that the Department of Motor Vehicles may issue "Powering the Palmetto State" special license plates honoring South Carolina's electrical linemen; to provide that the DMV may issue "Legion of Merit" special license plates; to provide that the DMV may issue "Lions Club" special motor vehicle license plates; and to provide that the DMV may issue "Virginia Tech" special license plates.
JUDICIARY
S.131 DISTURBING SCHOOLS Sen. McLeod
Restructures disturbing schools criminal offenses to add a list of specific actions which constitute disturbing schools. Provides penalties for violations. Similar to H.3794.
S.179 DRUG USERS' LIMITED IMMUNITY FROM PROSECUTION Sen. Hutto
Creates limited immunity for certain drug and alcohol-related offenses committed by anyone who seeks medical assistance for someone experiencing an overdose. Allows these reports to be mitigating factors in proceedings relating to other offenses. Gives civil and criminal immunity to law enforcement officers for arresting a person who is later granted this immunity. Similar to H.3818.
S.199 CAR OWNERS LIABILITY FOR CAR DRIVERS Sen. Bryant
Allows the Department of Public Safety to issue a civil penalty citation to registered vehicle owners for vehicles violating the Uniform Act Regulating Traffic on Highways, even when the owner is not the offender. Provides for appeal procedures.
S.415 PROBATE COURT REFORMS Sen. Malloy
Clarifies Probate Court authority to enforce penalties for contempt. Probate judges may waive filing fees for indigent persons. Also, clarifies probate court jurisdiction in matters involving the establishment, administration, or termination of a special needs trust for disabled individuals. Establishes that authorized notice can also be made by qualifying commercial delivery services. Promotes overall uniformity among the state's forty-six probate courts. Similar to H.3511.
S.448 CHILD FATALITY REPORTS Sen. Young
Authorizes releasing information about child fatalities or near-fatalities contained in child abuse and neglect records.
H.4126 FAKE 911 CALLS Rep. Pope
Adds penalties for E911 calling abuses to also include incidents of texting bogus information.
H.4130 COMMITTEE CHAIRMAN TERM LIMITS Rep. Arrington
A joint resolution to amend our state constitution so that no General Assembly member could be selected as a committee chair in either the House or Senate if they did not serve on that committee during the preceding legislative session. Also limits service as committee chair to twelve consecutive years.
H.4154 PERSONAL INFORMATION OBTAINED FROM TELECOMMUNICATIONS OR INTERNET USE Rep. Stavrinakis
Telecommunications or internet service providers could not collect customers' personal information through their use of these telecommunication or internet services.
H.4161 REVISED GENERAL ASSEMBLY MEETING DAYS Rep. Whipper
Changes regular General Assembly meeting days from Tuesday, Wednesday, and Thursday -- with a local session on Friday-- to instead be Monday, Tuesday, and Wednesday-- with a local session to be held on Thursday. Allows exceptions to this general rule.
MEDICAL, MILITARY, PUBLIC AND MUNICIPAL AFFAIRS
S.170 CHILD FATALITY REVIEW TEAM Sen. Shealy
Among many things, this bill outlines that the coroner of each county, within a timeframe not exceeding seven working days, shall schedule a local Child Fatality Review Team to perform a review of a case where a child under the age of eighteen dies in the county he serves.
H.4162 SOUTH CAROLINA INCLUSIONARY ZONING ACT Rep. Mack
The bill provides that counties and municipalities are authorized to use inclusionary zoning strategies to increase the availability of affordable housing.
WAYS AND MEANS
S.480 DENMARK TECHNICAL COLLEGE GOVERNANCE Sen. Hutto
This bill provides for the Orangeburg-Calhoun Area Technical Education Commission to assume governance responsibilities over Denmark Technical College. All powers, duties, and obligations vested in the Denmark Technical College Area Commission in relation to Denmark Technical College are devolved upon the Orangeburg-Calhoun Area Technical Education Commission. The legislation charges the Orangeburg-Calhoun Area Technical Education Commission with convening a committee to study the most effective, efficient delivery of technical college educational opportunities to Allendale, Bamberg, and Barnwell Counties and report its findings and recommendations to the board within one hundred twenty days.
S.530 PELHAM-BATESVILLE FIRE DISTRICT CAPITAL IMPROVEMENT BONDS Sen. Talley
This bill authorizes the Pelham-Batesville Fire District, which provides fire protection services to portions of Greenville and Spartanburg Counties, to issue bonds to finance certain necessary capital improvements.
S.596 INTERIM BOARD OF TRUSTEES OF JOHN DE LA HOWE SCHOOL Sen. Peeler
This joint resolution provides for the current John de la Howe Board of Trustees and the appointments and terms of its members, to be suspended until June 30, 2019. The legislation establishes a new Interim Board of Trustees of John de la Howe School and provides for its composition.
H.4127 INCOME TAX DEDUCTION FOR POLICE OFFICER DISABILITY BENEFITS Rep. Pope
This bill establishes an individual income tax deduction for benefits paid by the South Carolina Police Officers Retirement System for a service connected disability.
The Legislative Update is on the Worldwide Web. Visit the South Carolina General Assembly Home Page (http://www.scstatehouse.gov) and click on "Publications," then click on "Legislative Updates." This will list all of the Legislative Updates by date. Click on the date you need. Also available on the website is a bill summary index, where bills referenced in one or more issues of the Legislative Update are listed in numeric order. Links to the specific text of the Legislative Update issue are provided in the bill summary index.
NOTE: THE LEGISLATIVE UPDATE IS AVAILABLE TO LEGISLATIVE TRACKING SUBSCRIBERS. YOU MAY REGISTER FOR THIS FREE SERVICE ON THE SOUTH CAROLINA GENERAL ASSEMBLY HOME PAGE BY CLICKING ON "TRACK LEGISLATION" (ON THE VERTICAL MENU BAR). 
NOTE: THESE SUMMARIES ARE PREPARED BY THE STAFF OF THE SOUTH CAROLINA HOUSE OF REPRESENTATIVES AND ARE NOT THE EXPRESSION OF THE LEGISLATION'S SPONSOR(S) OR THE HOUSE OF REPRESENTATIVES. THEY ARE STRICTLY FOR THE INTERNAL USE AND BENEFIT OF MEMBERS OF THE HOUSE OF REPRESENTATIVES AND ARE NOT TO BE CONSTRUED BY A COURT OF LAW AS AN EXPRESSION OF LEGISLATIVE INTENT.