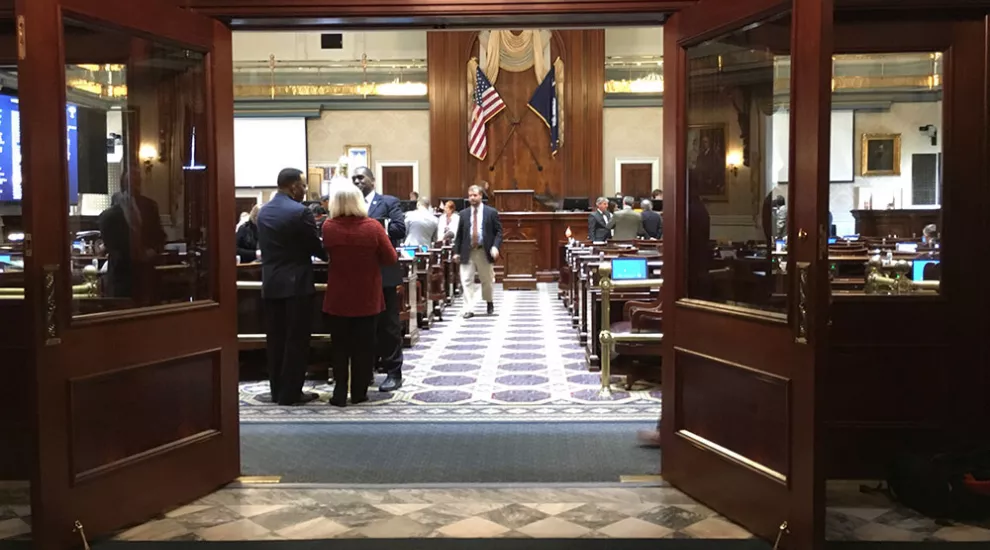 Legislative Update
April 17, 2017
Vol. 34, No. 14
The House of Representatives and the Senate adopted the conference committee report on H.3726, the RETIREMENT SYSTEM FUNDING AND ADMINISTRATION ACT, and enrolled the legislation for ratification. This bill implements recommendations of the joint legislative committee formed to study the unfunded liability facing the state retirement systems and propose changes that could allow the state's pensions to remain viable by continuing to deliver benefits to retirees without undermining the state's finances.
H.3726 decouples employer and employee contribution rates into pension systems by eliminating the required differential between the two rates which is currently set at 2.9% for the largest pension plan, the South Carolina Retirement System which serves most state government employees, teachers, various local government employees, and others, and 5% for the Police Officers Retirement System. The legislation provides for a 2% increase in the employer contribution rates for these systems effective July 1, 2017, so that the SCRS employer contribution rate will increase from the current 11.56% to 13.56% and the PORS employer contribution rate will increase from the current 14.24% to 16.24%. Each year thereafter, a 1% increase is scheduled for these employer contribution rates until Fiscal Year 2022-2023. The legislation increases and places a cap on the employee contribution rate for these systems with the SCRS employee contribution rate increasing from the current 8.66% to 9% and the PORS employee contribution rate increasing from the current 9.24% to 9.75%. The assumed rate of return on pension plan investments is reduced from 7.5% to 7.25%. Future changes to the assumed rate of return, beginning with Fiscal Year 2021-2022, are to be recommended by the Public Employee Benefit Authority, with the General Assembly afforded an opportunity to disagree with PEBA's recommendation prior to the new rate taking effect. The total cost contemplated for state general fund agencies and the Education Improvement Act for both SCRS and PORS is $73.6 million for Fiscal Year 2017-2018 and an additional $36.8 million for each of the next 5 years. The amortization period for unfunded liabilities is reduced from 30 years to 20 years over the course of the next 10 years. By applying the 2% employer contribution rate increase in year 1, the funding period will be reduced an additional 3 years in the first year, and an additional $100 million payment would be applied to the negative interest payment, which is now approximately $220 million annually. Provisions are made for how employer and employee contributions are to be reduced should the pension systems reach the point of comparative financial health when actuaries find them to be at least eighty-five percent funded.
H.3726 implements recommendations for improving governance of the retirement systems and simplifying lines of authority which draw upon findings of South Carolina's Legislative Audit Council and the private firm that conducted the independent audit of the state's pension systems. The legislation provides greater definition for the role of the Executive Director of the Public Employee Benefit Authority, who is designated by PEBA's Board of Directors and serves at the pleasure of the board. PEBA's organizational structure is clarified such that all employees are hired by and report to the Executive Director. The legislation provides revisions for PEBA's Board of Directors in order to: extend terms for board members from two years to four years; stagger terms so that they do not all expire at the same time; include diversity language for new appointees; allow for board members to be removed only for cause by the Governor; and, require the board to meet quarterly rather than monthly. The Board of Directors and Executive Director are named fiduciaries of PEBA, and penalties are established for failing to fulfill fiduciary responsibilities that are identical to those already established for the Retirement System Investment Commission. The legislation provides greater definition for the role of the Chief Executive Officer of the Retirement System Investment Commission, who is designated by the commission and serves at the commission's pleasure. The organizational structure of the RSIC is clarified such that all employees, including the Chief Investment Officer, report to the CEO. Qualification requirements for the RSIC are revised to allow for a more diverse composition, including commissioners with a significant amount of broad business experience and commissioners with investment experience reliant on professional certifications. Diversity language is included for new appointees. Term limits are provided such that commissioners are allowed to serve two consecutive four-year terms. The legislation provides an additional voting member to avoid tie votes. Rather than serving on the RSIC, the State Treasurer is to appoint a member to the commission. An active stakeholder positon is added to be appointed by the Governor. A certification process is added to ensure that commission members meet qualifications. The RSIC is authorized to engage attorneys in consultation with the Attorney General on a fee basis for investment and management of assets. The RSIC is required to cast shareholder proxy votes that are in keeping with its fiduciary duties, consistent with the best interest of the trust fund and most likely to maximize shareholder value. The legislation adds prohibitions regarding lobbyists, placements agents, and investments in which a commissioner, or an immediate family member, has an interest. Fee reporting requirements are included. The commission is authorized to delegate to the CIO, under the direct oversight of the CEO, the authority to invest up to 2% of the value of portfolio assets in publicly-traded investments or up to 1% of assets if the investments are not publicly-traded. The legislation establishes a four-year rotation schedule for fiduciary audits of PEBA and RSIC conducted by a private firm hired by the State Auditor. The legislation simplifies and clarifies fiduciary governance by reducing conflicting and overlapping authority of the State Treasurer, the State Fiscal Accountability Authority, and PEBA. SFAA approval is no longer required for implementation of PEBA policy decisions. The Treasurer is removed as the custodian of the state's five retirement systems. PEBA and RSIC are to be co-trustees of retirement system assets and SFAA is removed as a co-trustee. The PEBA Board, rather than the Treasurer, is to be the custodian of the retirement system assets. The RSIC is afforded the exclusive authority to select the custodial bank that meets qualifications.
The House amended, approved, and sent the Senate H.3930, a bill providing AUTHORIZATION TO CARRY A HANDGUN IN PUBLIC WITHOUT A PERMIT, either openly or concealed, implementing what is often called "Constitutional carry" or "permitless carry" in South Carolina. In making its revisions, the legislation retains most of the current provisions relating to concealable weapons, including: the issuance of concealable weapons permits by the State Law Enforcement Division; the posting of notification that allows a business owner to prohibit concealable weapons on the premises; the homeowner permission required for carrying a concealable weapon into a private residence; and a list of places where concealable weapons are not allowed such as schools, daycare facilities, hospitals, courthouses, and the meeting places of government bodies. The new provisions for carrying a handgun lawfully in public, concealed or not, without a requirement for obtaining a concealable weapon permit apply only to those individuals who may legally purchase a firearm from a properly licensed and certified firearms dealer. The legislation specifies that the intent to use a handgun unlawfully against another person must not be inferred from the mere possession, carrying, use, or concealment of the handgun, whether it is loaded or unloaded. The legislation also provides for South Carolina to honor valid out-of-state permits to carry concealable weapons that are held by residents of other states, who are least twenty-one years old or military personnel of any age.
The House amended, approved, and sent the Senate H.3566, a bill establishing CONDITIONS UPON WHICH SCHOOL FIRST RESPONDERS MAY POSSESS FIREARMS ON SCHOOL PREMISES while rendering aid in crisis situations. The legislation makes provisions for the Law Enforcement Training Council to develop guidelines for a one-week training program offered by the Criminal Justice Academy to the emergency medical service personnel and firefighters who serve as school first responders which provides certification that, along with a valid concealed weapons permit, allows them to possess firearms on school premises while they are responding to a campus shooting or other emergencies.
The House amended, approved, and sent the Senate H.3969, a bill that revises SCHOOL PERFORMANCE RATINGS in establishing a single public education accountability system that meets both state and federal requirements. Through Act 200 of 2014, the General Assembly charged the Education Oversight Committee with developing and recommending a single accountability system that met both state and federal requirements. The EOC, working with the State Department of Education and other stakeholders, submitted recommendations for updating the Education Accountability Act to the General Assembly in January of this year. House Bill 3969 creates one report card with one overall rating for school performance that incorporates both state and federal requirements. Under these uniform provisions, a school's progress towards meeting or exceeding the criteria of the Profile of the South Carolina Graduate is measured with the performance ratings of: Excellent, Good, Average, Below Average, and Unsatisfactory. The same categories of performance ratings also must be assigned to individual indicators used to measure a school's performance, such as academic achievement, student growth or progress, graduation rate, English language proficiency, and college and career readiness. The legislation discontinues the assignment of performance rankings to entire school districts. To further increase transparency and accountability, the legislation requires that, by the 2019-2020 School Year, the school's report card must be furnished to parents and the public no later than September first. The legislation makes revisions regarding which standardized tests are administered to assess student achievement. The legislation requires the state to use a value-added system that calculates student progress or growth, and a local school district may, in its discretion, use the value-added system to evaluate classroom teachers using student progress or growth. Confidentiality provisions are included to exempt data relating to specific teacher effects on student progress or growth from public disclosure. A longitudinal data system is established in order to better assist with policy and fiscal decisions ranging from pre-kindergarten to college. The Revenue and Fiscal Affairs Office, First Steps, SDE, the Commission on Higher Education, DSS, the Technical College System, the Department of Commerce, the Department of Employment and Workforce, and other state agencies and colleges are charged with establishing and maintaining the system. Working with the Education Oversight Committee, the State Department of Education shall design and pilot district accountability models that focus on competency-based education for a district or school or on regional or county economic initiatives to improve the postsecondary success of students. A district may apply to the department and the committee to participate in the pilot.
The House approved and sent the Senate H.3968, a bill providing for ENHANCED SCREENING FOR THOSE SEEKING PROFESSIONAL AND OCCUPATIONAL LICENSING AND CERTIFICATION. This bill makes revisions to add to the Department of Labor, Licensing and Regulation's broad authority to revoke professional and occupational authorization enhanced authority to deny initial authorization so the department can deny the authorization to engage in a profession or occupation for any reason that it can revoke such authorization. The legislation's enhanced security provisions are applied to a list of seventeen professions and occupations selected due to the likelihood that the professional may be alone with clients and vulnerable individuals.
The House concurred in Senate amendments to H.3793, legislation authorizing certain applied, non-research HIGHER EDUCATION DEGREE PROGRAMS at four-year colleges and universities, and enrolled the bill for ratification. The legislation makes provisions for bachelor of science degrees in Mechanical Engineering and Electrical Engineering at South Carolina State University, doctoral degrees in Nursing Practice at Francis Marion University and the University of South Carolina Aiken, a doctor of philosophy degree in Education Administration at Coastal Carolina University, and a doctor of philosophy degree in Computer and Information Science at the College of Charleston. Approval by the Commission on Higher Education is required for all of these degree programs. The new degree programs are only allowed so long as new state general funds are not appropriated for their operation.
The House approved S.354 and enrolled the bill for ratification. The legislation makes provisions for DEPARTMENT OF MENTAL HEALTH CRISIS STABILIZATION UNIT FACILITIES where individuals entering hospital emergency rooms suffering from mental illness or substance abuse issues may be transferred to begin receiving appropriate care. This bill makes provisions for a crisis stabilization unit facility operated or authorized by the Department of Mental Health which provides a short-term residential program offering psychiatric stabilization services, detoxification services, and brief, intensive crisis services twenty-four hours a day, seven days a week. The legislation exempts a crisis stabilization unit facility from the Certificate of Need process and requires a crisis stabilization unit facility to obtain a license from the Department of Health and Environmental Control.
The House concurred in Senate amendments to H.3438 and enrolled the bill for ratification. The legislation establishes a protocol AUTHORIZING PHARMACISTS TO SUBSTITUTE INTERCHANGEABLE BIOLOGICAL PRODUCTS that have been approved by the federal Food and Drug Administration. Such substitutions may only be made when a practitioner's prescription provides authorization. The legislation provides labeling requirements and establishes a process for notifying prescribers of the specific biological product that a pharmacist dispenses to a patient.
The House amended, approved, and sent the Senate to H.3823, a bill REQUIRING HEALTH CARE PROFESSIONALS TO REPORT THE EXPOSURE OF INFANTS TO ALCOHOL OR DRUGS. The legislation adds physicians, nurses, and medical or allied health professionals to the list of those who are required to report instances of suspected child abuse or neglect by mandating a report to the Department of Social Services whenever they encounter a child, birth to one year, who is diagnosed with neonatal abstinence syndrome or a fetal alcohol spectrum disorder, or a child, birth to one year, who is medically affected by the prenatal substance exposure to a controlled or illegal substance, or withdrawal from alcohol or a controlled or illegal substance. These reports do not, however, create any presumptions that child abuse or neglect has taken place. The reporter may assist DSS in developing a safety plan for these children and their caregivers. As with other mandatory reporters of suspected child abuse and neglect, provisions are included to shield those acting in good faith from legal liability.
The House amended, approved, and sent the Senate H.3864, a bill revising MOTOR VEHICLE CHILD SAFETY SEAT REQUIREMENTS. The legislation updates age, weight, size, and position requirements for lawfully securing infants and children in approved motor vehicle child safety seats. Child passenger safety restraint system requirements provide for a progression from rear-facing seats for infants, to forward-facing seats, to belt-positioning booster seats, and ultimately, when a child is at least eight years old or at least fifty-seven inches tall, to a properly fitting adult safety seat belt.
The House amended, approved, and sent the Senate H.3865, the "SOUTH CAROLINA PREGNANCY ACCOMMODATIONS ACT". The legislation enhances state laws that combat pregnancy discrimination, promote public health, and ensure full and equal participation for women in the labor force by requiring employers to provide reasonable accommodations to employees for medical needs arising from pregnancy, childbirth, or related medical conditions, including accommodations for lactation, that allow employees to remain on the job. The South Carolina Human Affairs Commission is charged with promulgating regulations to carry out this act, which shall identify some reasonable accommodations addressing medical needs arising from pregnancy, childbirth, or related medical conditions that must be provided to a job applicant or employee affected by these known limitations, unless the employer can demonstrate that doing so would impose an undue hardship.
The House approved and sent the Senate H.3809, bill facilitating ACCESS TO A YEAR'S SUPPLY OF CONTRACEPTIVE DRUGS, such as birth control pills, patches, and rings, that can be obtained all at one time rather than through periodic refills over the course of a year. The legislation establishes requirements that all individual or group health insurance policies providing coverage for contraceptive drugs must provide reimbursement for a twelve-month refill of contraceptive drugs obtained at one time by the insured, unless the insured requests a smaller supply or the prescribing provider instructs that the insured must receive a smaller supply. The Department of Health and Human Services is directed to require all Medicaid health plans to include this option of dispensing a twelve-month supply of contraceptive drugs. Provisions are included for on-site dispensing of the prescribed contraceptive drugs, which include all drugs approved by the United States Food and Drug Administration that are used to prevent pregnancy such as hormonal drugs administered orally, transdermally, and intravaginally.
The House amended, approved, and sent the Senate H.3824, a bill establishing REQUIREMENTS FOR HEALTH CARE PRACTITIONERS TO REVIEW A PATIENT'S CONTROLLED SUBSTANCE PRESCRIPTION HISTORY. The legislation establishes a protocol for conducting a review a patient's controlled substance prescription history, as maintained in the prescription monitoring program, before a practitioner issues a prescription for a Schedule II controlled substance.
The House amended, approved, and sent the Senate H.3821, a bill providing for a MANDATORY HIGHER EDUCATION CURRICULUM ON PRESCRIBING CONTROLLED SUBSTANCES in the training health care professionals. The bill requires public and private institutions of higher education offering degrees in a health care profession that allows graduates to prescribe controlled substances listed in Schedules II, III, and IV to develop mandatory course work on the prescription and monitoring of controlled substances, including Schedule II drugs used to treat or manage pain. The coursework must include instruction on strategies to recognize and reduce the likelihood of patient addiction to opioids and other controlled substances.
The House approved and sent the Senate H.3559, a bill creating a three-year PILOT PROGRAM FOR THE CULTIVATION OF INDUSTRIAL HEMP. The Department of Agriculture will allow up to fifteen permits to be issued annually, to South Carolina residents, for the purposes of a pilot program with each permittee allowed to grow industrial hemp on up to twenty acres of land. When applying for a permit, each applicant, at a minimum must submit to the department, global positioning system coordinates of where the industrial hemp will be grown and such other required information as fingerprints and the appropriate fees required by the South Carolina Law Enforcement Division (SLED) to perform a fingerprint based state criminal records check and for the Federal Bureau of Investigation to perform a national fingerprint-based criminal records check. No person who has been convicted of any felony, or any person convicted of any drug-related misdemeanor or violation in the previous ten years from the date of the application, shall be eligible to obtain a permit. Before the department will issue a permit to the applicant, the applicant must have proof of a signed purchaser with a contract. The Department may charge fees to administer this pilot program, not to exceed two hundred and fifty dollars annually per applicant. Applicants must provide written consent allowing SLED to enter onto all premises where industrial hemp is cultivated, processed, or stored for the purpose of conducting physical inspections or ensuring compliance with the Industrial Hemp Pilot Program. The legislation includes requirements for periodic laboratory testing to ensure that industrial hemp crops do not have unlawfully high levels of delta-9 tetrahydrocannabinol, and crops with unlawfully high THC levels are required to be destroyed. Criminal penalties are established to address the cultivation of industrial hemp as a means of disguising marijuana production or distribution operations. A violation is a misdemeanor that carries a term of imprisonment for up to three years and/or a fine of up to three thousand dollars. Research Universities may conduct research on industrial hemp as an agriculture commodity and shall work in conjunction with the Department of Agriculture to identify solutions for applications, applicants and new market opportunities for industrial hemp growers.
The House amended, approved, and sent the Senate H.4033, a bill establishing the offense of ENDANGERING A HIGHWAY WORKER while driving in a highway work zone and failing to obey traffic control devices or traveling in undesignated lanes. The legislation establishes an array of penalties for violations, including a fine of not more than five thousand dollars when the driver causes a highway worker to suffer great bodily injury. The legislation also eliminates the four point driver's license violation provided for a driver's failure to use a turn signal and instead provides for a violator to be fined twenty-five dollars.
The House approved and sent the Senate H.3297, a bill authorizing NATIONAL GUARD VETERAN'S DESIGNATION ON DRIVER'S LICENSES. The bill provides authorization for the Department of Motor Vehicles to issue a driver's license or special identification card with the veteran's designation to qualifying individuals who served in the National Guard for at least twenty years.
The House amended, approved, and sent the Senate H.3209, a bill providing greater clarification and uniformity for CRIMINAL RECORD EXPUNGEMENT provisions. The legislation makes provisions for offenses that are no longer crimes to be eligible for expungement if the elements of the former criminal offenses are consistent with current-day offenses. The legislation clarifies that these expungements apply retroactively as well as to out-of-state convictions.
The House approved and sent the Senate of H.3290, a bill addressing PLEA AGREEMENTS RELATING TO UNIFORM TRAFFIC TICKETS. The legislation provides authority that allows not only a law enforcement officer who has issued a uniform traffic ticket, by also a solicitor or anyone else authorized to prosecute an offense, to invalidate a uniform traffic ticket and issue a ticket for a different offense as part of a plea agreement.
The House approved and sent the Senate H.3093, a bill making provisions for a RETENTION OF THE OWNER-OCCUPIED SPECIAL PROPERTY TAX ASSESSMENT RATE FOR A DECEASED INDIVIDUAL'S ESTATE. The legislation provides that when a homeowner receiving the four percent property tax assessment ratio dies, the property shall continue to receive the special owner-occupied assessment rate until the deceased's estate is closed, or upon recording of a deed or deed of distribution out of the estate, whichever occurs first. This extension of the special assessment rate only applies if the property is not rented.
The House approved and sent the Senate H.3895, a bill updating and clarifying the duties of the REVENUE AND FISCAL AFFAIRS OFFICE.
The House amended, approved, and sent the Senate H.3137, a bill revising provisions governing authorized TASTINGS CONDUCTED BY MICRO-DISTILLERIES.
The House approved and sent the Senate H.3933 which provides for the Department of Motor Vehicles to issue two ADDITIONAL DEALER LICENSE PLATES TO A MOTOR VEHICLE DEALER WITH A SERVICE GARAGE at the dealership to facilitate loaner vehicles provided to customers during repairs.
The House amended, approved, and sent the Senate H.3271, a bill that provides for various STATUTORY UPDATES AND REVISIONS RECOMMENDED BY THE HOUSE LEGISLATIVE OVERSIGHT COMMITTEE as a result of its study of the Comptroller General's Office. The legislation addresses statutory accounting responsibilities relating to the Department of Motor Vehicles.
The House gave second reading approval to H.4005, a bill designating the third week in October of each year as "SOUTH CAROLINA NATIVE PLANT WEEK".
The House rejected H.3744, a bill revising MAGISTRATE COMPENSATION.
BILLS INTRODUCED IN THE HOUSE THIS WEEK
EDUCATION AND PUBLIC WORKS
S.28 ELECTIVE CREDIT IN RELIGIOUS INSTRUCTION Sen. Campsen
This bill, relating to elective credit for released time classes in religious instruction for high school students, provides that the school district board of trustees may, as a means to ensure evaluation of instruction on the basis of purely secular criteria, accept released time credits as transfer credits from an accredited private school that has awarded private school credits for a released time program operated by an unaccredited entity.
S.462 DIPLOMAS Sen. Hembree
This bill revises the requirements for obtaining diplomas, provides personalized pathways for students, provides that students' coursework must be aligned with their personalized pathways and based on their postsecondary plans, and provides for the development of criteria for uniform state-recognized employability credentials aligned to individualized graduation plans and programs of study for students potentially unable to achieve successful completion of uniform diplomas.
S.488 DEALER PLATES Sen. Grooms
This bills provides that a dealer license plate may be used by a person whose vehicle is being serviced or repaired by the dealership, provided the vehicle displaying the license plate is given to the person by the dealer at no charge to the consumer and only for the duration of the service or repair, and to provide that a dealer may be issued two plates for the first twenty vehicles sold during the preceding year and two additional plates for each fifteen vehicles sold beyond the initial twenty during the preceding year.
S.531 VETERAN FAMILY TUITION AND FEES Sen. Young
A bill, relating to the definition of "covered individual" for the purposes of in-state tuition and fees for children and spouses of veterans and active duty military personnel, provides that the definition includes a child or spouse enrolling within three years of a veteran's discharge provided that the child or spouse is entitled to and receiving assistance.
JUDICIARY
S.3 PROVISIONS FOR COST OF ANIMAL CARE ACT OF 2017 Sen. Rankin
The "Provisions for Cost of Animal Care Act of 2017" establishes that the custodians of animals taken into custody under certain circumstances may petition the court to be reimbursed for providing animal care. Creates procedures for hearing petitions and collecting these ordered reimbursements.
S.289 SOUTH CAROLINA CRIME VICTIM SERVICES ACT Sen. Shealy
Enacts the "South Carolina Crime Victim Services Act" to restructure and consolidate victim service operations.
S.334 ON-PREMISES ALCOHOL CONSUMPTION AT SPORT ENTERTAINMENT COMPLEXES Sen. Senn
Adds permits to allow purchasing and selling of beer and wine for on-premises consumption at baseball complexes. Legalizes biennial licenses to sell alcoholic drinks at baseball complexes.
S.447 REPORTING CHILD ALCOHOL EXPOSURE Sen. Young
Requires medical professionals to report to SCDSS all infants, from birth to one year old, or fetuses diagnosed with neonatal abstinence syndrome or a fetal alcohol spectrum disorder.
H.4094 TRAFFICKING AS CHILD ABUSE Rep. Erickson
Designates child victims of sex trafficking, or other forms of trafficking in persons, as victims of child abuse or neglect.
H.4113 NO FEES FOR PROVIDING CONSTITUENT SERVICES Rep. D.C. Moss
Establishes that a General Assembly member, who is also licensed to practice law, cannot charge, or accept, any fee for performing constituent services before a state agency, commission, board, department, or other state governmental entity except as required by law or before a court under our state unified judicial system.
H.4115 PARTISAN PRIMARY ELECTION REQUIREMENT Rep. Clemmons
Prohibits an individual from voting in a partisan primary election unless the individual has first registered as a member of that certified political party.
LABOR, COMMERCE AND INDUSTRY
H.4091 PIONEER RURAL WATER DISTRICT Rep. Sandifer
This bill provides for the reconstitution of the Board of Directors of the Pioneer Rural Water District of Oconee and Anderson Counties. The legislation provides that the district may not construct a water treatment facility unless it can prove by clear and convincing evidence that no other feasible option is available that is able to meet the demands of its service area.
H.4093 "EMPLOYMENT FIRST INITIATIVE ACT" Rep. Collins
This bill enacts the "Employment First Initiative Act" to establish policies supportive of competitive and integrated employment of individuals with disabilities. The legislation establishes responsibilities for state agencies and the state's political subdivisions. The legislation creates the South Carolina Employment First Oversight Commission and provides for its composition, function, and duties.
H.4118 "HEARING AID COVERAGE FOR CHILDREN ACT" Rep. J. E. Smith
This bill enacts the "Hearing Aid Coverage for Children Act" to establish requirements for group health insurance and group health benefit plans to cover hearing aids and replacement hearing aids for an insured with impaired hearing who is eighteen years of age or younger.
MEDICAL, MILITARY, PUBLIC AND MUNICIPAL AFFAIRS
H.4092 MEDICAID HEALTH PLANS Rep. Bedingfield
The department shall prohibit Medicaid health plans from limiting patient access to medications that treat opioid addiction including, but not limited to, through dosage limitations, duration of treatment limitations, extensive prior authorization requirements, and fail-first or step therapy requirements, and shall guarantee unrestricted access to any FDA-approved treatment options available for individuals who have completed a detoxification program.
H.4112 ADMINISTERING OR PRESCRIBING OF A CONTROLLED SUBSTANCE CONTAINING AN OPIOID BY A PRACTITIONER Rep. Bedingfield
In consultation with the Board of Medical Examiners and the Board of Pharmacy, the department shall develop and publish a uniform voluntary nonopioid directive form which may be used by a patient to deny or refuse the administering or prescribing of a controlled substance containing an opioid by a practitioner.
H.4116 MEDICAL PRACTICE ACT Rep. Ridgeway
Under the Medical Practice Act, this bill adds that no provision may be construed to require a physician to secure a Maintenance of Certification (MOC) as a condition of licensure, reimbursement, employment, or admitting privileges at a hospital in this State. "Maintenance of Certification" means a continuing education program that measures core competencies in the practice of medicine and surgery and is approved by a nationally-recognized accrediting organization.
H.3117 EXCEPTIONS TO CONFIDENTIALITY OF DATA IN THE PRESCRIPTION MONITORING PROGRAM Rep. Henderson
This bill adds an exception for the provision of data to drug courts.
The Legislative Update is on the Worldwide Web. Visit the South Carolina General Assembly Home Page (http://www.scstatehouse.gov) and click on "Publications," then click on "Legislative Updates." This will list all of the Legislative Updates by date. Click on the date you need. Also available on the website is a bill summary index, where bills referenced in one or more issues of the Legislative Update are listed in numeric order. Links to the specific text of the Legislative Update issue are provided in the bill summary index.
NOTE: THE LEGISLATIVE UPDATE IS AVAILABLE TO LEGISLATIVE TRACKING SUBSCRIBERS. YOU MAY REGISTER FOR THIS FREE SERVICE ON THE SOUTH CAROLINA GENERAL ASSEMBLY HOME PAGE BY CLICKING ON "TRACK LEGISLATION" (ON THE VERTICAL MENU BAR).
NOTE: THESE SUMMARIES ARE PREPARED BY THE STAFF OF THE SOUTH CAROLINA HOUSE OF REPRESENTATIVES AND ARE NOT THE EXPRESSION OF THE LEGISLATION'S SPONSOR(S) OR THE HOUSE OF REPRESENTATIVES. THEY ARE STRICTLY FOR THE INTERNAL USE AND BENEFIT OF MEMBERS OF THE HOUSE OF REPRESENTATIVES AND ARE NOT TO BE CONSTRUED BY A COURT OF LAW AS AN EXPRESSION OF LEGISLATIVE INTENT.