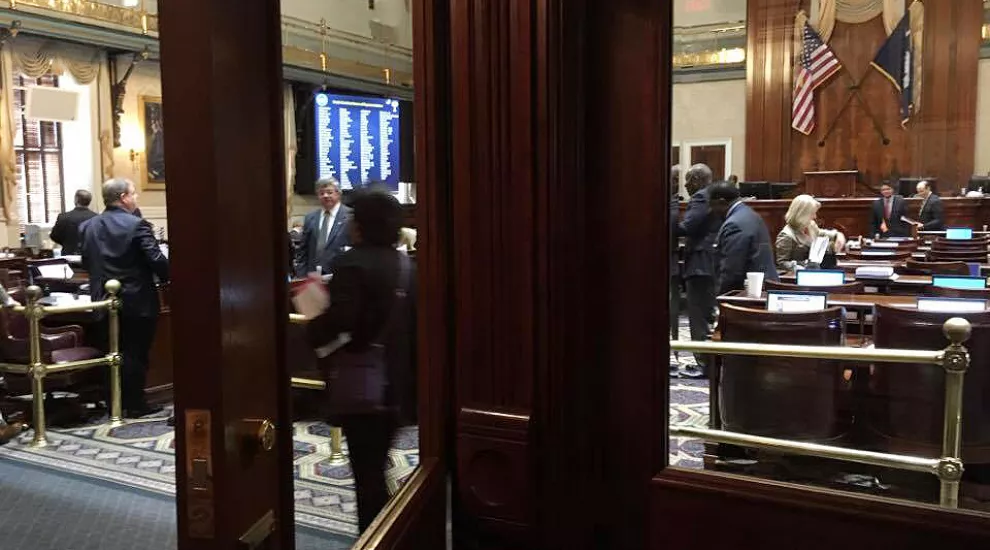 Legislative Update
March 21, 2017
Vol. 34, No. 11
The House of Representatives amended, approved, and sent the Senate H.3720, the General Appropriation Bill, and H.3721, the joint resolution making appropriations from the Capital Reserve Fund, which together comprise the $26.9 billion FISCAL YEAR 2017-2018 STATE GOVERNMENT BUDGET. The budget includes $7.9 billion in recurring state general fund revenue, $29 million in nonrecurring Fiscal Year 2016-2017 certified surplus, and $139 million in Capital Reserve Funds.
The Capital Reserve Fund is utilized to supply South Carolina's share in Federal Emergency Management Agency natural disaster recovery efforts, with $82 million provided for the state's FEMA match for Hurricane Matthew and $1.25 million provided for the FEMA match for the Pinnacle Mountain fire. $700,000 of these Hurricane Matthew FEMA match funds are allotted to the Town of Nichols which suffered particular devastation during the storm's floods.
$5 million in nonrecurring funds is provided for statewide coastal beach renourishment.
$150 million is devoted to the initial 2% increase in the employer contribution rates for the South Carolina Retirement System and the Police Officers Retirement System that is in keeping with the schedule for addressing the unfunded liability facing the state's pensions proposed by a joint legislative study committee in H.3726, the Retirement System Funding and Administration Act. The funds cover the entire 2% increase for state employees and Education Improvement Act obligations as well as 1% of the employer contribution increase for all others so that local governments and other employers that participate in these state pension systems will be responsible for funding only half of this 2% increase in employer contribution rates.
The annual salary of each commissioner who has served on the Retirement System Investment Commission for longer than two years is reduced to one dollar.
$25.4 million is included to cover the increased costs of operating the state's health insurance and dental plans with no increases in the premiums paid by employees.
For K-12 public education, $38 million is used to increase the base student cost by $50 to arrive at $2,400 per pupil.
The Abbeville Equity Districts Capital Improvement Plan is afforded $100 million in nonrecurring funds to be allocated by the Department of Education for funding school facility upgrades at the plaintiff school districts in the Abbeville education law suit and any other school districts with a poverty index of at least eighty percent. Funding is to be used for construction or renovation of such instructional facilities as classrooms, libraries, media centers, laboratories, cafeterias, and physical education spaces, as well as for health and safety improvements and technology upgrades inside school facilities. Funding may not be used for land purchases or for other facilities such as those that support centralized district administration or interscholastic sports activities.
$19.4 million in Education Improvement Act funds is included to address S.C. Public Charter School District growth.
$12 million in Education Improvement Act funds is provided for technology aid to school districts which has previously been funded through the Education Lottery.
The legislation suspends the National Board Certification program with its teacher salary supplements and the $54 million in savings is redirected towards teacher retention.
$375,000 in Education Improvement Act funds is included for teacher supplies.
$10 million in Education Lottery funding is allocated to purchasing or leasing new school buses.
$3 million is included to help fund the cost of industry certification exams so that students in vocational programs will not have to bear the full cost of obtaining the certifications needed for pursuing their chosen careers.
$1 million in Education Improvement Act funds is allocated for the Youth Challenge Academy boot camp program for at-risk youth.
Authorization is provided for all financial and programmatic management and operations of the John de la Howe School for at-risk youth to be suspended and all employees terminated, effective July 1, 2017. After the terminated employees final compensation has been paid all remaining funds and vacant FTE's are to be transferred to Clemson University PSA which is charged with managing and maintaining the grounds and other property of the estate and evaluating how agricultural educational programs might be implemented that would be in keeping with the terms of Dr. John de la Howe's will. Clemson University is to report to the Senate Finance Committee and to the House Ways and Means Committee by December 1 on its findings and recommendations.
Full funding is provided for the LIFE, HOPE, and Palmetto Fellows higher education scholarship programs. Again the scholarships are fully funded through the Education Lottery including the increases that are anticipated because of the conversion to a ten point grading scale in K-12 public education.
$10 million is appropriated for Workforce Scholarships to provide grants for tuition, fees, transportation, or textbook expenses to South Carolinians enrolled in career education programs at technical schools or professional certification programs.
The Board of Technical and Comprehensive Education is afforded $10 million for Career Pathways initiative for addressing critical workforce needs, $9.6 million from the Capital Reserve Fund for worker training through the Ready SC Program at the state's technical colleges, and $10 million from the Education Lottery for Allied Health career training.
$2 million in recurring funds and $20 million in nonrecurring funds is provided for the Deal Closing Fund that the Department of Commerce uses to recruit new business to the state. The Department of Commerce is afforded appropriations of $5.5 million in nonrecurring funds $7.5 million from the Capital Reserve Fund for the Locate SC Site Inventory, $2 million in nonrecurring funds for applied research centers, $200,000 in nonrecurring funds for IT-ology Coursepower, $400,000 in recurring funds for small business development centers, $350,000 in recurring funds for international strategy and trade, $150,000 in recurring funds for the Coordinating Council for Workforce Development, $250,000 in nonrecurring funds for non-community development block grant disaster recovery from the 2015 flood, and $300,000 in nonrecurring funds for the Military Base Task Force.
The Department of Employment and Workforce receives $498,854 for the Certified Work-Ready Communities Program which administers work readiness assessments to measure the quality and capability of the state's workforce.
The Department of Agriculture is afforded $500,000 in nonrecurring funds for consumer protection equipment, $1.5 million in recurring funds for agribusiness development grants to increase the available of fresh fruits and vegetables in underprivileged urban communities, and $1 million in recurring funds to expand "Certified SC" marketing of the state's produce.
$22 million is used to provide full funding for the constitutional reserve accounts that the state uses to cope with budget shortfalls.
The Local Government Fund is maintained at a funding level of $212 million.
The Department of Health and Human Services is afforded $45.4 million in recurring funds to address Medicaid program cost growth.
$8.8 million is provided from the Capital Reserve Fund for a Medicaid Management Information System.
The budget provides for the continuation of the Medicaid accountability and quality improvement programs of the Healthy Outcomes Initiative which focuses on meeting the needs of chronically ill uninsured patients in settings other than the comparatively expensive emergency room through a Primary Care Safety Net utilizing such resources as Federally Qualified Health Centers and free clinics.
The budget furthers efforts to enhance provider capacity in underserved communities through such initiatives as physician residency placements in rural areas. $4 million in nonrecurring funds is provided for a Rural Hospital Transformation Plan and $2 million in recurring funds is provided for a Rural Health Initiative partnership between DHHS and the USC School of Medicine to improve access to life-saving emergency room care in the wake of rural hospital closures. The state's telemedicine network is afforded $9 million through its proviso and a $2 million increase in recurring funds.
The Medical University of South Carolina Hospital Authority receives $5 million in recurring funds to begin the process of reestablishing an Adult Burn Unit in the state.
A provision is included prohibiting the use of any general funds to purchase fetal tissue obtained from an abortion to perform scientific or laboratory research or other kinds of investigation conducted on fetal tissue.
The Department of Health and Environmental Control receives $4.9 million from the Capital Reserve Fund for its dam safety inspection and permitting program, $3.2 million in recurring funds for its data center infrastructure, $3.8 million in recurring funds for electronic medical records, and $500,000 in recurring funds for Best Chance Network/Colon Cancer early detection screenings.
The Department of Mental Health receives $11 million for forensics and the Sexually Violent Predator Program.
The Department of Disabilities and Special Needs receives $9 million in recurring funds to increase front-line staff salaries agency wide from $10.11 per hour to $11 per hour.
$24.5 million from the Capital Reserve Fund is provided for the development of the child support system at the Department of Social Services. $18 million in recurring funds is allocated to the department to address requirements from class-action lawsuit settlement agreements. $500,000 from the Capital Reserve Fund is provided for additional residential shelter for domestic violence survivors.
$3 million in recurring funds is provided for aid to fire districts.
The Forestry Commission receives $1 million in nonrecurring funds for firefighter safety and public protection equipment.
The Judicial Department is afforded $2.5 million in recurring funds for information technology infrastructure and $3.1 million for funding stabilization due to declining revenue from court fees and fines.
The Attorney General's Office receives $618,860 for Internet crimes against children and violent sex crimes prosecution.
The State Law Enforcement Division is provided $406,910 in recurring funds for law enforcement officer rank change, $488,000 in recurring funds for officer overtime, $2 million in recurring funds to complete its vehicle rotation, and $829,665 in recurring funds and $448,000 in nonrecurring funds for counter terrorism and arson personnel.
The Department of Public Safety is appropriated recurring funds in the amounts of $180,720 for information technology security positions, $88,000 for network infrastructure needs, $939,600 for in-car video cameras, and $700,000 for local law enforcement grants.
The salary and positon of the Director of the Department of Public Safety is eliminated in the budget.
The Department of Corrections receives $4 million in recurring dollars for its correctional officer hiring rate adjustment and retention plan to reduce turnover rate at the agency, $1.5 million in recurring funds for the final phase of its mental health remediation plan, $469,911 in recurring funds for the final phase of its medical remediation plan, and $285,451 for the first half of the department's plans for equipping inmates with skills that will help them to reenter society.
The Department of Probation, Parole, and Pardon Services is provided $1.1 million in recurring funds for its agent vehicle support plan and $1.2 million in recurring funds for domestic violence specialized caseload.
The Department of Juvenile Justice receives $502,375 in recurring funds for its correctional officer hiring rate adjustment and retention plan to reduce turnover rate at the agency
The Criminal Justice Academy receives $550,400 in recurring funds for law enforcement psychological screening.
The Department of Natural Resources is allocated $4.1 million in recurring funds for law enforcement salary realignment, $105,908 in recurring funds for law enforcement officer step increases, and $1.8 million in recurring funds for outreach programs.
Clemson PSA receives $700,000 for the statewide extension program and $600,000 to enhance agriculture and natural resources programs and facilities.
The State Ethics Commission receives $105,300 in recurring funds and $10,000 in nonrecurring funds for additional administrative assistants.
The State Election Commission receives $201,000 in recurring funds for the supervision of county boards of voter registration and elections.
The Division of Information Security at the Department of Administration receives $2 million in recurring funds for enterprise technology and remediation to enhance threat prevention and detection measures at state agencies.
The Department of Consumer Affairs is appropriated $153,113 in recurring funds for employee retention.
The Department of Parks, Recreation and Tourism receives $3.3 million in recurring state general funds for welcome center operations, $2.2 million in nonrecurring funds to address revenue loss at coastal state parks due to Hurricane Matthew, and $1 million in nonrecurring funds for facilities revitalization.
$6 million from the Litigation Recovery Account is provided for the Parks and Recreation Development Fund which is used for awarding grants to fund improvements at local government parks and recreational facilities.
The Department of Transportation is appropriated $5 million in current fuel revenue diversions to allow a greater percentage of SCDOT revenue to be used exclusively for repairs, maintenance, and improvements to the existing transportation system.
A voluntary local road transfer program is included to allow the Department of Transportation to enter into contracts with counties and municipalities to allow some of the thousands of miles of smaller, less-traveled, often fragmented stretches of roadways currently in the state highway system to come under local control. Mutual agreements may be reached that allow these local governments to assume responsibility for roads within their boundaries and receive compensation from SCDOT for roads transferred out of the state system that may include credits towards future construction projects, payment of funds from the state's share of the County Transportation Committee funds, or satisfaction of debt owed to the department.
The State Transportation Infrastructure Bank Board is required to provide livestreamed coverage of all Board meetings to ensure transparency and access for the public.
The Division of Aeronautics receives nonrecurring funding in the amounts of $100,000 for airport facilities security system replacement and $150,000 for airline recruitment and retention.
The State Fiscal Accountability Authority is required to compile and post on its website a report on contract usage and administrative fees.
State employees with salaries under $40,000 are exempted from any mandatory furloughs that state agencies may have to institute as a cost-saving measure to address budget shortfalls.
A $1 million increase is provided for state aid to county libraries.
The Arts Commission receives $350,000 for grants to local arts organizations.
The Department of Archives and History is afforded $200,000 for the preservation of South Carolina's seven constitutions.
The Lieutenant Governor's Office on Aging receives $23,450 in recurring funds for the Vulnerable Adult Guardian Ad Litem Program and $200,000 in recurring funds for family caregiver services that allow seniors to remain their homes and avoid the more expensive alternative of institutional care.
BILLS INTRODUCED IN THE HOUSE THIS WEEK
AGRICULTURE, NATURAL RESOURCES AND ENVIRONMENTAL AFFAIRS
S.465 SHELLFISH Sen. Campsen
This bill provides for the issuance of permits to shellfish mariculture to harvest wild shellfish seed for use in mariculture. The bill outlines that the definition of "shellfish mariculture" is the controlled cultivation of shellfish in confinement from seed size until harvest.
H.4003 SOUTH CAROLINA PRODUCT SAFETY ACT Rep. Hiott
This bill establishes the authority of the Department of Agriculture to enforce certain food safety standards applicable to farm produce.
EDUCATION AND PUBLIC WORKS
H.3969 COMPETENCY-BASED EDUCATION Rep. Felder
This bill provides that the Education Oversight Committee shall design and pilot certain district accountability models that focus on competency-based education; by establishing a state longitudinal data system for measuring the continuous improvement of public education and the college readiness and career readiness of public school graduates. The bill also provides the measuring of student progress or growth using a value-added system in addition to other changes.
H.3971 AUTO CYCLES Rep. Willis
This bill, relating to the issuance of a driver's license and the registration and licensing of motor vehicles, changes the terms related to "automotive three-wheel vehicle" and "motorcycle three-wheel vehicle" to delete the term "automotive three-wheel vehicle" and replace it with the term "auto cycle".
H.3989 VEHICLE INSPECTIONS Rep. Jefferson
This bill provides that the Department of Motor Vehicles shall require that certain vehicles must undergo an annual inspection, to provide a fee for the inspection, and to provide penalties for violations of this article.
S.344 AUTISM AND DRIVER'S LICENSES Sen. Corbin
This bill, relating to application for a license or permit, provides that an application for a driver's license or permit must allow an applicant who has been medically diagnosed with autism to voluntarily disclose that he is autistic, which must be indicated by a symbol designated by the Department on the driver's license and contained in the driver's record.
S.411 CENTRAL CAROLINA TECHNICAL COLLEGE COMMISSION
Sen. Sheheen
This bill, relating to the Central Carolina Technical College Commission, increases the total number of commission members, and to increase the number of members appointed from Kershaw County.
S.456 MOTORCYCLE PERMITS Sen. Grooms
This bill, relating to beginner's permits, provides that a person who holds a motorcycle beginner's permit who has failed the motorcycle driver's license test three or more times must successfully complete a South Carolina Technical College motorcycle safety course, or its equivalent, in lieu of passing the motorcycle driver's license test, in order to obtain a motorcycle license, and includes further provisions.
JUDICIARY
S.105 AGENCY ORDER STAYS IN ADMINISTRATIVE LAW COURT Sen. Rankin
A party affected by an Administrative Law Court [ALC] agency order stay could petition for relief from the stay 90 days after the ALC action is commenced. The hearing on this petition must be held within 30 days after it is requested. These ALC cases must be resolved within twelve (12) months after their commencement.
H.3970 SELF-SERVICE STORAGE FACILITY LIEN SALES Rep. Delleney
Would require commercially reasonably sales held by service storage facilities to be advertised at least seven (7) days prior to the sale. Establishes other minimum requirements.
H.4007 RESIGNATION BEFORE CHANGING POLITICAL PARTY Rep. Whipper
Would require candidates who are elected in primaries and general elections with a specific party affiliation to resign their offices before changing their political party affiliation. Failure to comply with this requirement results in an automatic vacancy for that office.
LABOR, COMMERCE AND INDUSTRY
S.200 PERMITS FOR THE ERECTION AND MAINTENANCE OF OUTDOOR ADVERTISING SIGNS Sen. Grooms
This bill revises provisions governing permits for the erection and maintenance of outdoor advertising signs. The legislation eliminates a provisions that a permit is void after sixty days for a conforming sign that has been destroyed by an act of God. The legislation provides that permits shall be maintained for nonconforming signs structurally damaged by vandalism, and: (1) those signs may only be restored in kind; (2) restoration may begin not earlier than ten business days after the department has received notice of the vandalism from the sign owner; and (3) restoration shall not begin until a report of the vandalism incident has been made by the appropriate law enforcement authority and the report has been received by the department.
S.254 "OWN RISK AND SOLVENCY ASSESSMENT ACT" Sen. Cromer
This bill enacts the "Own Risk and Solvency Assessment Act" to establish insurer requirements for maintaining a risk management framework and completing an Own Risk and Solvency Assessment (ORSA) and provide guidance and instructions for filing a confidential ORSA Summary Report with South Carolina's insurance director. An "Own Risk and Solvency Assessment" or "ORSA" is a confidential internal assessment, appropriate to the nature, scale, and complexity of an insurer or insurance group, conducted by that insurer or insurance group of the material and relevant risks associated with the insurer or insurance group's current business plan, and the sufficiency of capital resources to support those risks.
S.321 REGULATION OF MANUFACTURERS, DISTRIBUTORS AND DEALERS OF RECREATIONAL VEHICLES Sen. Verdin
This bill establishes comprehensive provisions for the regulation of manufacturers, distributors and dealers of recreational vehicles as a means of protecting the public health, safety, and welfare of South Carolina residents while maintaining competition, and providing consumer protection and fair trade.
H.3968 DENIAL OF AUTHORIZATION TO ENGAGE IN A PROFESSION OR OCCUPATION FOR CRIMINAL CONDUCT Rep. Sandifer
This bill makes revisions to add to the Department of Labor, Licensing and Regulation's broad authority to revoke professional and occupational authorization enhanced authority to deny initial authorization so the department can deny the authorization to engage in a profession or occupation for any reason that it can revoke such authorization.
H.3990 SMALL BUSINESS REGULATORY REVIEW COMMITTEE Rep. Sandifer
This bill enhances the authority of the Small Business Regulatory Review Committee to: request from an agency promulgating a regulation being reviewed by the committee a response to the committee's request for information related to the regulation; request information for a regulatory flexibility analysis on a proposed regulation after the public hearing date or a regulatory flexibility analysis on an existing regulation; and, petition the state agency to amend, revise, or revoke a regulation if the committee determines there will be a significant adverse impact on small businesses. The legislation provide for the adjustment of committee members' terms to make them staggered and to provide that an appointed committee member shall not serve consecutively for more than six years.
WAYS AND MEANS
S.78 MILITARY LEAVE FOR PUBLIC OFFICIALS AND EMPLOYEES Sen. Alexander
This bill makes provisions for officers and employees of the state of South Carolina, any political subdivisions or departments of the state of South Carolina, or the Joint Services Detachment who are commissioned or enlisted for service in the South Carolina State Guard must be entitled to military leave without loss of pay, seniority, or efficiency rating, when attending State Guard or Joint Services Detachment encampment or schools for training, under proper authority, and on all other occasions when ordered to active duty in the service of the State of South Carolina.
H.3967 EXPENDITURE OF MOTOR FUEL USER FEE REVENUE Rep. Chumley
This bill revises provisions governing the expenditure of motor fuel user fee revenue to prohibit the expenditure of the portion of the motor fuel user fee credited to the Department of Transportation on employee compensation, including employee benefits. The legislation provides that the proceeds of the user fee on gasoline that are retained by the Department of Transportation, or credited to the State Highway Fund, may not be expended on new road construction projects, and must not be expended by or transferred to the South Carolina Transportation Infrastructure Bank.
H.4001 AUTHORITY FOR HIGH GROWTH SCHOOL DISTRICTS TO ISSUE BONDS TO FUND DEFICITS AND OPERATING EXPENDITURES Rep. Felder
This joint resolution provides authorization, contingent upon voter approval in a 2018 general election referendum, for the boards of trustees of the school districts that have the top two percent of student population growth for the 2018-2019 School Year to issue general obligation bonds of the school district to fund the deficit and operating expenditures
H.4002 EXEMPTION OF INDIVIDUAL RETIREMENT ACCOUNTS FROM BANKRUPTCY PROCEEDINGS Rep. B. Newton
This bill revises bankruptcy provisions relating to an individual retirement account being exempt from attachment, levy, and sale, so as to eliminate the provision that the exemption applies only to the extent that is permitted in Section 522(d) of the Federal Bankruptcy Code.
H.4004 BOND AUTHORITY FOR PELHAM-BATESVILLE FIRE DISTRICT Rep. Allison
This bill provides authorization for the Pelham-Batesville Fire District, which provides fire protection services to portions of Greenville and Spartanburg Counties, to issue bonds to finance certain necessary capital improvements.
H.4006 WAIVER OF WORK REQUIREMENTS DISALLOWED FOR SUPPLEMENTAL NUTRITION ASSISTANCE PROGRAM Rep. Simrill
This bill prohibits the Department of Social Services from applying for, seeking, accepting, or renewing a waiver of work requirements for a person applying for or receiving Supplemental Nutrition Assistance Program benefits.
H.4008 STATE HEALTH AND DENTAL INSURANCE PLAN ELIGIBILITY FOR LOTTERY COMMISSIONERS, TRANSPORTATION INFRASTRUCTURE BANK BOARD MEMBERS, AND COUNTY MAGISTRATES Rep. Finlay
This bill revises eligibility provisions for participation in the State Health and Dental Insurance Plan to provide that South Carolina Lottery Commissioners, South Carolina Transportation Infrastructure Bank Board members, and county magistrates, together with their eligible dependents, are eligible to participate under certain conditions.
The Legislative Update is on the Worldwide Web. Visit the South Carolina General Assembly Home Page (http://www.scstatehouse.gov) and click on "Publications," then click on "Legislative Updates." This will list all of the Legislative Updates by date. Click on the date you need. Also available on the website is a bill summary index, where bills referenced in one or more issues of the Legislative Update are listed in numeric order. Links to the specific text of the Legislative Update issue are provided in the bill summary index.
NOTE: THE LEGISLATIVE UPDATE IS AVAILABLE TO LEGISLATIVE TRACKING SUBSCRIBERS. YOU MAY REGISTER FOR THIS FREE SERVICE ON THE SOUTH CAROLINA GENERAL ASSEMBLY HOME PAGE BY CLICKING ON "TRACK LEGISLATION" (ON THE VERTICAL MENU BAR).
NOTE: THESE SUMMARIES ARE PREPARED BY THE STAFF OF THE SOUTH CAROLINA HOUSE OF REPRESENTATIVES AND ARE NOT THE EXPRESSION OF THE LEGISLATION'S SPONSOR(S) OR THE HOUSE OF REPRESENTATIVES. THEY ARE STRICTLY FOR THE INTERNAL USE AND BENEFIT OF MEMBERS OF THE HOUSE OF REPRESENTATIVES AND ARE NOT TO BE CONSTRUED BY A COURT OF LAW AS AN EXPRESSION OF LEGISLATIVE INTENT.