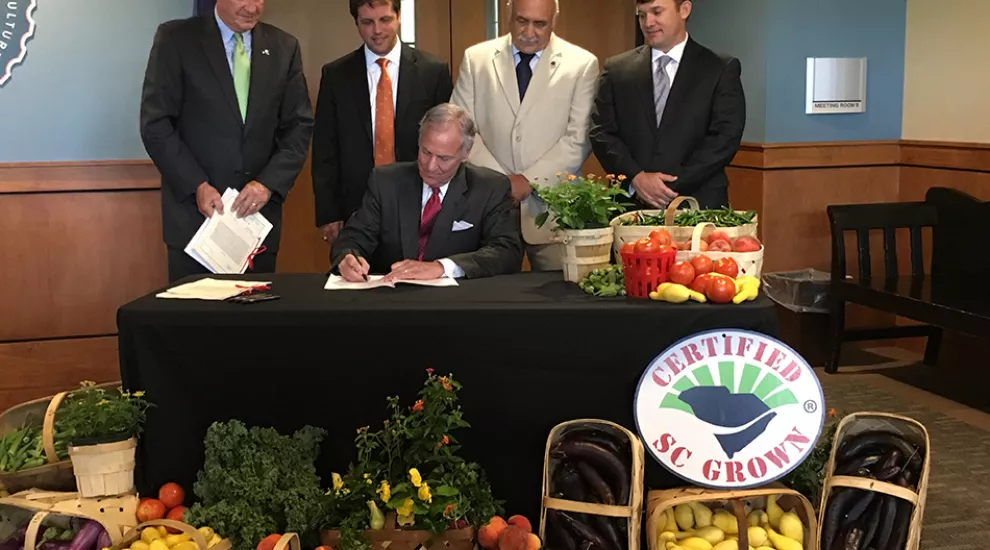 Applications are now available for farmers in South Carolina to grow the state's newest crop—hemp.
Earlier this year, lawmakers, led by Rep. Russell Ott, a Democrat from St. Matthews, sent the governor a bill, which he signed in May, making it legal to grow industrial hemp. A limited planting of the crop will take place next spring for research purposes.
This fall, the S.C. Department of Agriculture will select 20 farmers, ranging in operation size and geography, to plant up to 20 acres of hemp each. Partnering state research universities will then crunch agronomic data to understand hemp's ideal growing conditions, yields and value.
 "The industrial hemp bill adds another opportunity for South Carolina farmers to increase crop diversity," S.C. Agriculture Commissioner Hugh Weathers said shortly after the bill became law.
During a ceremonial bill signing and press conference in June, Weathers, Gov. Henry McMaster and others said the versatile crop could be sold directly to major companies in the state.
"This opens a big door for South Carolina," McMaster said. "Agriculture is our biggest business. I think it's $41 billion, a huge number, and we have a lot of untapped potential for agriculture."
Weathers and others in the agriculture community hope the research will show strong viability for the crop on some of the state's lesser-quality soils. There are even hopes it could become like another big commodity, which came on the scene 60 years ago—soybeans.
"It has more uses than probably any other crop that we grow, very versatile, and now it grows on more acres in South Carolina than any other crop," Weathers said. "Now will hemp follow that? Not on that scale, but the precedent is there for a new crop to come into our mix."
But one plant lawmakers and officials are trying to draw a clear difference between is marijuana.
Hemp is a variety of the cannabis plant and is often confused with its potent cousin. To make hemp fields legal, South Carolina's law restricts the amount of THC, the psychoactive chemical found in higher concentration in marijuana, to 0.3 percent.
Ott, a farmer from St. Matthews, spent a lot of time working on the hemp bill to differentiate between the two plants.
"Medical marijuana is a hotly debated topic in the state of South Carolina and it shows a lot of benefits, but at the same time, we understand why a lot of people are concerned about that," Ott said. "That will be another battle for someone else to fight."
Ott added that farmers are eager to find out hemp's potential, even though there have been crops in the past that failed to take root with growers—such as flax.
"If it provides a margin that exceeds our average crop values in South Carolina of our traditional crops of corn, soybeans, wheat, cotton, then it's one that the farmers will certainly explore," Weathers said. "It's new territory, and as was asked, we've had crops come along that we've been down this road, and they didn't quite pan out. I don't think there will be one that will have had quite the scrutiny and due diligence that we're going to put into hemp."
The 2014 federal farm bill requires a research phase for industrial hemp, which is why the state is restricted to choosing only 20 farmers the first year. That number and the acreage will double for the 2019 growing season.
Interested farmers need to download, fill out and return the application to the Department of Agriculture by Sept. 15 to be considered.