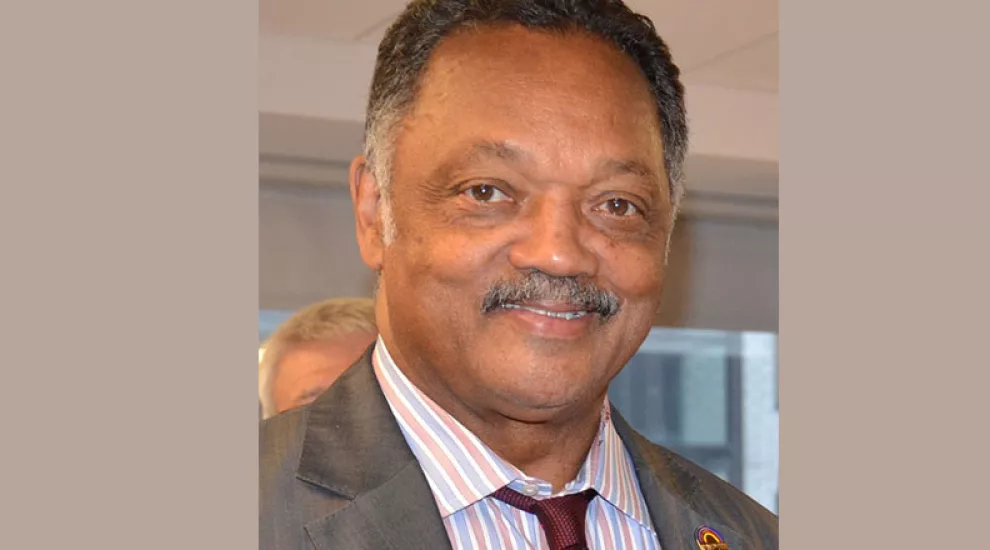 Jesse Jackson was born in Greenville, South Carolina.  Living under Jim Crow segregation laws, Jackson was taught to go to the back of the bus and use separate water fountains, practices he says he accepted until the Montgomery Bus Boycott of 1955.
He attended the racially segregated Sterling High School in Greenville, where he was elected student class president, finished tenth in his class, and earned letters in baseball, football and basketball.
Graduating from high school in 1959, he rejected a contract from a minor league professional baseball team so that he could attend the predominantly white University of Illinois on a football scholarship. 
After his second semester Jackson transferred to the historically black  North Carolina A&T, State University,  located in Greensboro, North Carolina. 
Jackson has claimed that he changed schools because racial prejudice prevented him from playing quarterback and limited his participation on a competitive public-speaking team.
While attending A&T, Jackson played quarterback and was elected student body president. He became active in local civil rights protests against segregated libraries, theaters and restaurants.
He graduated from North Carolina A&T, in 1964, with a Bachelor of Science Degree in Sociology, and focused full time on the Civil Rights Movement.
In 1965, Jesse Jackson participated in the Selma to Montgomery marches, organized by Martin Luther King, Jr., and other civil rights leaders in Alabama.
Impressed by Jackson's drive and organizational abilities, King soon gave Jackson a leadership role in the Southern Christian Leadership Conference (SCLC), selecting him to head the Chicago branch of Operation Breadbasket, and promoting him to National director in 1967.
Under Jackson's direction, Operation Breadbasket held popular weekly workshops on Chicago's South Side featuring white and black political and economic leaders, and religious services complete with a jazz band and choir
Jackson became involved in SCLC leadership disputes following the assassination of King on April 4, 1968.
By 1971. Jackson, his entire Breadbasket staff, and 30 of the 35 board members resigned from the SCLC and began planning a new organization.
People United to Save Humanity (Operation PUSH) officially began operations on December 25, 1971.   Jackson later changed the name to People United to Serve Humanity.  It was called "Operation PUSH"
During the 1980s, Jesse Jackson achieved wide fame as a politician, as well as becoming a well-known spokesman for civil rights issues.
By 1984, Jackson resigned his post as President of Operation PUSH, to run for President of the United States, even though he remained Chairman of the Board.  He was the second African-American to mount a national campaign, to run for President, after congresswoman, Shirley Chisholm.  He sought the Democratic nomination for President, again in 1988.
In the 1990's Jesse Jackson lobbied for statehood for the District of Columbia.
Though still politically active, In March 2007, Jackson declared his support for then-Senator Barack Obama in the 2008 democratic Presidential primaries. 
On November 4, 2008, Jackson attended the President Obama's victory rally in Chicago's Grant Park. In the several moments before President Obama spoke, Jesse Jackson was seen in tears.
Today, Jesse Jackson continues to be a voice for African-Americans in the U.S., contributing to USA Today, CNN, and other news outlets.
Jesse Jackson lives in Illinois.