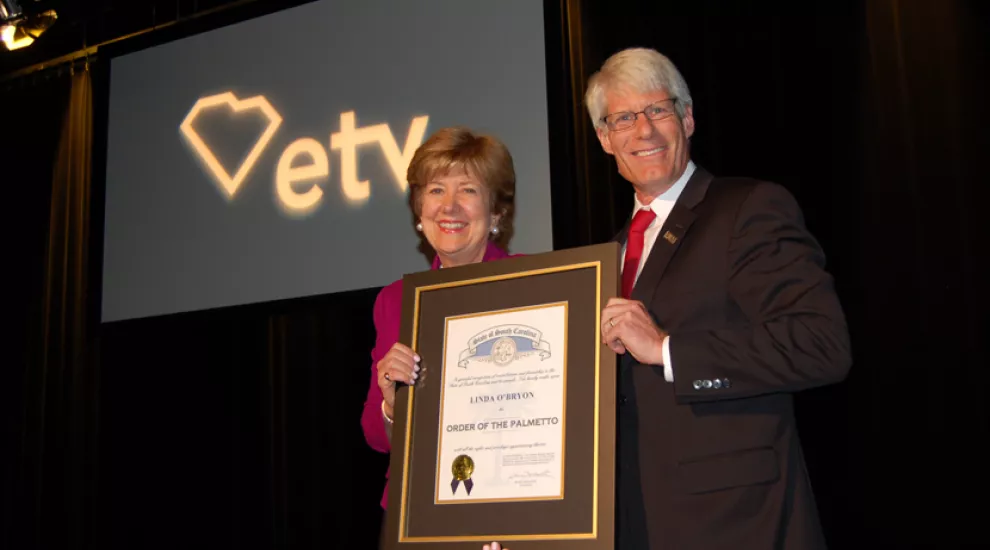 Linda O'Bryon has been awarded The Order of the Palmetto by South Carolina Gov. Henry McMaster.  This prestigious award recognizes those who have made significant contributions to the life and well-being of South Carolina and her people. O'Bryon, who has led South Carolina ETV and Public Radio, is stepping down after seven years.  The presentation, by SCETV Commission chair Dr. Brent Nelsen, was made during a surprise reception.
During her tenure, O'Bryon consolidated the organization into one building, completed a major renovation of the SCETV Center, and secured funding to upgrade and modernize the network's infrastructure statewide.  Teachers and students received expanded benefits through teacher training courses and partnerships with early childhood education organizations to provide Wi Fi technology to rural areas.  She championed upgraded and enhanced education content sites such as KnowItAll.org and LearningWhy.org.  She expanded local news reporting and oversaw local and national programs and series, including State House Week, Song Travels with Michael Feinstein, Reel South, and the Peabody Award-winning A Chef's Life.  The 24/7 SCETV PBS Kids Channel launched in August as both a broadcast and an online service.
O'Bryon's successor, Anthony Padgett of Georgia Public Broadcasting, takes the agency helm in late October.  He will be the sixth president of SCETV.
Governor John C. West presented the first Order of the Palmetto in the summer of 1971 as a way to recognize outstanding achievements, service, and contributions to South Carolina.