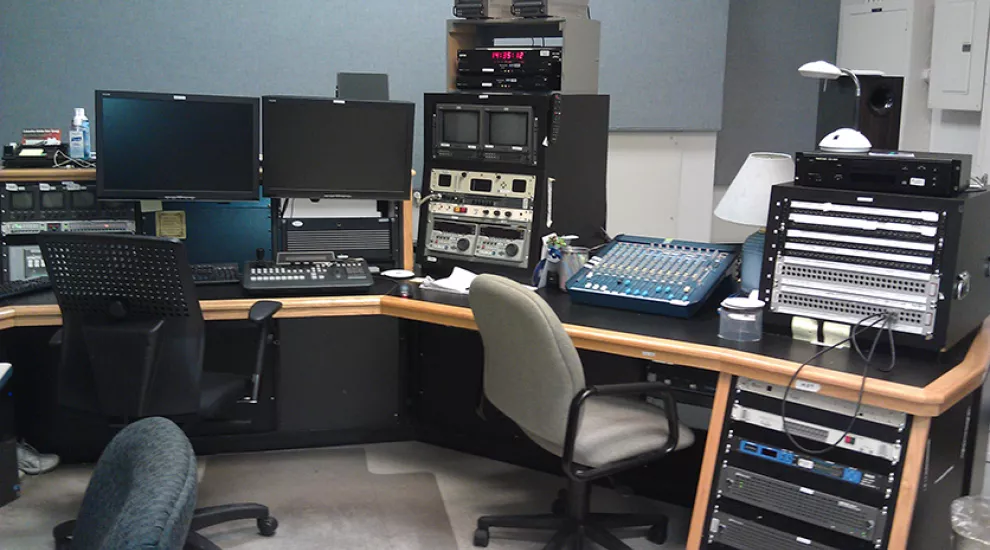 I have always had an enormous passion for public media, so the opportunity to participate in the ETV Endowment Internship Program this summer at SCETV in Columbia, S.C., feels like a dream come true! It's hard to believe that I am already finishing my second week here. Every day has been filled with so many new and exciting experiences that the time seems to be flying by.
On the first day, I met my wonderful mentor, Steve. He showed me around the entire station and shared several stories about the history of SCETV. I loved seeing all of the different studios, cameras, and editing equipment. During the tour, Steve introduced me to each person we encountered, including the fabulous Jackie. She makes coffee for the whole team every day and encourages me to stop by any time with questions or if I just feel like chatting. She is very kind and I am grateful to be working with her! Everyone at the station is absolutely wonderful and has gone out of their way to make me feel like a welcome member of the team.
In the first week of my internship, Tom took another intern and me to see the State House! I felt extra fancy because I got to enter through the same door as the press and politicians. Once inside, we visited the control room that transmits the feed from the House and Senate sessions. It was so neat to see the inner-workings and technicalities involved with this type of broadcasting. Tom also gave us a tour of the State House grounds and shared lots of interesting facts about the statues and memorials in the courtyard. Political science and history are some of my favorite subjects, so I am very thankful to Tom for this experience.
The next best thing to being at the State House is working on its broadcast feed from the station! I got to work with Karen, who manages the video and audio feed from the State House in the Distance Learning Room. The room feels like a secondary command center and is filled with computers, soundboards, and several monitors. At first, I was nervous, but Karen gave me a lot of confidence. We had tons of fun hanging out and she taught me so much. I feel lucky that I got to work with her!
The main project I am working on is fascinating! I am in the early stages of producing a short documentary about David Bancroft Johnson, the founder of Winthrop University. He was recently inducted into the South Carolina Hall of Fame, and the documentary will be available for viewing at kiosks located inside the gallery at Myrtle Beach. I am thrilled that something I am working on will be enjoyed by so many people! On my first day, I met with Steve and Jackie to discuss the different steps of my project. The steps include historical research, writing a treatment, scouting for filming locations, conducting interviews, transcribing audio, scriptwriting, and editing. I am learning how to edit film with Avid, which is really fun to work with. Steve is a great teacher and has been very patient with me, as I learn how to navigate the software. I'm excited that I get to work on this project from the very beginning and see it through, all the way to the end.
Steve and I visited Winthrop University in Rock Hill, S.C., and got to tour the campus. I hadn't ever been there and had so much fun going inside the gorgeous old buildings! We also went to the university archives and did some historical research for the documentary. I loved looking through the old photographs, letters, and catalogs. I want to ensure that all of the material I use in the documentary is factual and accurate, so I felt like a detective sifting through all of the primary documents.
Tomorrow, we are headed to the Brattonsville Historical District to film a Revolutionary War reenactment! There are going to be around 300 reenactors in full uniform playing out the drama of battles that occurred in South Carolina. I have never seen anything like this and am elated that I get to go and help capture the action! I can't wait to tell you all about it in my next blog!