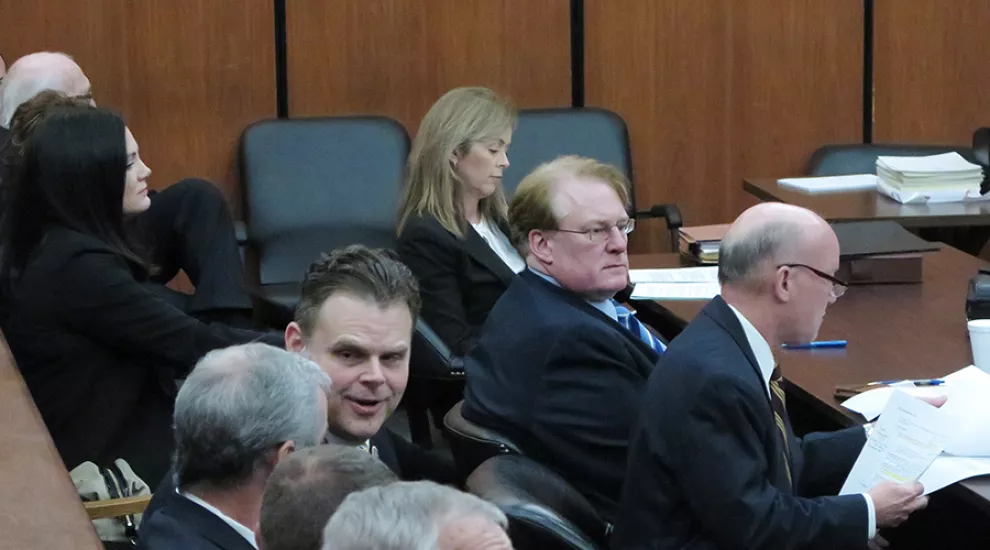 Former state Rep. Rick Quinn could face jail time after pleading guilty to a statutory misconduct in office charge, stemming from an ongoing State House corruption probe that's ensnared several current and former state lawmakers, as well as his politically-connected father.
The Lexington Republican resigned from his House seat shortly before Judge Carmen Mullen gaveled in a hastily called special hearing Wednesday. Mullen accepted Quinn's guilty plea at the end of the two-hour hearing, but delayed issuing her sentence, which at a maximum would include a year in prison and a $1,000 fine.
The plea deal, struck with special prosecutor David Pascoe, threw out the previous charges of common law misconduct in office, which carries a prison sentence up to 10 years, and a felony criminal conspiracy charge, which carries up to a five-year prison sentence.
Despite that, Pascoe asked for the maximum sentence of a year in prison over Quinn's failure to report income from the University of South Carolina obtained through a Quinn-related company on his 2016 ethics disclosure.
However, that didn't stop Pascoe from outlining allegedly corrupt activities Quinn orchestrated in the State House during his 22-year tenure.
"Jim Merrill is very different from this defendant," Pascoe said in a presentation of his investigation's findings. "He did not lobby for his clients, certainly nothing like Rick Quinn did. Jim Merrill, your honor, was nowhere near as corrupt as this defendant."
As part of the deal, Pascoe also dropped the felony criminal conspiracy charge and illegal lobbying charge against Quinn's father, Richard Quinn Sr., in exchange for his company, First Impressions, pleading guilty for failing to register as a lobbyist.  First Impressions, the legal name of Richard Quinn & Associates, was fined $3,000.
Richard Quinn will testify before the State Grand Jury next month, as part of the deal.
"We are going to find out a lot next month," Pascoe said, referencing decades of Quinn's deep political history with several prominent elected officials and companies.  
Pascoe said a court case would prove that Rick Quinn failed to report more than $4 million he received, through his father's firm, since 2010 from companies and agencies that lobby lawmakers. However, citing a long trial and estimated high cost, he settled on the plea deal upon consultation with other solicitors and State Law Enforcement Division Chief Mark Keel.
Quinn's attorney Johnny Gasser strongly refuted Pascoe's allegations, pointing out that Rick was not employed by his father's company—despite records and documentation from Pascoe alleging otherwise—but merely shared some services with RQ&A.
"They have taken emails and they have taken documents, spread out over a period of years and they used what they believe to be their context for their theory of their case," Gasser said. "The only reason we accepted this deal is because there are glaring weaknesses in their case."
Once such issue Gasser had was with Pascoe's allegations against Quinn steering more than $270,000 to his company and his father's when Quinn was House Majority Leader from 1999 to 2004. An opinion from the attorney general's office said the move was legal, despite what Pascoe saw as corruption.
The plea deal was an abrupt change in the Quinns' original legal strategy that included a February 2018 court date and consistently blasting Pascoe's investigation as a "partisan witch hunt," all those who have been indicted have been Republicans and Pasoce is a Democrat.
Pascoe has led the investigation for four years, along with a team of fellow solicitors, State Law Enforcement Division agents with the power of a State Grand Jury.
The investigation gathered steam in mid-2016 after the state Supreme Court affirmed Pascoe was in control of the investigation, despite Attorney General Alan Wilson's attempt to fire Pascoe. Wilson called Pascoe "tainted" during a 30-minute press conference in March 2016 ripping into the 1st Circuit Solicitor he appointed to lead the investigation.
 Wilson had recused himself from the investigation since he was a client of Richard Quinn & Associates—the firm run by the senior Quinn.
In 2014, three weeks after Pascoe told Wilson that Rick Quinn needed to be investigated, due to former House Speaker Bobby Harrell's corruption investigation, Wilson's office sent an email to the Quinns asking them to craft a press release announcing Pascoe's termination.
 "There is nobody in Columbia like Rick Quinn," Pascoe said in concluding his presentation.
In September, former Rep. James Merrill, R-Charleston, pled guilty to a misconduct in office charge and willingly agreed to work with Pascoe's investigation, a move that Pascoe described as critical on Wednesday.
"If it wasn't for Jim Merrill, a lot of this stuff…we would've known nothing about this," Pascoe said, referencing how Quinn mobilized support for legislation that would benefit AT&T, one of his RQ&A's clients.
"Richard Quinn told Merrill that he was opposing legislation favorable to RQA's clients and the quote from Jim Merrill is 'Richard Quinn said it had been difficult explaining why someone on the team had blocked the bill and his client was worried Merrill would continue to block the bill,'" Pascoe said.
State Sen. John Courson, R-Richland, was indicted in March for allegedly converting $133,000 in campaign funds to Quinn's consulting firm into personal funds over six years. A date has not been set yet for Courson's trial. Courson was also indicted on a criminal conspiracy charge.
Two former state lawmakers were indicted in October.
Former House Judiciary Committee Chairman Jim Harrison, R-Richland, was charged with criminal conspiracy, common law misconduct and statutory law misconduct in office.
Pascoe alleges that Harrison received $900,000 from RQ&A while lobbying lawmakers, on behalf of some of their clients, over 12 years.
Following the indictment, the state Supreme Court suspended Harrison's law license.
Former North Myrtle Beach Republican Rep. Tracy Edge was indicted on criminal conspiracy, perjury, common law misconduct in office, statutory misconduct in office charges.
Edge served on the powerful House Ways and Means Committee, which drafts the state budget every year.
Pascoe vaguely referenced an email, Wednesday, from a University of South Carolina lobbyist who used Rick Quinn to "nail down" the chairman of House Ways and Means.
The two former lawmakers and Courson have said they are innocent.