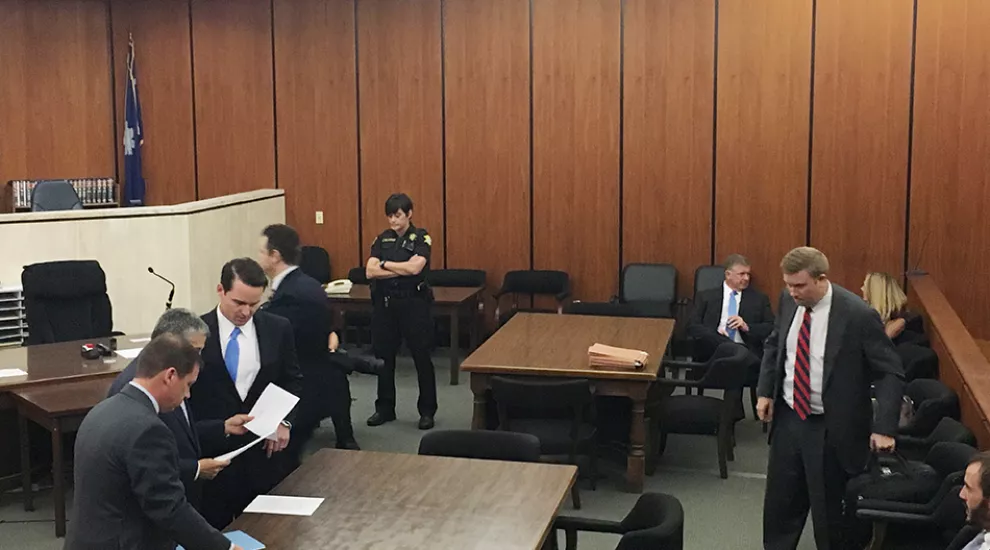 Former Rep. Jim Merrill, R-Charleston, plead guilty Friday to one misconduct in office charge stemming from a public corruption probe into the South Carolina State House.
Merrill admitted his guilt to the one charge in Judge Robert Hood's Columbia courtroom and was sentenced to one year of probation. The other 29 indictments against him will be dismissed pending his cooperation with state and federal investigators in the ongoing investigation.
Merrill is the first state lawmaker to be convicted in the corruption probe, led by First Circuit Solicitor David Pascoe, following the 2014 plea deal by former Speaker Bobby Harrell, R-Charleston. Harrell took a plea deal for six counts of misusing campaign funds. As part of that deal, Harrell agreed to work with investigators on identifying other corruption in the State House.
Merrill resigned from office on Thursday as part of his plea deal. He was first elected to the State House in 2000 and served as House majority leader from 2004 to 2008. The indictment alleged Merrill engaged in illegal activities between 2002 and 2016.
Last December, Merrill, 50, was indicted on 28 ethics charges and two misconduct in office violations—one criminal and one statutory. The indictment alleges Merrill of using his consulting business Geechie Communications to earn roughly $1.3 million.
If convicted of all 30 charges, three of them felonies, Merrill would've faced up to 66 years in prison and $146,000 in fines.
Attorney and Democratic Rep. Leon Stavrinakis said Merrill mistakenly didn't disclose the legitimate income he made while working for companies who have lobbyists in the State House when he was a House member.
Pascoe said that Merrill came to him, the State Law Enforcement Division and FBI in March to discuss details of the investigation without any deal on the table. Pascoe said there is no evidence that Merrill received any bribes, noting the work for the companies was legitimate.
Two other state lawmakers, Sen. John Courson, R-Columbia, and Rep. Rick Quinn, R-Lexington, have also been indicted on similar charges as a result of the ongoing investigation. Both have been suspended from office.