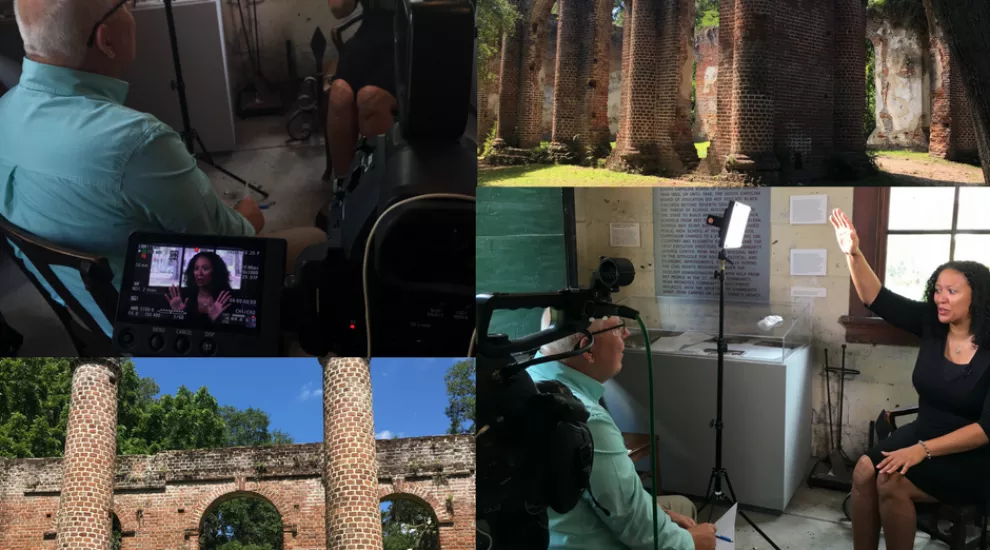 It was a bright and early morning as Kaitlyn, Don and I arrived in Beaufort, South Carolina.  We stopped to pick up Kim Sullivan, the Assistant Director for Operations and Content for SCETV in Beaufort, South Carolina, to help out, as well.  That morning, I had the privilege of going on an expedition to help Don with SCETV's project on climate change. We went to speak with Ms. Victoria Smalls, the Director of History, Art and Culture at the Penn Center, about how climate change is affecting the area of Beaufort.
Once we arrived at the Penn Center, the lovely Ms. Smalls greeted us and led us through the museum to get the perfect spot to set up the camera and lights for the interview.  Ms. Smalls had to finish up her tour of a group of visitors in the museum before we could start. That allowed us time to set up equipment and make sure everything was in check. I helped set up the lights while the camera equipment was getting set up. During the interview, Victoria Smalls expressed her thoughts and concerns about the Gullah community in Beaufort and how the climate change is affecting their traditional lifestyle. I enjoyed listening to Victoria Smalls' story.  One tradition that's affected by climate change is the sweetgrass. The descendants of Gullah in the community like to weave baskets out of sweetgrass. Unfortunately, the area has suffered severe flooding, washing a lot of the sweetgrass away. It was devastating to hear how the community is suffering from the floodwaters they've had during high tides and hurricane season.
Our journey continued after we left the Penn Center Museum. We made an educational stop at a historic landmark, a church that had burned down.  It was the church of Prince William's Parish, known as Sheldon Church. The church was built between 1745 and 1755.  The church was burned down twice. The British Army burned it down in 1779 and it was rebuilt in 1826.  The second burning of the church happened in 1865 by the Federal Army.  The church was never rebuilt, but the remains have been left since the second time. Exploring the church was fascinating. Gravestones surrounded what was left of the beautiful historic church. It is also a popular place for weddings and photo shoots.  When our detour visit came to an end, we headed back home to Rock Hill, South Carolina.
I definitely enjoyed learning a bit about the history of Beaufort, climate change and Sheldon Church.  What an exciting adventure!