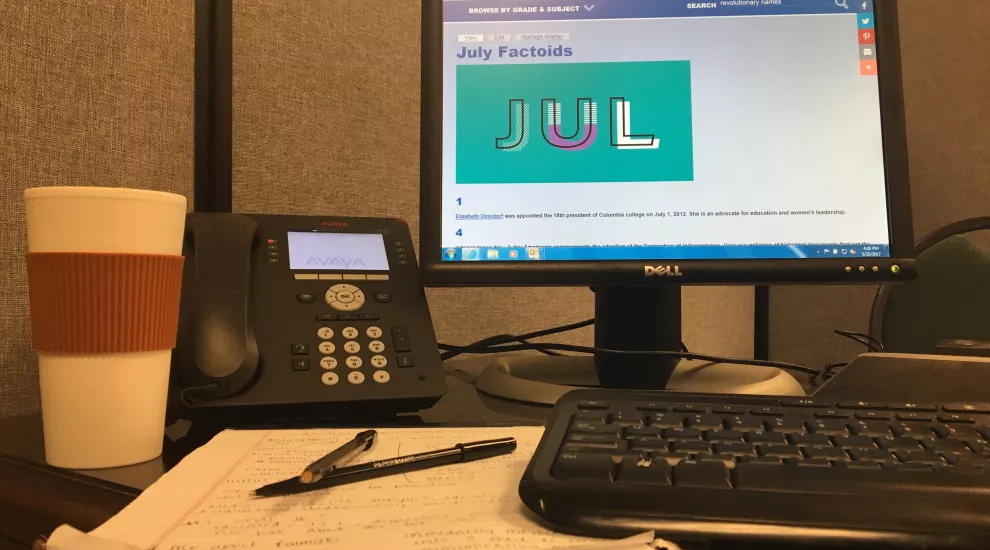 I have done it. I have officially entered into a professional environment where I am presented with a comfy cubicle, legal pads, pens and a classified password that allows me access and write various content. I am affiliated with an organization that has a ".org"; and I cannot think of anything that sounds more professional and credible than ".org". In my first week I was launched into a space of professionals who practice digital control and mastery of telecommunications. My first week at ETV has been the best whirlwind an inexperienced intern could ask for.
A week ago I did not know what a factoid was; but now I know a factoid is a trivial fact. I was always mentally ill-equipped for games like trivial pursuit and jeopardy, but not anymore. My assignment was to comb through the large databases of KnowItAll to gather facts that could correspond to a month. Did you know that Strom Thurmond was born on December 5, 1902 and was the longest-serving Republican member of Congress in U.S. history? Or that Andy Warhol was born on August 6, 1928 and his Campbell soup can series blended the lines between fine art and commercial art? Having these tidbits of facts in my arsenal may seem insignificant but the act of compiling them lend to a greater purpose.
By organizing these facts and searching for them by months, I was getting well acquainted with the KnowItAll site, which is where I project my work will continue. Instead of idly scrolling through the videos and documents, I was actively categorizing, summarizing, hyperlinking and rewriting them. The product of my work was not going into a manila folder marked "Intern Training"; it was instead going directly to the website, where it can be accessed by anyone with the correct URL (I know because I sent them to all my friends). The idea of the monthly factoid is useful because it manages to narrow down all the varied and broad topics to a deliberate spot, so if a user is simply surfing through KnowItAll they can view this month's factoids and preview the different resources the site has to offer.
My factoid experience was just one instance where I had hands-on learning. My astute supervisor, Ty Moody, has a kind and helpful hand while guiding me through the different offices and services ETV provides. I look forward to my next multimedia project with her and continuing to add to my "What I Learned This Summer" checklist.