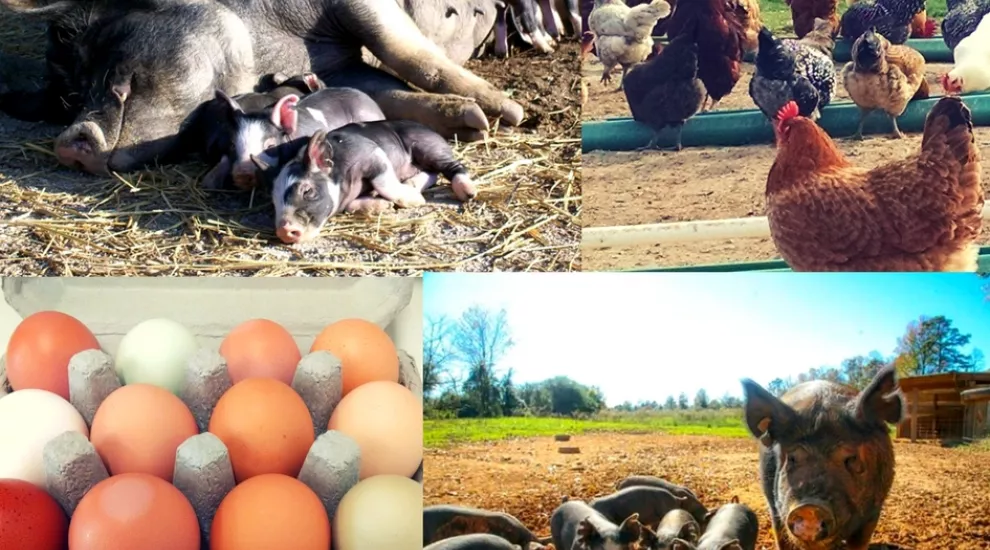 Thames Farm in Fort Lawn, South Carolina, raises all-natural pastured meats for those in Chester County and surrounding areas. "All-natural" means they don't include additional hormones or unnecessary antibiotics in their meats. The idea for this all-natural farm came about in 2013, when Amy Thames and Kent Thames, spouses and co-owners, decided that they wanted to know exactly what was going into the meat they were eating, and the only way they would know for sure is if they raised the animals themselves. Be sure to keep an eye out for a full story on Thames Farm on SCETV.org in the future. In the meantime, try Amy Thames' favorite recipe for their homegrown pork!
Thames Farm Slow-Roasted Pork Butt With Peach Sauce
Ingredients needed:
Pork
1—(6 lb.) Thames Farm Bone-In Pork Butt
1/3-Cup Kosher Salt
1/3-Cup packed Light Brown Sugar
Ground Black Pepper
Peach Sauce
10 oz. frozen peaches, cut into 1" chunks or 2 fresh peaches cut into wedges
2 cups dry white wine
½ cup sugar
¼ cup plus 1 tbsp. rice vinegar
2 sprigs thyme
1 tbsp. whole grain mustard
Cooking Instructions:
Pork
Using a sharp knife, cut slits about 1" apart in the fat-cap of the roast in a crisscross pattern. Be careful not to cut the meat itself just the fat.  Combine the salt and brown sugar in a medium bowl and then rub the mixture over the entire roast and into the slits.  Wrap in plastic wrap and refrigerate at least 12 to 24 hours.
Preheat your oven to 325 degrees and adjust the rack to the lowest setting. Unwrap the roast and brush off excess salt mixture. Then, season the roast with ground black pepper and place in a roasting pan on a wire drip rack. Add 1 quart of water.  Cook the roast, basting twice with the drippings until the meat is tender and the internal temperature registers 190 degrees. This will take 5-6 hours. After, transfer to a carving board and let it rest for 1 hour loosely tented with foil.
Next, transfer the liquid from the pan to a fat separator and let stand about 5 minutes.  Then pour off ¼ cup of the jus and reserve.
Peach Sauce
Bring the peaches, wine, sugar, ¼ cup vinegar, reserved jus and thyme to a simmer in a small sauce pot; cook, stirring occasionally, until reduced to 2 cups, (about 30 minutes).  Stir in remaining vinegar and the mustard.  Remove thyme sprigs, cover and keep warm.
Using a sharp knife, cut around the bone. You can use a tea towel to hold the roast while removing the bone.  Then, slice the roast with a serrated knife and serve the peach sauce separately to spoon over slices.