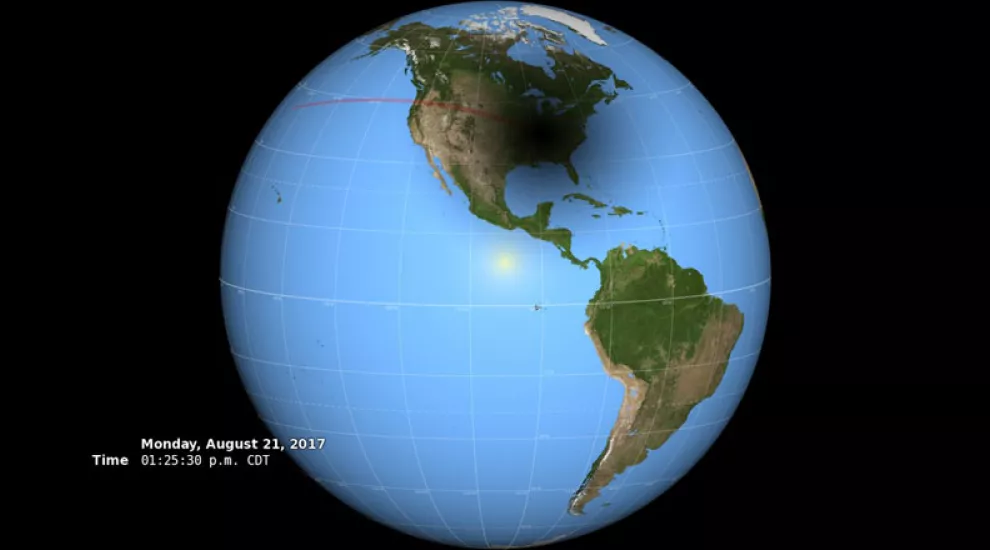 South Carolina is the prime location for a total solar eclipse crossing the U.S., coast-to-coast, for the first time since 1918. On Aug. 21, 2017, the eclipse begins near Lincoln City, OR, at 1:15 p.m. Totality ends at 2:48 p.m. near Charleston, SC.
South Carolina ETV and South Carolina Public Radio have compiled a comprehensive resource that provides all the information needed to enjoy and learn—more than you ever imagined—about this rare phenomenon! You'll find links to a plethora of information, including lesson plans, media, activities, and more, and they're all in one place! View them all here!  
The Eclipse Day Live Broadcast from South Carolina ETV is archived here. View now!
Watch South Carolina ETV's live broadcast of the 2017 Total Solar Eclipse, August 21. The program will follow the path of totality for viewers by reporting from Clemson, Columbia, and Charleston. The Columbia broadcast will feature live footage from the South Carolina State Museum's 2,500 square foot observatoryand astronaut Charles Duke. Host Beryl Dakers will broadcast from the South Carolina State Museum beginning at 2:30 p.m.
The live broadcast can be viewed online using any desktop or mobile web browser or by downloading SCETV's Mobile App from the iTunes App Store or the Android store.
The live broadcast will also air on SCETV Television and will be re-broadcast, prior to the premiere of PBS NOVA: Eclipse Over America, the evening of August 21. The NOVA special will include SCETV eclipse footage. The live audio broadcast can be heard on South Carolina Public Radio.
Tom Falvey, Director of Education, and Jugnu Verma, Observatory Educator, from the South Carolina State Museum, provide useful information, such as, the best time to view and safely viewing, and interesting facts about the 2017 Total Solar Eclipse in South Carolina. Planned State Museum events for the weekend and day of the eclipse are also shared.
This interactive Google map shows the path of the Total Solar Eclipse of 2017 Aug 21. The northern and southern path limits are blue and the central line is red. You MUST be somewhere within the central path (between the blue lines) to see the total phase of the eclipse. The eclipse is longest on the central line (red). The yellow lines crossing the path indicate the time and position of maximum eclipse at 10-minute intervals.
Solar eclipses occur when the moon blocks any part of the sun. Total solar eclipses, however, are only possible on Earth because of a cosmic quirk of geometry: The sun's diameter is 400 times wider than the moon's, but it is also 400 times farther away. The result is that the sun and the moon appear to be the same size from our perspective. When they line up just right, the moon can obscure the sun's entire surface, creating a total solar eclipse. This line-up occurs once every 12 to 18 months. Partial solar eclipses, on the other hand, occur when the alignment is such that the moon blocks only part of the sun, and these can occur more frequently.
During a total eclipse, we have the rare opportunity to look directly at the sun's vast, striking outer atmosphere, the corona. The corona appears as pearly white rays and streamers, radiating around the lunar disk. The August 2017 eclipse will present this exciting opportunity to millions across the entire country.
But total solar eclipses are more than simply beautiful to look at. They provide unique opportunities for science – and many kinds of science at that. Indeed, total eclipses throughout history have paved the way for major scientific findings across various disciplines.
"Ancient people in different civilizations were able to discern celestial patterns and predict eclipses without understanding the science," said Ramon Lopez, a space physicist at the University of Texas Arlington.
Lopez went on to describe landmarks in the history of eclipse science, such as the expedition to confirm the theory of general relativity, the first report of coronal mass ejections and the discovery that the corona is very hot – much hotter than the surface of the sun.
"An eclipse teaches us so many things, but the 2017 eclipse is especially unique because of the uninterrupted land masses it will pass over," said Lika Guhathakurta, an astrophysicist at NASA Headquarters in Washington. "This will allow us to maximize our chance to collect data and connect the shadow of the moon to Earth science."
NASA's official website for the 2017 Total Solar Eclipse. A comprehensive guide to all that is available on the 2017 Total Solar Eclipse.
NASA provides answers to some of your most-asked questions regarding the eclipse. There are also areas that cover Events, Science, Activities, Education and Resources.
Tips from NASA for viewing the event safely.
Source: American Astronomical Society​ and NASA.gov
A list of reputable manufacturers and authorized dealers of solar filters and viewers that meet recommended safety standards is available here.​
The South Carolina Emergency Management Division (SCEMD) has provided travel, commute, and planning recommendations and resources, including live traffic maps and the latest announcements regarding the hours of operation for State Government Offices, for South Carolina residents, businesses, and visitors.
Several South Carolina officials want citizens to be prepared for traffic, delays and even dangerous accidents caused by the rare eclipse and an influx of visitors to the state. A lot of things could happen around that event and we're prepared for those," Major General Robert Livingston said. "Have a plan. It's going to get dark a little bit after 2 p.m. across the state." The eclipse will leave cities like Greenville, Anderson, Columbia, Sumter, Orangeburg, Charleston and towns along the I-26 corridor in darkness for up to two and a half minutes. Because of the phenomenon, officials say it's best to stay off roadways and plan out a location ahead of time to view the eclipse.
Although total solar eclipses are not uncommon, the solar eclipse occurring August 21, 2017 is the first total solar eclipse to be visible in the contiguous United States in nearly 100 years. The 2017 total solar eclipse is the first to be observable from anywhere in the United States in 38 years.
This is a unique opportunity for educators. The South Carolina Department of Education has compiled resources on general knowledge and safety concerning the event, professional development opportunities, instructional unit resources for grades K-12, as well as external total solar eclipse events across our state and encourages educators to take this unusual opportunity to design engaging learning experiences for science.
ACCESS: http://ed.sc.gov/instruction/standards-learning/science/professional-learning-opportunities/total-solar-eclipse-resources/
South Carolina ETV and South Carolina Public Radio will provide Solar Eclipse Coverage. Leading up to August 21, 2017, a series of multi-platform segments will prepare viewers and listeners for the total solar eclipse event.
Pre-produced video segments include an interview with SCETV host Beryl Dakers and Astronaut Charles Duke about the 45th anniversary of his moon walk and the artifacts that are housed at the State Museum.
The day of, SCETV is producing a multi-city live event for television and radio across the state, as well as feeding select segments to the producers of the PBS series NOVA, which is preparing a nationwide recap/special on the solar eclipse for that evening. We'll also simulcast live on radio and television, and stream live from the South Carolina State Museum from 2:30 – 3:30 p.m. The show will follow the "path of totality" for viewers and listeners throughout the state and beyond. The SCETV program will be re-broadcast that evening prior to the premiere of the new NOVA special. There will also be simultaneous screening events in Columbia and Charleston.
During the 2017 eclipse, South Carolina Public Radio invites you to listen while you watch as experts explain the phenomenon.  Host Beryl Dakers, public radio and TV reporters on location around the state, and the staff of the SC State Museum will provide live coverage on August 21 at 2:30 p.m.
Using either the free South Carolina ETV App on your phone or a radio, eclipse watchers can hear astronauts and naturalists narrate this astronomical event.  The SCETV App is free from either Google or iTunes.  SC Public Radio is part of the SCETV App.  Eclipse watchers can also tune in from their cars or boats to the statewide radio network.  Stations are listed on the radio website: www.southcarolinapublicradio.org/about
Viewers outside the total eclipse area can watch on SCETV or online at SCETV.org, live, from 2:30 p.m.-3:30 p.m.  They can also tune in to SCETV that evening at 8:00 p.m. for a full recap, and see footage from South Carolina and around the country on a special PBS NOVA at 9:00 p.m. that evening.
Viewing by TV is best for little ones and the elderly.  Sunglasses and 3-D glasses from movie theaters will not protect eyes from damage.  Be sure to use approved eclipse glasses.
Though August's total solar eclipse will sweep across only part of the country on August 21, the Post Office is bringing the excitement of the rare event to postal customers with a newly available stamp.
Well, it's more like two stamps in one, thanks to a special heat-sensitive ink. The warmth of a finger on the stamp reveals the underlying image of the Moon and reverts to the eclipse once the thermochromic ink cools. 
"With the release of these amazing stamps using thermochromic ink, we've provided an opportunity for people to experience their own personal solar eclipse every time they touch the stamps," Jim Cochrane, Chief Customer and Marketing Officer of the United States Postal Service, said in a press release. 
Find local events, viewing locations, and NASA broadcast locations.
Fri., Aug. 18 – Mon., Aug. 21
On August 21, 2017 Columbia, SC will be one of the best places to witness the Solar Eclipse of 2017. The South Carolina State Museum will be hosting a weekend-long celebration of eclipse activities, exhibitions and shows all leading up to solar eclipse totality which occurs at 2:41pm on Mon., Aug. 21.
Featuring:
Special appearance by South Carolina native and Apollo 16 astronaut, Gen. Charles Duke. (Eclipse Day, Aug. 21, only)
Reserved common area outside for safe viewing of the total solar eclipse (Eclipse Day, Aug. 21, only)
Solar Eclipse viewing glasses provided by SCE&G
Access to the recently updated Robert B. Ariail Telescope Gallery and Boeing Observatory.
Access to NASA Langley's Centennial Experience Trailer.
Special astronomy and space exhibits.
Special eclipse education pop-up stations and tours.
Special Planetarium Eclipse Show, Shadows from Space.
Access to a 4D theater movie showing.
Throughout the long weekend of August 18-21, 2017, attractions, cultural institutions, hospitality and retail businesses in Columbia, S.C. – the total solar eclipse capital of the East Coast – will host more than 100 special eclipse-related events leading up to and during nature's grandest spectacle.
Explore and Learn More!
Videos featuring Charles Bolden, Charles Duke, Charles Townes, Ron McNair and S.C. Astronauts
Charles Bolden, Charles Duke, Charles Townes, Jack Horner, ary Mullis, Neil DeGrasse Tyson, and Susan Leigh Still Kilrain
Award-winning science, math and technology videos and interactives for grades K-12.
Phil Plait teaches you Astronomy.
What's the difference between a solar and lunar eclipse?
Eclipses, equinoxes, solstices, full moons, and transits.
Interactive, 3D, eclipse simulator.
Eclipse Resources for Teachers and Educators
Lesson plans and supplementary media provided by SCETV and PBS LearningMedia
Total Solar Eclipse Instructional Unit Resources
Solar eclipse tactile guide for those with limited vision.
This lesson is part of the NASA Knows (Grades 5-8) series.
Maps for each U.S. state showing the projected path.
Photos and data from LRO observations calculate path with unprecedented accuracy.
WGBH information and teaching resources.
NASA eclipse resources and supplementary educational curricula.
Hands-on STEM activities.
Visualizations and multimedia products to enhance curricula.
Resources to enhance your knowledge or observation.
Webinars and workshops each month until August 2017.
South Carolina Public Radio