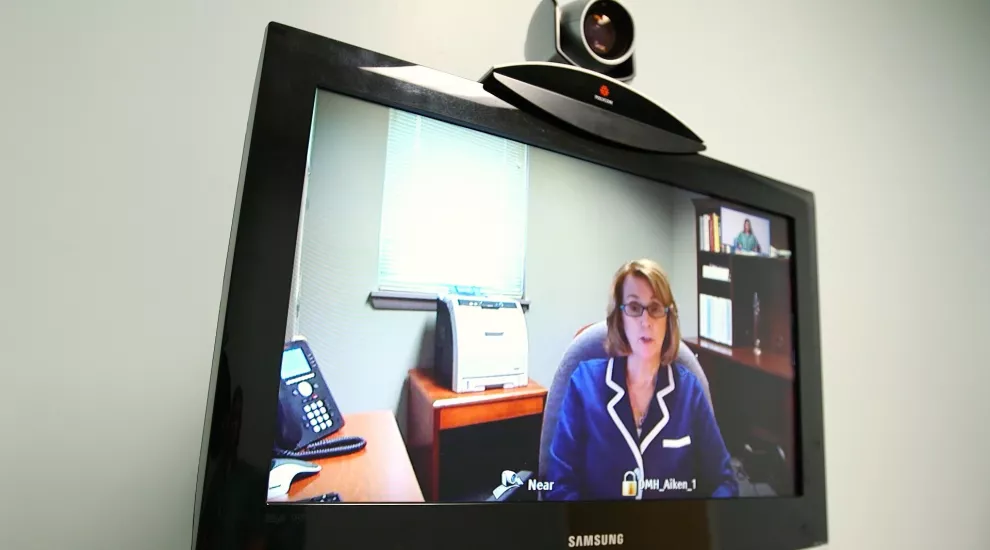 "Hello, I'm Dr. Ratliff, can you tell me your name please?"
The psychiatrist Brenda Ratliff asks on a computer screen.
Sitting in her office, in Aiken, S.C., Dr. Ratliff asks questions and listens carefully to the patient's feelings and needs via a video link. At the other end of the feed is a patient sitting in a private room, which is located at one of the emergency departments in S.C. that provides tele-psychiatry consultations.
Tele-psychiatry is a form of telehealth. It relies on the use of telecommunications technology to provide psychiatric services at a distance.
"Once they bring the patient into the room, we want to hear from the patient, what led him or her to come to the emergency room," says Dr. Ratliff. "We want to find out if it is drug abuse, schizophrenia, depression, or a combination of things, so we can develop a treatment plan."
The consultation works just like an in-person visit, Dr. Ratliff explains.
"We can turn the camera almost 360 degrees, we can zoom in if we need to, and we can see subtleties like hand, arm, or lip movement," she says.
The use of technology to deliver psychiatric care in emergency rooms is on the rise in South Carolina, and has come largely out of need.
"Over the last several years, there has been a lot of reduction on the dollars available for mental health services, and with that, the closing of inpatient facilities across the state," explains Rick Foster, an executive with the South Carolina Hospital Association. "And the problem is that if you don't have those services available in your community, then the only alternative for somebody who has behavioral health problems is the emergency room."
But emergency rooms were not well-equipped to care for psychiatric needs. For many years, rural hospitals in South Carolina illustrated the problem. Patients would have to wait for days in the state's emergency rooms for psychiatric exams, so they could either be admitted for treatment or discharged.
"For a number of years, we have kept tabs on the number of people every Monday morning waiting in hospitals in South Carolina for a mental health assessment. For years, that number has ranged from 85 to 95 people just waiting," says the Department of Mental Health tele-psychiatry program director Ed Spencer.
This need led the Department of Mental Health (DMH) and the South Carolina Hospital Association (SCHA) to seek a grant from The Duke Endowment, a philanthropic organization that funds non-profit hospitals, to develop a statewide tele-psychiatry network for all South Carolina hospitals operating emergency departments. The grant was received in 2007. Since then, DMH completed over 28,790 tele-psychiatry consultations.
"Since the initiation of this program, we see figures as low as 35-45 on a Monday morning waiting for assessment," says Spencer.
By bringing in specialists via tele-psychiatry, doctors like Ratliff can provide a wide range of psychiatric services, from diagnosis and assessment, to medication management, at the emergency room setting.
"When we ask if the patient is ready to be seen, the response is frequently, 'they are excited, they want to talk to you,' " says Dr. Ratliff. "And a lot of times patients will say thank you for hearing the whole story."
FOR MORE INFORMATION ON TELEHEALTH, VISIT THE SOUTH CAROLINA TELEHEALTH ALLIANCE
DO YOU HAVE A TELEHEALTH STORY TO SHARE? E-MAIL US AT MYTELEHEALTH@SCETV.ORG