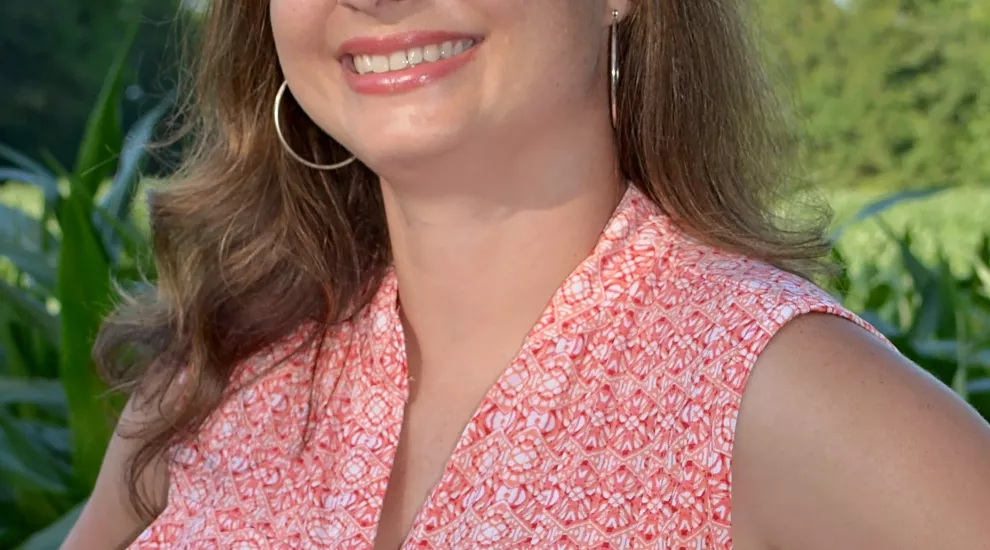 Loni Rikard was one of the 2016 Palmetto Center for Women Honors recipients. The PCW Honors recognizes women whose outstanding achievements distinguish them as leaders and role models in the community.
Rikard is the owner of Rocky Wells Agri-Services, LLC, and co-owner of Rocky Wells Farm, located in Lexington County. She is also Director of Operations for Rocky Wells Trucking, Inc. Rikard serves on the Lexington County Farm Bureau Board of Directors and Young Farmer and Rancher Committee. She is the most recent chairperson of the Lexington County Farm-City Programs Committee, which provides scholarships to high school students in FFA, giving opportunities for young people to pursue an agribusiness career.
Q: Where does your interest in agribusiness come from?
I was raised on a produce farm in Lexington and grew up driving tractors and cutting collards. I never intended to work in agribusiness and didn't have a true appreciation for agriculture until after I finished college and was working "in town."  It was then that I began to realize that I missed the farm, and I began to see how many people truly had no idea where their food came from. I made the decision almost 14 years ago to come back to work in the family business, and also to do my part in telling agriculture's story, and helping to educate the consumer about what goes into getting their food from the farm to the fork.
Q: Tell us about Rocky Wells Farm and Rocky Wells Agri-Services, LLC.
Rocky Wells Agri-Services, LLC is a brokerage company that specializes in trading and transporting agricultural commodities throughout the United States.  We move grain, feed commodities for livestock, fertilizer and lime, mulch and landscaping rock. We are based in Lexington, S.C. but also have agents with satellite offices in Columbia, S.C. and Shawnee, Kansas.
Rocky Wells Farm, LLC is the same farm that I grew up on. However, instead of growing produce, we now grow small grains – corn, soybeans, grain sorghum and wheat. 
Q: Working in the agribusiness sector, what are you most excited about?
The people. I have worked with people in the agribusiness industry all across the nation.  They are truly salt-of-the-earth kind of people. I have never met a group of people in any industry who are more hard-working or compassionate. We have a huge task ahead of us, as we figure out how to feed 9 billion people in the next 25 years. I have no doubt that the people in agribusiness in this country are up to the task!
Q: As part of the Lexington County Farm-City Committee, could you tell us more about the scholarship opportunities for high school students?
Farm-City Programs all across the nation strive to bring public awareness to the interdependence between the farm and the city. In our society, neither the farm nor the city can exist in isolation. In Lexington County, we have carried out many different programs with that goal in mind, such as the Farm-City Job Exchange and "Farm Eye for the City Guy" with WACH Fox. We feel that one of the best ways we can accomplish this goal is by supporting the Future Farmers of America (FFA) students in Lexington County. After all, they are the future of agriculture. The Lexington County Farm-City Committee offers $3000 in scholarships each year to FFA members, awarding a scholarship to one member from each FFA Chapter in our county. Any members interested in applying may get more information from their chapter advisor, or by visiting our website.
Q: What do you consider the biggest challenge facing agriculture/farmers today?
Public perception. There is a lot of misinformation being circulated about agriculture, from GMO's to water use, to how we care for our animals. Most of this information is shared by special interest groups who stand to make a lot of money doing so and rely on sensationalism that plays on people's emotion, rather than true science. Farmers like me all across this nation work hard every day to feed an ever-growing population on less farmland each year. We do that through improved technology and increased efficiency. We care for our animals as if they are part of our family, because they are. If your child is sick, you take him to the doctor and follow the doctor's recommendations to make him better. It's the same with our livestock. We aren't going to let them suffer when we can help them. Likewise, the crops that we grow and sell to the public are the same food that we eat, and we feed to our children. We wouldn't do so, if we weren't 100% confident in its safety. We know it's safe because we rely on science.
It is projected that there will be more than 9 billion people in the world by 2050. That's a lot of mouths to feed. It's going to take all types of production agriculture – organic and conventional – and continually improving technology to make sure we can accomplish this task of feeding the world.  Currently, Americans enjoy the safest and most affordable food in the world, spending, on average, about 10% of their disposable income on food annually. Our goal is to keep it that way.
Q: If you could give one piece of advice to someone looking for a career in agribusiness, what would it be?
There are currently more job openings in agriculture every year than there are new graduates with ag-related degrees to fill them. The possibilities are endless and there are many agriculture careers that aren't directly involved in production agriculture. I would suggest to anyone looking to get involved in agribusiness in our area to start by networking with people in the industry –  farmers, seed and fertilizer reps, equipment dealers, etc.  Another great way to connect with people who can help to kick-start an ag career is by getting involved at the local level in organizations such as the SC Farm Bureau.
Q: Let's get personal. Who were the biggest influences in your life?
There have been a lot of people who have influenced me in one way or another over the years, from my parents and grandparents to some fellow young farmers in the state, and even a couple of my employees. If I start trying to name names, though, I'm bound to leave someone out. The one person, however, who has had the biggest influence on me is my daddy. He taught me all about hard work and perseverance, about the importance of being involved and giving back, all without ever specifically telling me these things. I learned them by seeing how he lives his life. Daddy worked from sun up to sun down, six days per week, but always welcomed me and my sisters tagging along. He taught me how to drive a truck and a tractor, and how to sling bags of fertilizer or boxes of collards over my head. He taught me that it didn't matter that I was a girl, I could do anything I wanted to do (and quite a few things I didn't want to do, too). He was always sitting in the choir at church on Sunday mornings and was at every church function. He served as treasurer of our church and as president of the congregational council. He's been a Lexington County Farm Bureau board member for as long as I can remember, and has worked tirelessly to carry out Farm Bureau's mission. He set the example for how I want to live. I can only hope that I am doing the same for my children.
Q: Where is your favorite place to be?
I'm not sure that I have one favorite place to be. I really enjoy being at work. I really enjoy being on a John Deere out in an open field. I love being at home relaxing with my husband and my kids.
Q: Do you have a favorite quote?
One of my favorite quotes I learned from my great aunt, Sue Wingard. She said, "there is no culture without agriculture." I don't think there could be a truer statement. All of the things that we enjoy as Americans are a result of the fact that we don't have to worry about our food. We have handed the responsibility of keeping ourselves fed to the American farmers. We can go boating on Lake Murray, tailgate at the Clemson or Carolina football games, take our kids on vacation, attend college and dream of the careers we want to have, all because we don't have to work day and night to grow our own food.