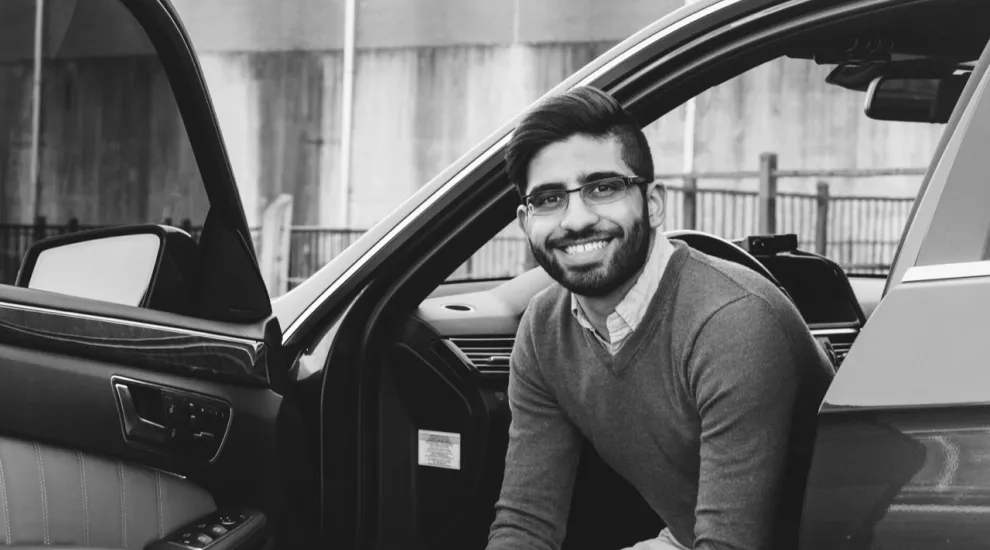 Young Entreprenuer, Kiran Ravindra, founded Carbon Trim Solutions in 2012, and since has been featured on Business Insider, Yahoo! Finance, DuPont Registry, and DailyTekk.
Born in Boston in 1996, Kiran lived most of his life in Columbia, S.C. He graduated from Spring Valley High School in 2014, and is currently a part-time student at the Darla Moore School of Business at the University of South Carolina. After being involved with a small online business in high school, Kiran decided it was time to think bigger. He decided he wanted to manufacture and sell his own line of products and chose carbon fiber as his market. He conducted research and came to the conclusion that phone cases made of carbon fiber are difficult to find. He set out to create a unique, yet simple case he designed on his own, using cues of sharp edges and curves on current exotic cars.
Kiran's company, Carbon Trim Solutions, is a manufacturer and retailer of high-end carbon fiber accessories that he founded during his junior year of high school. Carbon fiber is a lightweight, yet extremely strong synthetic material known for its use in exotic cars such as Lamborghinis and Ferraris. Its unmistakable black and grey weave is also recognized and appreciated for its aesthetics, as much as its performance characteristics by automotive enthusiasts around the world.
Q: Is there a specific audience that is your biggest customer?
A: Our biggest customers vary by country, but our biggest audience consists of men in the US interested in luxury cars with above-average incomes. We also have a strong foothold in the Middle East and Europe for the same demographics.
Q: Tell me about your typical day?
A: My average day might be a little less interesting than you would expect. Generally I handle all of my emails that come in overnight in the morning, then brief our web developers, advertising manager and interns for the day. There are a number of other tasks that vary from day to day, but these days, it mostly consists of phone calls and constant communication with our employees. Of course, I also fit class in between, too.
Q: How do you balance schoolwork along with being a CEO of your own company?
A: As with anything in life, it's an ever-shifting balance. Since I began working while still in high school, I learned early-on how to achieve a working balance. Still though, there are times when you have two essays, an exam, and a speech due, on top of work, and no amount of experience can prevent stress from setting in. At times, social life must be placed on the back burner, but that's a small price to pay when you enjoy what you do.
Q: If you could spend a day with anyone in the world, who would this person be? (past or present)
A: That's a good question. I don't like to speak in hypotheticals, but I would love to have been able to spend time with Steve Jobs. Partly for his expertise in both design and company management, and partly to see the classic Steve Jobs personality that we have all heard so much about, for myself.
Q: What has been the most exciting part of your journey?
A: As cliché as it may sound, the people who I have met through work have got to be the most interesting and exciting part. I have made some life-long friends who I am privileged to be able to spend time with, whether they live here, Florida, California, or elsewhere.
Q: Any regrets (when it comes to your business) or things you would've done differently?
A: I would have taken things more seriously early-on. Like many people early-on, I became more interested in looking like I was working hard rather than actually doing it, and although Carbon Trim was doing well, it could have been doing better if I had spent more time and energy focusing on growth at the time.
Q: Any advice for those who are in your same position who may want to pursue similar goals?
A: No time is the "right" time. Stop talking about what you want to do and start doing it, because if you continue waiting for the perfect opportunity to come knocking on your door, it just won't happen.
Q: Did you face any difficulties when opening your business? Or maybe tell me about the biggest challenges you faced in the beginning. 
A: For me, fear of my products not selling, my manufacturing falling through, or losing money on advertising were serious concerns. Of course, fear of failure will exist with any business, but I had borrowed over $10,000 from my parents for initial manufacturing efforts, and at that point, I realized that failure was not an option. This taught me early-on that harnessing your stress and fears, and using them to motivate yourself to work, is key when starting a business.