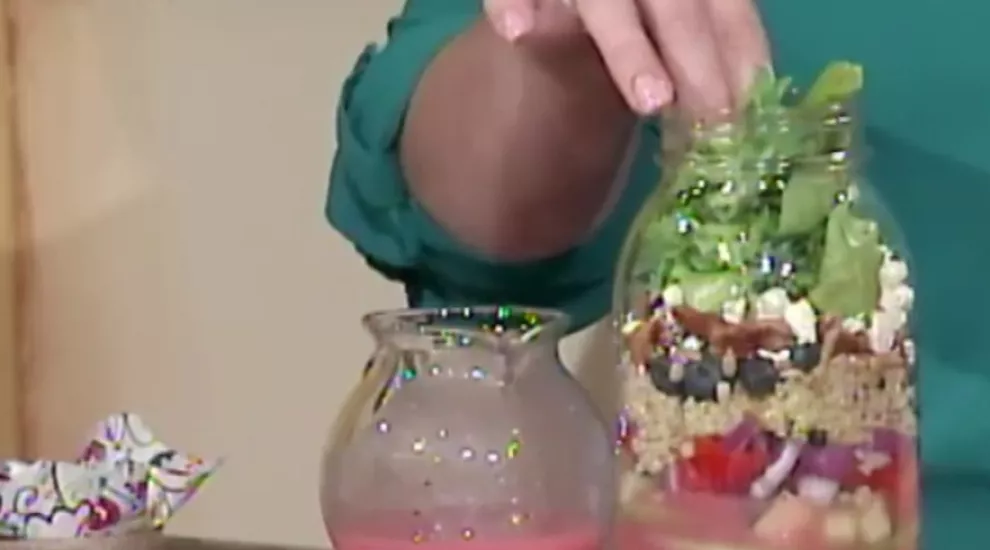 The Telly Awards has named ETV and Clemson University's "Making It Grow" as a Bronze winner in the 37th Annual Telly Awards for their segment titled "Mason Jar Salads".  
"Mason Jar Salads" is a segment produced for "Making It Grow", the live weekly horticulture call-in program produced with Clemson University from ETV's Sumter studios.  In the segment, host Amanda McNulty and guest Laurie Aker of Earth Fare show audiences how to make a "Mason Jar" salad, a salad with four main layers carefully "built" inside the famous jars.  Raspberry vinaigrette; "hearty" vegetables such as cucumber, tomato, and onion; a "goody" layer of meats, nuts, cheese, and grains; and a final layer of mixed greens create the four layers of the salad seen in the segment.
Producer Sean Flynn noted that the Emmy-winning program recently updated their studio look, and this is the first award the program has received using their new kitchen set.
"It's the great team behind the windows and lenses and all that who are responsible --- plus Sean's never ending fountain of ideas," said program host McNulty.
The Telly Awards was founded in 1979 and is the premier award honoring outstanding local, regional, and cable TV commercials and programs, the finest video and film productions, and online commercials, video and films.  Winners represent the best work of the most respected advertising agencies, production companies, television stations, cable operators, and corporate video departments in the world.
"The Telly Awards has a mission to honor the very best in film and video," said Linda Day, Executive Director of the Telly Awards.  "Making It Grow's accomplishment illustrates their creativity, skill, and dedication to their craft and serves as a testament to great film and video production."
A prestigious judging panel of over 500 accomplished industry professionals, each a past winner of a Silver Telly and a member of The Silver Telly Council, judged the competition, upholding the historical standard of excellence that Telly represents.  The Silver Council evaluated entries to recognize distinction in creative work – entries do not compete against each other – rather entries are judged against a high standard of merit.  Less than 10% of entries are chosen as Winners of the Silver Telly, the highest honor.  Approximately 25% of entries are chosen as Winners of the Bronze Telly. 
To find out more about the Telly Awards visit the website at www.tellyawards.com.