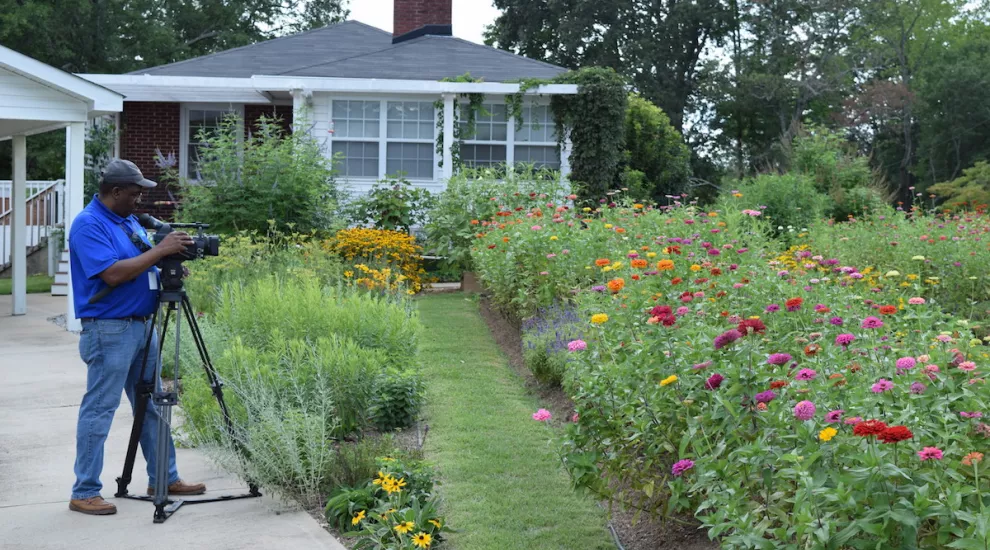 Team Making It Grow traveled to Greenville, S.C. and visited with a group of flower farmers who service farmers markets, florists, and local businesses.  Southern Wild is a landscape design and garden maintenance business, as well as home to an urban, cut-flower market garden.  Making It Grow host, Amanda McNulty, talked with one of the growers, Julie Hill, about how she transformed her yard into a vibrant flower farm.
Making It Grow producer, Sean Flynn, enjoys hitting the road with the production team. A thought that stuck with Flynn was, "as Julie was giving us a tour, she said that when she first moved to this house, the location where the garden is now was a beautiful lawn of just grass. When she began pulling it all up, her neighbors gave her the strangest looks, like she was crazy. 'Why would you tear up a green lawn?' Some thought she was putting in a pool. But now, with the design complete and with the flowers in bloom, all the neighbors love it. One even painted a picture of the garden for Julie as a thank-you gift for adding such beauty to her street."
Later that afternoon, the Making It Grow team ate lunch at the Bohemian Café Restaurant and Bar, which is connected to Horizon Records. There you can find a wide selection of music the old fashioned way...on vinyl.