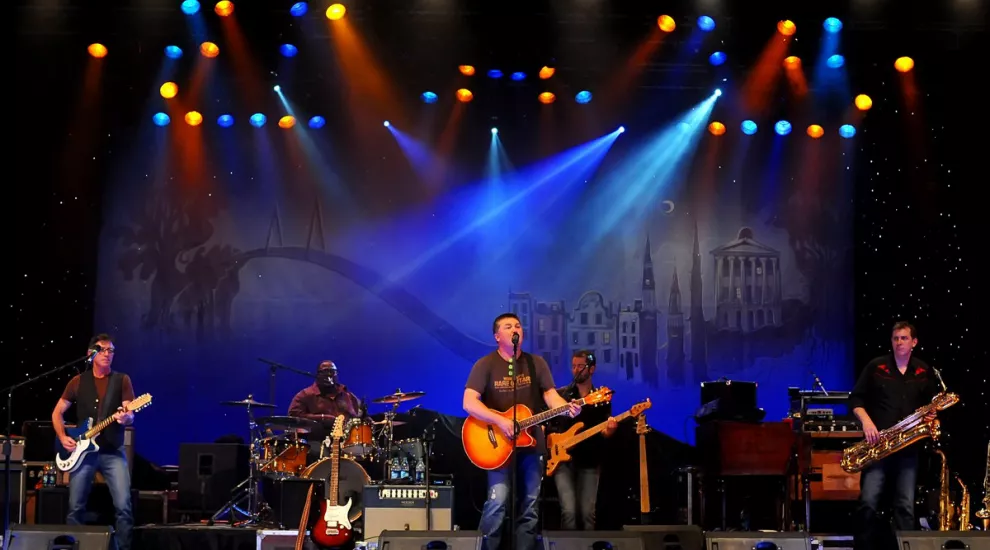 After an audio premiere on South Carolina Public Radio, Live at the Charleston Music Hall moves to South Carolina ETV for two Thursday nights beginning June 30th.
Hosted by Mark Bryan of Hootie and the Blowfish, Live at the Charleston Music Hall showcases two artists in two separate shows each Thursday.  On June 30th, Edwin McCain (9:00 p.m.) and Sam Bush (9:30 p.m.) perform in two programs.  On July 7, American Idol's Elise Testone (9:00 p.m.) and Stop Light Observations (9:30 p.m.) perform in two programs.  Programs repeat on ETV's SC Channel the following Wednesday beginning at 10 p.m.
In program one, Edwin McCain ("I'll Be," "I Could Not Ask for More") performs. McCain has built an enviable career over the past 20 years by balancing his massive pop success with the year-round touring schedule of a tireless troubadour. His hit songs, authentic spirit and surprisingly affable sense of humor keep fans coming back time and time again for nights that feel more like parties with old friends than rock concerts. After recording two of the biggest love songs in the history of pop music, McCain now performs upwards of 100 shows annually throughout the US as a solo artist, with his full band or his acoustic trio. (June 30 at 9:00 p.m. on SCETV)
Program two features Sam Bush.  Called "The Father of Newgrass" and "King of Telluride," Bush has long since established himself as roots royalty, revered for both his solo and sideman work, which includes time with Emmylou Harris, Lyle Lovett, and Béla Fleck. He's the recipient of an Americana Music Association Lifetime Achievement Award and suite of Grammys and International Bluegrass Music Association trophies.  (June 30 at 9:30 p.m. on SCETV)
Program three showcases Elise Testone.   A powerhouse vocalist whose incredible stage presence and vocal maturity rank with the best, Testone is the perfect combination of soul, rock, attitude and restraint. Equally as impressive and at ease belting James Brown style vocals over a relentless funk groove as she is resting her voice gently over a ballad, Testone's range of influences and vocal capacity know few limits.  Prior to her "American Idol" debut, New Jersey native Testone came of age as a professional performer while living in Charleston.  (July 7 at 9:00 p.m. on SCETV)
Program four's performers are Stop Light Observations. SLO was formed by songwriter/pianist John-Keith Culbreath and guitarist Louis Duffie when they were thirteen. Truly a "garage band," they were joined by drummer Luke Withers, vocalist Will Blackburn, bassist and fiddler Coleman Sawyer, and lead guitarist Wyatt Garey while all were in high school. They play a unique style of Alternative Rock influenced by Indie Rock, Motown, Hip-hop, Folk, Revival, Americana, Garage, and Arena Rock and began in the Charleston area.  (July 7 at 9:30 p.m. on SCETV)
Live at the Charleston Music Hall is made possible in part by The ETV Endowment of South Carolina, Inc., Cinebarre, Firefly Distillery, Palmetto Brewing Company, Friedgen Family, Walk Away Stays, and by Friends of Live at the Charleston Music Hall.