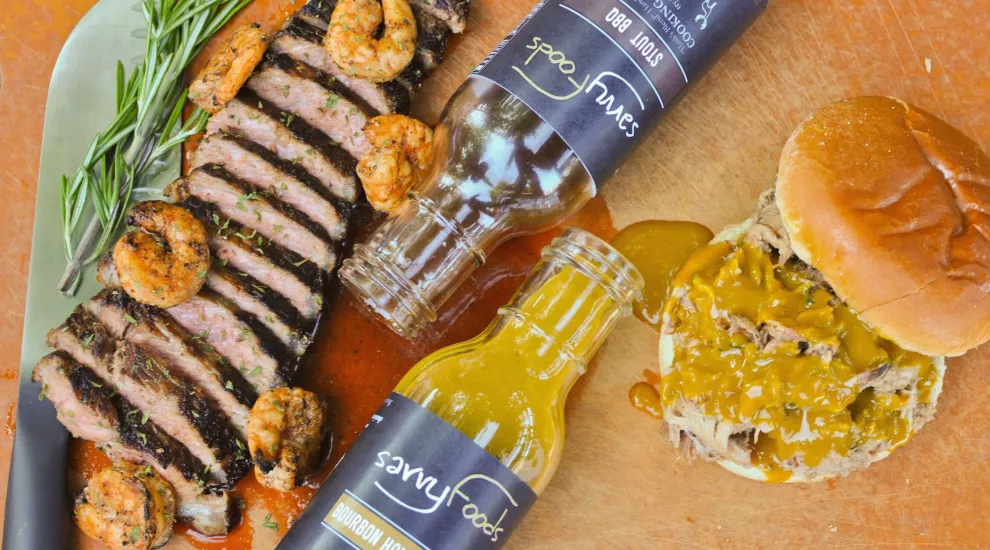 "I taught myself from a lot of trial and error and watching a lot of Food Network. I like to say, you really can learn something from television."
Savvy Foods cooking sauces President and Chef Will Lacey is by no means a traditional chef de cuisine, and he wouldn't hesitate to tell you that.
Working as a bartender for Five Point's Bar None, Lacey spent his nights off testing out ideas from local service industry veterans who frequent the saloon.
"I would actually have people over for like a 'Sunday Funday' and do a family dinner with a bunch of friends and coworkers." Lacey recalls.
"Then I started doing it for my parents and their friends, and it grew from that to people saying, 'You should do this for money.' That made a lot of sense to me."
Lacey turned his passion and kitchen experimentation into Yellow Dog Barbecue. He began catering and doing special events that won him recognition in the Columbia Food Scene. Yellow Dog would win barbecue competitions across the state from Chefs on the Shoe, sponsored by the University of South Carolina's Culinary School, to an event sponsored by Ducks Unlimited. Lacey credits these events and the occasional pop-up food tent at Conquest Brewing Company, to developing a following in the Capital City.
Lacey would go on to bring simple, laid back eats to Five Point's Pinch. Then Jake's on Devine approached him about taking over their kitchen to produce a young professional/older college, fun, bar-friendly menu. An important element would become Lacey's adoption of local goods.
"[It's] highlighting a lot of produce and things of that nature from local farms and local companies. It's a very certified South Carolina menu. I've been doing that at Jake's for about a year, and it's been going incredibly well." Lacey says.
During his efforts as Yellow Dog Barbecue's chef, he began to develop sauces that could be used in his recipes and beyond. He credits his mother with finally making him take the next step. "Which is not exactly like her." Lacey notes with some laughter. "She's a little bit more of the 'get a steady paycheck, get settled' type, especially with where I was in life."
With his mother's encouragement, Lacey would begin by canning sauces in Mason jars for friends and family members, which began to develop into something more.
"We've been lucky enough with all of the events we've done with Yellow Dog, we've had so much feedback over the last three or four years, we've been able to keep refining the recipes to where they are now." Lacey notes.
Enter Patrick Rogers, Savvy Foods Chief Executive Officer. Lacey's close friend and fellow Heathwood Hall graduate, Rogers had previously worked in start-up consulting, and not unlike Lacey, was in a bit of a state of flux on where to go next.
"Will and I were out for a drink and we were talking about what he was up to and what I was up to, and it seemed like a pretty natural fit." Rogers remembers.
"The last project I had worked on, basically what I had done was help refine the business plan, and help go out and recruit investors and find the right location in regard to taxes. Basically I had been in the weeds, trying to get a company up and running for the past nine months to a year. I was comfortable with that process. I had never worked in the food industry, but it seemed like a relatively painless transition."
From there, the team worked on developing the first two sauces in the Savvy Foods cooking sauce line. The Molé-Inspired sauce, known as the Yellow Dog "Dixie Blend," and the Tomato Dijon fusion, which some may know as the Yellow Dog "Savvy Sauce."
Lacey recommends using the tomato Dijon fusion as an alternative healthy base for shrimp and grits. Rogers uses the molé sauce in a dip or burrito/taco filling with onions, peppers, tomato sauce, and black beans and rice.
Lacey's original dedication to locally sourced ingredients and South Carolina business remains true, even in this first product roll-out. The Molé-Inspired sauce, with aromatic notes of chili and cocoa, uses coffee from local Columbia roaster Loveland Coffee. The cooking sauces are Certified S.C. Products, packaged by a Charleston co-packer. The fourth flavor, a stout-based cooking sauce will feature, will most likely debut in November, and will feature Conquest Brewing's Medusa Stout
But local endorsement would become paramount in the sauce's success, as well. After a conversation Lacey had with members of the Lattimore Foundation, the Savvy Foods team sat down with Marcus Lattimore and Devin Washington, and spoke about their similar visions for charitable giving in the community and beyond. The Savvy team adds that it probably helped that many Gamecock Football players, and members of the foundation, frequent Jake's for the Yellow Dog Barbecue menu. Lattimore would go on to endorse the product:
"Savvy Foods and their products speak for themselves, and quality is a big component of what I believe in." Lattimore said in a statement. "The taste is exceptional, and the flavors are insanely good! It is by far the best cooking sauce and marinade I've ever used. But the people – the people behind this product are why I am grateful to be a part of the Savvy Foods team. Great guys with a passion for what they do; it's inspiring."
Lattimore's interest and endorsement would lead to a bump in market visibility and even investment.
 "I think a couple of our investors didn't necessarily invest because they wanted to meet Marcus, but it certainly didn't hurt." Rogers adds candidly.
The community buzz around Savvy Foods sauces and Lacey's work at Yellow Dog Barbecue led to quite a surprise when sales vastly surpassed projections when the sauces hit the shelves.
"We greatly exceeded our expectations. I think we underestimated the local appetite," says Rogers.
"The Social Pig on Devine was our first sale, they bought two cases and they were sold out by the middle of the weekend, just four days after buying product."
All of the work and time in the weeds was worth it for the pair.

"It's incredibly surreal, especially given the fact that these were products that I've been working on for three or four years. There were multiple times throughout the process when I didn't think it was going to happen." Lacey reflects.
"Going into a local supermarket, local place and seeing what you've put so much energy and so much thought and time into...to see somebody check out in the checkout line buying a product, being able to approach them and talk to them about it, is pretty amazing." Lacey says.
For Rogers, seeing the physical product was "bizarre."

"Working two years for a non-profit and then basically two years on planning for start-ups to get going, it was incredibly strange, but also incredibly gratifying to have an actual, physical product in the world that didn't exist a month ago," he notes. "It didn't really sink in for me until I saw a cell phone picture. Someone sent me a receipt from a store and they had bought some wine and a few other things, and then two of our sauces, and just seeing them listed as if they were any other physical good out there, that was kind of what brought it home."
The pair has plans to roll out a bourbon honey mustard and the stout-based cooking sauce mentioned before in the next few months, with four to come in the pipeline: a hot sauce, a maple Dijon vinaigrette dressing, a vinegar pepper sauce, and an all-purpose dipping sauce.
Savvy Foods cooking sauces are now in 39 stores, in 15 towns and 3 states.