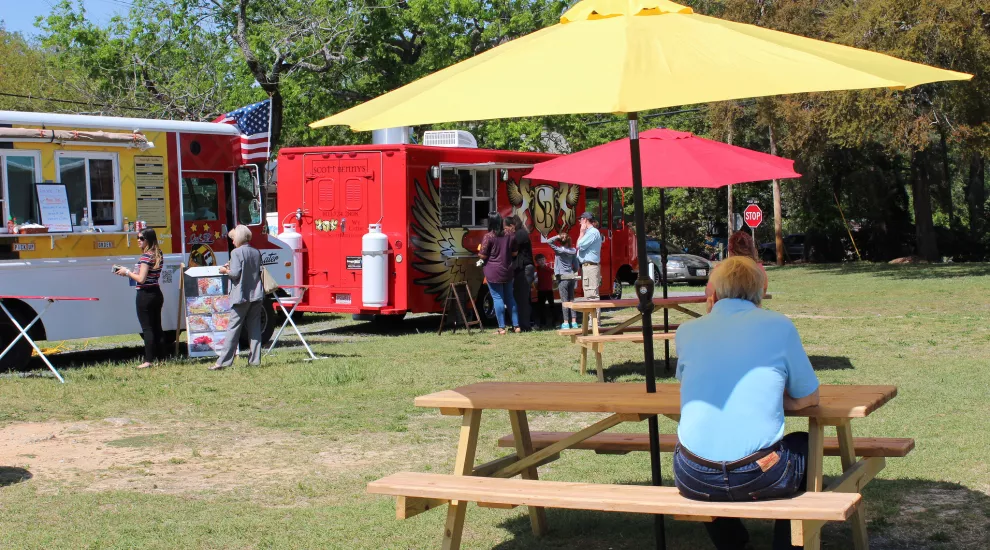 Many small to medium-sized cities are growing, or at least have the opportunity to grow tremendously, because of the innovative solutions that small business owners develop.
Here in Columbia, South Carolina, the business owner Christina Survana decided to embrace the booming food truck trend by bringing a new food truck court into existence. "I would always pass by and see a vacant lot here, so I thought, why not have a food truck court?," said Survana, Manager of the HEMI Food Truck Court.
HEMI Food Truck Court is the first of its kind to be built in South Carolina. It is a single location at 728 Meeting Street that offers food truck vendors and goers alike a chance to find great food. The court includes covered seating, parking, lighting, and restrooms.
Columbia residents are excited about the concept. "I work 10 minutes away from here, so it is very convenient and great to have all these options," said Columbia resident Robert Roush. Roush will be moving to Wilmington, N.C., in a couple of weeks, but he guarantees he will be coming back to the court to enjoy some good meals during the time he has left in the city.
"We love the idea! It is very accessible, there are parking spaces and places to sit down in the shade," said Columbia resident Sherwood Garrett. "We will definitely come here more often."
The owner of Brain Freeze Italian Ice, Kia Usher, said that she is very thankful for the support of the community. "All big cities such as Charlotte and New York are successful at it. If they can, why can't we?," she said.
Ten food trucks are operating at the location. These include The Belgian Waffle Truck, Grill on Wheels, Brain Freeze Italian Ice, CupSide Down Café & Bistro, Eric's Que, Carolina Cookin', The Wurst Wagen, Scott Benny's, LaBrasca's Pizza, and KC Hotdogs.
"It would be very good to have a permanent set-up location for lunch," said Jean-Louis, owner of The Belgian Waffle Truck. "We are very excited about it, but we need more trucks to show their support."
Survana is encouraging other food truck vendors to join the movement and check out the HEMI Food Truck Court website. She said that all expenses are paid out-of-pocket, so donations to help with the ongoing costs of operation are welcomed.