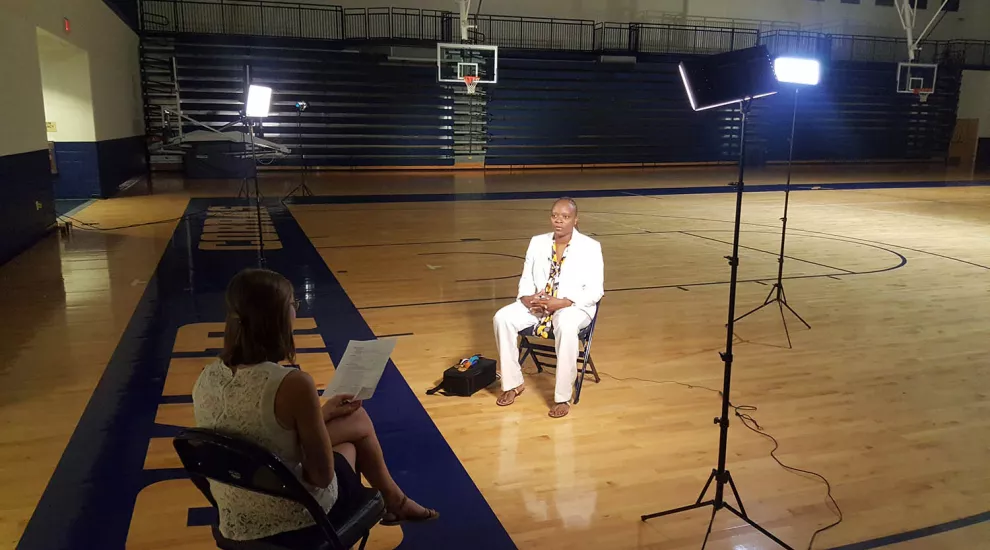 I have passed the halfway mark of my time at SCETV, and I can say with confidence that the past two weeks have been the best so far.
The most exciting part of the past two weeks has been working on my first video. I'm producing a feature about Shannon Johnson, whose titles include University of South Carolina All-American,WNBA All-Star, Olympic gold medalist, and Head Coach of the Coker College women's basketball team. It has been an incredible opportunity to interview one of the best to ever play the game.  Getting to see an Olympic gold medal in real life, much less interview an Olympian, is something I saw as a far-off goal before I began this internship.
I've loved every aspect of video production, from the preparation to the filming day itself and editing. Although I possessed minimal experience in many aspects of video production when I started working on this project, the guidance of the producers at ETV has eased this learning curve a great deal.
My other principal assignment in the past week or so has entailed creating content for Knowitall Media. I've made a number of interactive maps for a new series I've created: An Athlete's Journey: From South Carolina to the Olympics. This assignment has also included building timelines for the Olympic series as well as the Ready to Vote series, and in the process of making these timelines, I've developed an unexpected interest in html coding.
Each week with SCETV has topped the one before. I cherish the new skills I'm developing and the great experiences I am having as a result of this internship. I am looking forward to being able to hyperlink the first published video I've produced in one of my next blog posts.