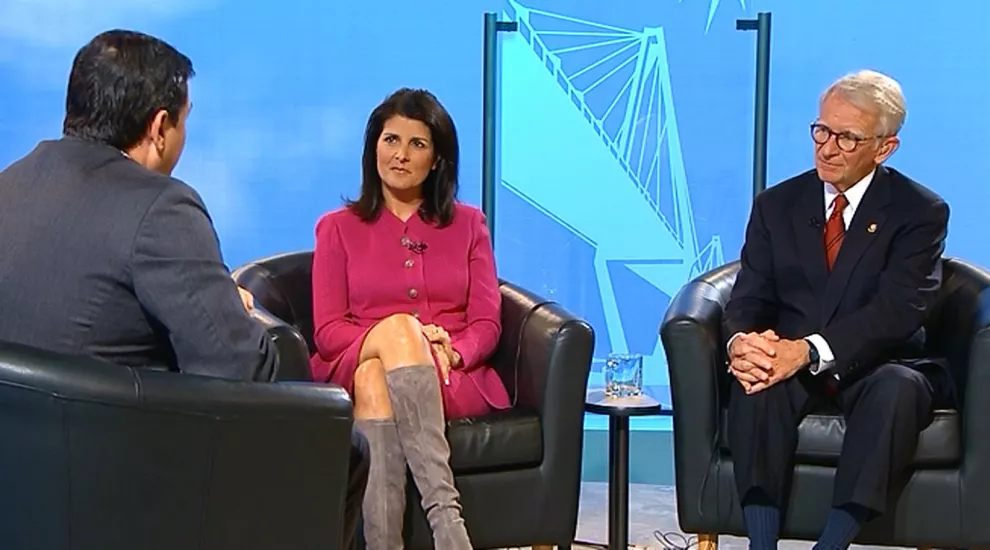 Governor Nikki Haley left a message for Senator Clementa Pinckney when she heard there had been an incident at his church offering assistance.  It was a normal legislative day, and she believed he was still in Columbia.  She said it never crossed her mind that he would never hear her message.  Mayor Joe Riley of Charleston also believed Sen. Pinckney was in Columbia with legislative duties, learning only when he arrived at Charleston's Emanuel A.M.E. Church that the senator was one of the victims inside.
Their stories about one horrific event in South Carolina history and the days that followed are the focus of a new Palmetto Scene, airing Thursday, Jan. 21 at 7:30 p.m. on South Carolina ETV.  The half hour joint interview is hosted by Mark Quinn.
Saying the next 48 hours were "a complete blur," Gov. Haley recounts conversations with her family and staff, the four meetings she held with elected representatives of both parties, civic leaders, and the federal delegation the next day, and the concern that when she stood to ask for the removal of the battle flag, she and her husband might be standing there alone. 
Mayor Riley recalls bringing all the families together to break news of the shooting to them, and how community leaders worked with outsider groups who came to protest.  A longtime proponent of the flag's removal, Mayor Riley also recounts the "joy" from the crowd when the flag was removed. 
Haley and Riley were this year's recipients of the David Wilkins Award for Excellence in Civic Leadership, given each year by The Riley Institute at Furman University.
For Palmetto Scene re-broadcast times and online viewing, visit scetv.org/tvschedule.