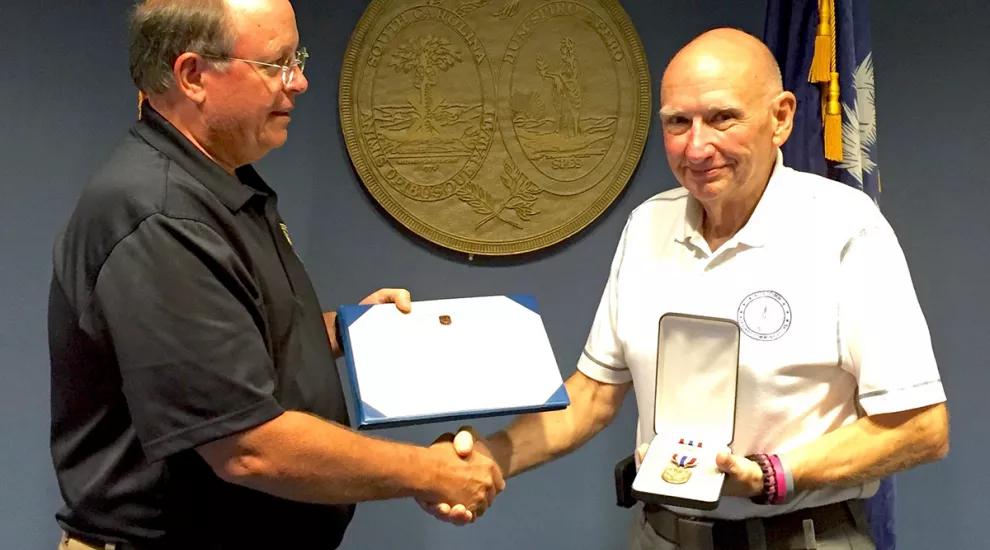 John Crockett, South Carolina ETV's Vice President of Engineering, has been awarded the Meritorious Service Medal by Major General Robert E. Livingston, Jr., the Adjutant General of South Carolina. The Medal and Citation were presented by Kim Stenson, Director of the South Carolina Emergency Management Division on August 18, 2016.
Crockett has been an advocate of emergency communications in the state and has served at SCETV for twenty six years.  As head of SCETV's statewide transmitter and microwave network, his advocacy for emergency communications has lead to enhanced partnerships with the South Carolina Emergency Management Division, and other state agencies including the SC Law Enforcement Division, the SC Department of Natural Resources, the SC Forestry Commission, the SC Department of Health and Environmental Control, and the SC Hospital Association. Partnerships with the FBI, the Computer/Electronic Accommodations Program and the Department of Homeland Security have been developed at the federal level.  The award recognizes his "unparalleled support…vision, guidance, and generosity" for statewide emergency communications.  Today, SCETV's tower network serves as a redundant path for statewide emergency communications and serves as the backbone of the South Carolina Amateur Radio Emergency Team (SCHEART) radio system and the SC Emergency Management Division's Local Government Radio System.
 He has previously been awarded the Blue Granite Award from S.C. state senator Phil Leventis and the Friend of the Taxpayer Award from Gov. Jim Hodges.