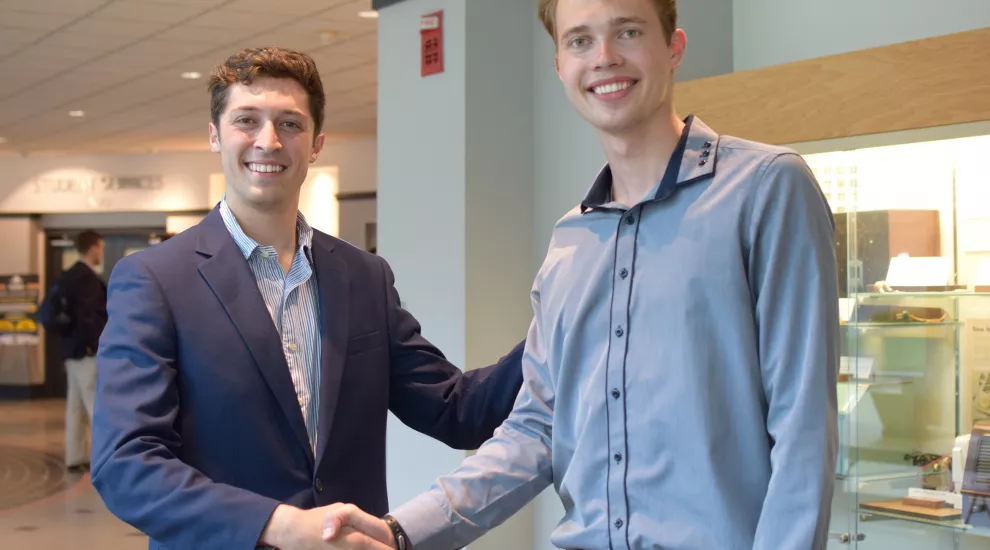 After a full semester of hard work and collaboration between the USC Entrepreneurship Club and the USC Computer Science program, it was time to celebrate all that had been achieved.
On Thursday night, friends, fellow students, and news media crowded around twelve tables, showing off the apps that had been created during the semester. 
Hosted by One Million Cups owner Greg Hilton, the demo day featured twelve apps that had come to life through the collaboration of business and computer science students.
The event began with food and a meet-and-greet session, where participants could come up to the app developers and ask questions about their creations.
This was followed by a presentation of all of the apps in the Swearingen Engineering Building lecture hall.
Twelve apps were presented:
My Off Campus (a.k.a. "Rate My Landlord"): To combat the lack of accountability with off-campus housing managers, this app was created for students to share their housing experiences. Anyone with a student email can rate landlords or properties.
Magic Gift: This app is meant to make shopping for all of those special occasions easier. It recommends gifts for various occasions, such as birthdays, anniversaries, Christmas, Valentine's Day, graduation, and so on.
Pioneer: This is a platform for users to exchange "adventures" such as their favorite nearby hiking trails, campgrounds, river trips, etc. 
Trucks on Demand: Structured after Uber and Airbnb, this app connects junk removal services with people who need their junk removed, all for a lower price than standard junk removal services. There is a client side and a "hauler" side. Haulers can take people's old couches, electronics, trash and debris, and so on.
Benair: This app helps frequent fliers to keep track of their miles and utilize those miles in the best way possible by making use of airline alliances. 
Pawprint: The epitome of a dog-friendly app, this allows dog owners to connect with bars, restaurants, dog parks, and other social areas that are pet-friendly. It also has a list of vets nearby.
CoSweet: Anyone who doesn't like waiting for the ice cream truck to reach its stop in your neighborhood, this is the app for you. It allows users to order what they want from the ice cream truck ahead of time, and then the truck comes to their address to deliver the ice-cream. 
Mr. Penguin Designs: Local artists can now put their artwork on cellphone cases, and users of the app can buy the cases for a reasonable price.
The Scholarship System: An organized method of applying for scholarships for college. It keeps track of due dates for the scholarships users are applying to.
Telepiction: A mashup of the games Telephone and Pictionary, all integrated into one cellphone game. The game gives a topic, the person holding the phone draws a picture, and then passes the phone to the next person. The person who gets the phone tries to guess what was drawn, and then draws what their guess is. The game ends when the phone has gotten around the room.
Fantasy DJ: For all the not-so-sports-savvy people out there, this app combines fantasy sports with music playlists. Users compete for having the most plays on their playlist.
Perfonix: DJs have access to a completely different set of music tracks, where they have the ability to remove the vocals and leave the music track, or remove the music track and just leave the vocals, or play clean or explicit versions, and so on. This app is meant to bring that experience to anyone with a smart phone.
The presentation ended with a crowd vote for the favorite apps. In first place was The Scholarship System, followed by Mr. Penguin Designs in second place, and CoSweet in third.
Overall, there was an air of excitement and energy throughout the event, as everyone celebrated a semester of hard work finally paying off. Everyone involved agreed, it was a great experience bringing the worlds of business and computer science together, and hopefully it is an event that can continue for years to come.