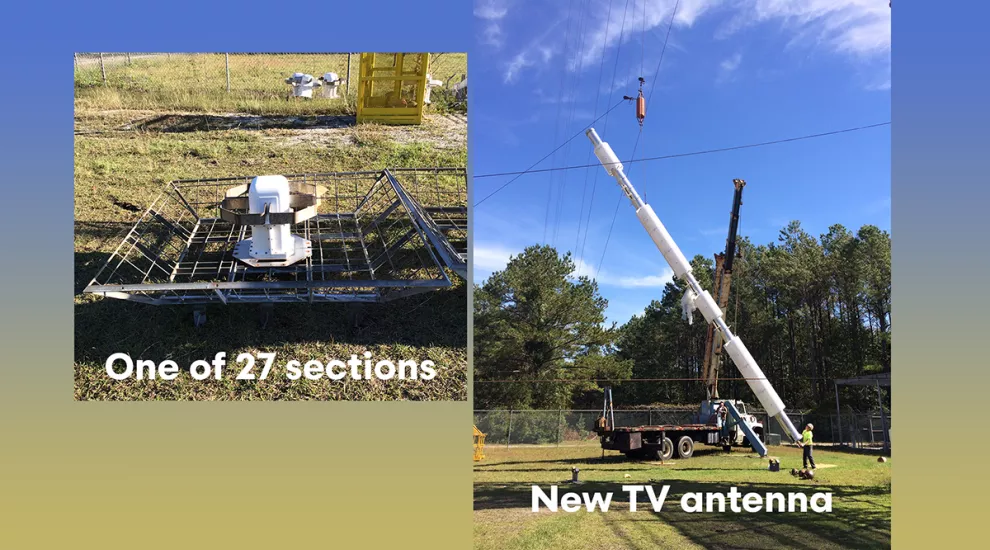 Our new 3000 pound antenna has been installed in Charleston.
We are broadcasting now.  As with any new installation, there may be adjustments, including down time.
Why the Delays?
Our old TV antenna was comprised of 27 sections that measure approximately 6 ft. x 6ft. These were mounted on the tower 1900 feet in the air. Each one of these0 sections weighs between 300 and 400 pounds plus the hardware, pipes and transmission lines used to interconnect the sections on 3 sides of the tower. Only 2 or 3 sections can be lowered at a time and the process takes about 2 hours to free the sections and an additional 2 hours to lower the sections. 
The delays we have encountered have been weather related. When we first started the FM antenna, we had the remnants of 2 tropical storms pass through. While some days were clear skies, the winds were too high to safely perform the work.
When Hurricane Mathew passed through, all the rigging on the tower needed to be secured two days before the hurricane to insure the structural integrity of the tower during the storm and to comply with insurance and OSHA rules. This delayed the process 2 days for rigging and then after the storm passed, the tower crew needed to return their equipment to an operational status which took an additional day.
If you've missed specific programs, viewers can find most programs online at video.scetv.org.  Select ETV Endowment members also have access to PBS's online Passport Library, which features a broader selection.  Some cable and satellite services were able to use a secondary source for SCETV, but not all have that capability.