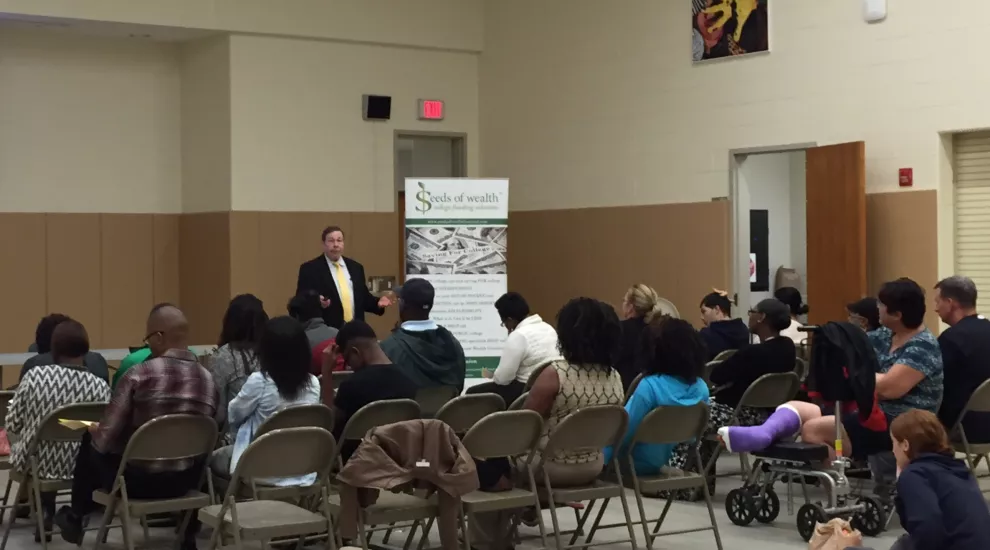 COLUMBIA, S.C. – George Scott, president of Seeds of Wealth Financial Group, spoke to an audience of students and their parents, at Ridge View High School about paying for college.
His number one advice was for parents to submit a FAFSA (Free Application For Federal Student Aid) form. After this form is submitted, the Federal Student Aid office responds to them with an SAR (Student Aid Report) which informs the family of their EFC (Expected Family Contribution).
A person's need is based on his or her COA (Cost of Attendance) minus EFC (Expected Family Contribution). Every family is then placed into a category. Category 1 is likely to have the most college costs covered, Category 2 are those who might have some college costs covered, and Category 3 will not qualify for need-based financial aid.  They calculate this by adding the parents' contribution and the student's contribution; contribution meaning income/assets.
When paying for college, Scott says there are two different types of prices shown - the sticker price and the net price. The sticker price is the published cost of attendance and often estimated, while the net price is the price you will actually be paying. You should know what your out-of-pocket costs will be before deciding on a college. "You don't care about COA, you care about out-of-pocket," said Scott.
Families put into Category 3 will be given some information including tax-advantage planning, and the reason they did not qualify for aid. Most commonly, the reason is having too high an income.
Scott warns applicants to make sure they fill out the FAFSA form correctly and do not report a student as independent, as there are very strict rules for that. To qualify as independent, the student must be at least 24 years old, married, a graduate or professional student, a veteran, a member of the armed forces, an orphan, a ward of the court, someone with legal dependents other than a spouse, an emancipated child, or homeless.
A common myth people believe, Scott said, is that FAFSA is linked to the applicant's grades.
It's important for applicants to apply as soon as possible. The funds are first come, first served. There's no need to wait for your income statement, as the amounts you enter should be an estimate. Once you get your income statement however, you should go back and edit any major changes. Mistakes are often made.
Scott discourages an applicant's parents from separating, divorcing, living separately, or living in another state to get aid. The student must live in another state for one year to get in-state tuition, and the parent must live in the state one year before the student's graduation date. He strongly advises parents against liquidating their retirement funds for their child's college tuition.
A student's best option is to fill out the FAFSA form as quickly as possible, to the best of their abilities, without trying to cheat the system. If you have trouble filling out the form, Scott says there are many services that can coach you through the process and get you the highest amount of aid possible.