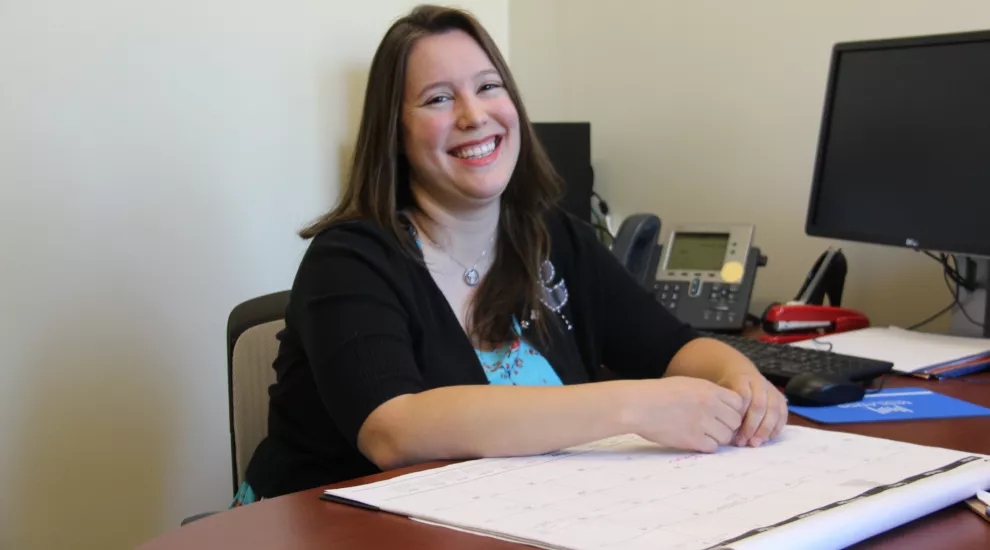 COLUMBIA, S.C. – Once upon a time there was a girl who lived in Blythewood, South Carolina.
Daughter of a farmer and granddaughter of a well driller, she never imagined herself having an office in the same college that would pave the way for her future career.
Sara Oswald is now an Advisor for the international honors society Phi Theta Kappa at Midlands Technical College. Her journey to get there was far from traditional.
Oswald graduated from High School in 1998 and went straight to the workforce like the rest of her family. It was not until she turned 28 years old that she decided to seek a college education at Midlands Tech.
"The company I was working for folded and I thought there would be no way I could get a job that I felt like I would be a valuable candidate for if I didn't have a college education," Oswald said.
Oswald earned her associates degree from Midlands Tech and was contacted by a Harvard admissions counselor who encouraged her to apply for scholarships.
Because of her outstanding academic record at Midlands Tech, Oswald was eligible to transfer to Harvard in 2011. 
"At Midlands Tech, I was able to engage in different activities and groups around campus. The experience I had and the skills I gained with that allowed me to move along, transfer to Harvard and kind of kept me moving forward on my educational goals," she said 
With nearly a full scholarship, she earned the majority of her Harvard credits online through Harvard Extension School. As component of her course, she had to take 4 classes in person and participate in a summer program in the Czech Republic.
"I was surprised that the school was a tourist attraction too. It was so unusual to be at a school with guided tour passing by in about 3 different languages," Oswald remembers. "That was really cool."
Oswald graduated cum laude from Harvard in May 29, 2014. She also received Harvard's Dean's List Academic Achievement Award for her outstanding academic development.
Oswald is the seventh-generation resident of the rural Cedar Creek area of Blythewood and the first in her family to graduate college.
"Sara is very hard working and will not settle for less than the best. I am very proud of her," said her grandfather George Oswald.
Her grandfather is a great inspiration to Oswald. At his early 80s, he goes to education classes and has always valued education in his family, according to Oswald.
"Everyone needs some kind of education. Not everyone needs to go to Harvard, not everyone need to go to a traditional 4 years school, but everyone needs some kind of evidence that they were able to sustain a certain level of intellectual engagement," she said.
Now, Oswald's job involves reaching out to students who have already graduated from Midlands Tech and connecting with students who are in Midlands Tech to push them along the path of college completion.
"I decided to stay in South Carolina because I feel like it needs me. With the skills that I've learned over the couple of years, I have a lot more to give to people here in the state than in a state as Massachusetts," Oswald said. "Massachusetts doesn't need me as much as South Carolina needs me."