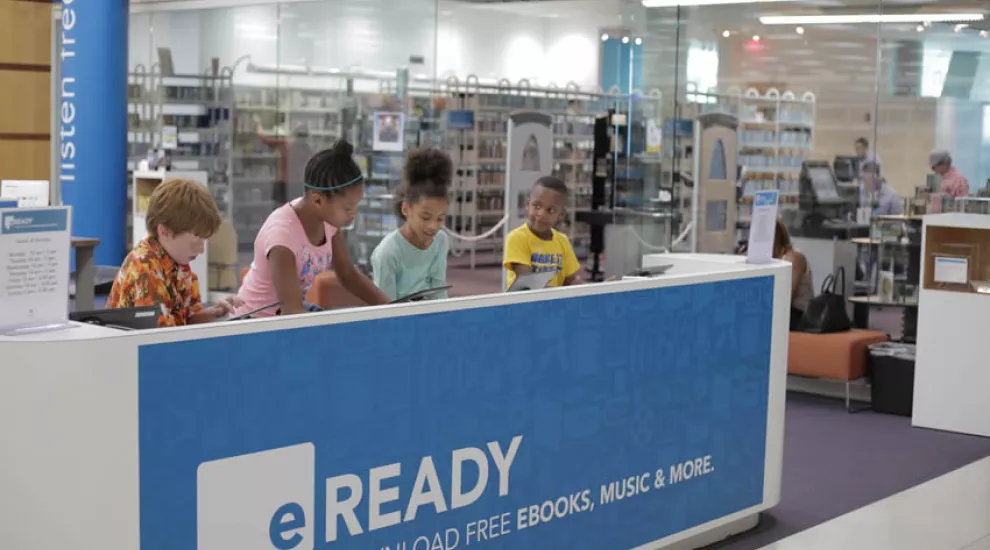 The e-Ready Bar located on Assembly Street in downtown Columbia, is a technology bar full of various tablets that can help visitors of the library conduct research or simply have fun playing games. Carolina Money got in contact with Tamara King, the Community Relations Coordinator, and Michael T. Tran, the Film and Sound Associate, to ask a few questions about the e-Ready Bar and all the services it provides.
Q: What technologies are included in the e-Ready Bar?
A: iPad, iPad Mini, nexus 9, Nook HD Plus, Galaxy Note 10.1, Kindle Paperwhite, and Kindle Fire HDX.
Q: How popular are these technologies?
A: The devices on the e-Ready Bar are very popular, especially as more and more of our customers opt to use the library's expanding digital services. Also, many of our customers prefer the one-on-one attention they receive from our staff as opposed to the hustle and bustle of some of the big box stores. The Richland Library staff is knowledgeable and here to help them figure out the best device for their needs and budget with no bias. They can ask us any question and we will give them an honest answer. Our interactions often extend to what the library can offer them on these devices. We love introducing and exploring ebooks, audiobooks, music, magazines and now movies with our customer—and it's all free!
Q: What kind of workshops or assistance do you offer to help people learn how to use the technology?
A: At every library location we provide individualized assistance. Customers have the flexibility to call and make an appointment or just drop by. At Richland Library Main, we embrace one-on-one trainings at the e-Ready Bar, which typically last about 30 minutes or so depending on nature of the visit. We have frequent e-Ready workshops at our locations that invite customers to drop by and get some assistance from multiple experts. We also love to go out in the community and share our downloadable materials and knowledge with school systems, local community centers and various other Richland Library neighbors.
Q: For people who come into the library to use the e-Ready Bar, what technology gives them the most difficulty?
A: We don't believe any of the technology is "difficult".  For many of the e-Ready Bar customers, fear of the unknown is a major factor in their apprehension in using these technologies. To help ease that fear, the Richland Library staff  dedicates time to explain and demonstrate, to make sure that each customer leaves feeling more comfortable than when he or she arrived.
Q: What do people find the most useful about the e-Ready Bar? In what capacity are the technologies utilized the most?
A: We believe that customers appreciate the openness and flexibility of the e-Ready Bar. They can come in at their convenience and get help from our skilled and knowledgeable staff. Because the technology is available all the time, we can also demonstrate instantly what we are teaching. The combination of skilled staff and access to technology make the e-Ready Bar unique. The majority of our interactions involve our downloadable services, including: ebooks and audiobooks, magazines, music, television and film.
Q: Do you find that the e-Ready Bar is utilized for issues related to work-force readiness?
A: In most cases, the library's Business and Job Center is the one-stop shop for customer related  issues dealing with workforce readiness.  However, in special circumstances the e-Ready Bar has been a source of information and support for our customers dealing with workforce issues. For instance, a  customer who was a home-based customer service representative came by the e-Ready Bar to ask our assistance downloading new software to her laptop that she used for work. We were able to help her download the updated software and she was able to get back to business.  In those unique instances we able to assist customers with those types of workforce issues.
Q: Why is it important to have a resource like the e-Ready Bar in Columbia? Why is it important to have a resource like the e-Ready Bar in public libraries?
A: It's important to have an e-Ready Bar in Columbia, specifically in a library, because we feel that no one else is offering the same kind or level of service without charging a fee to the customer. People in general are used to using the library to find answers to their questions. The e-Ready bar is a natural progression of that. We always put people before processes and our customers know that. They trust our expertise and opinion because we don't have any other purpose but to make sure they're making the most informed decisions.
Q: How do you plan to expand the e-Ready Bar? What new technologies will you include? Where would the financing for the expansion come from?
A: This is a very exciting time for Richland Library. In November 2013, Richland County residents passed a $59 million bond referendum that will enhance library facilities over the course of the next several years. With major renovations set to begin this summer at Richland Library Main, we are still in the planning stages of how the e-Ready Bar will be expanded or incorporated within the library's new design.
You can visit Richland County Public Libraries website here for more information.