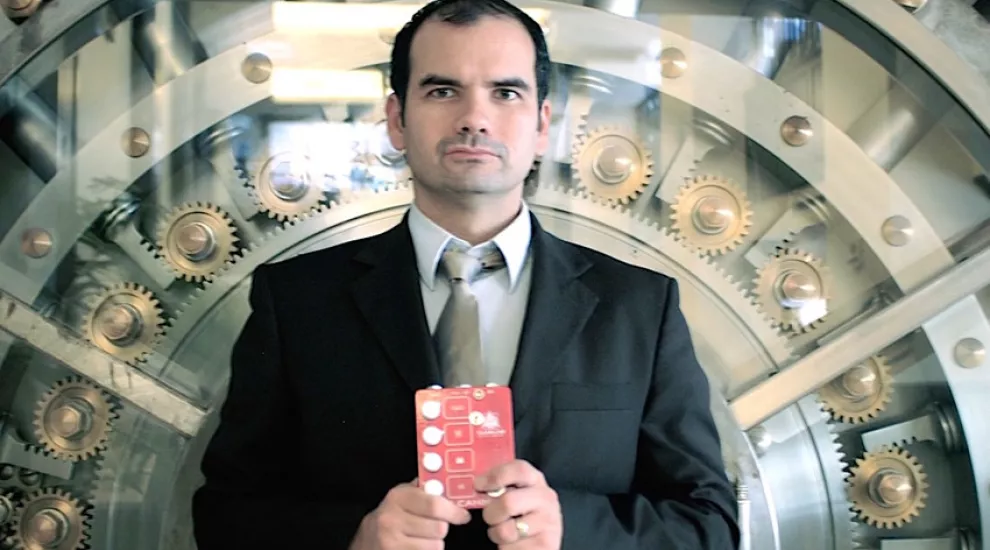 Philippe Herndon, an USC alumnus, founded Columbia-based Caroline Guitar Company in 2010. His products are designed to appeal to the subset of rock music aficionados. The products have won accolades from buyers and critics alike, with its first model named to Guitar Magazine's top 10 pedal list. Caroline Guitar is a member of the USC/Columbia Technology Incubator. 
Q1: Philippe, before we dig into your company, can you share with Carolina Money readers a bit about yourself?
Well, I moved here to South Carolina with my wife in 2003, and we've been in Columbia ever since. I'm a graduate of the College of William and Mary and the International MBA program at the Moore School at USC. I'm a former touring guitar player, and in addition to my work at Caroline, I've been a contributing writer to a number of guitar mags, most recently Premier Guitar.
Q2: What made you take the leap into entrepreneurship?
I graduated from Moore in 2009, and it was right in the long tail of the financial collapse. It was bad. Recruiters were simply not coming, and those that were sometimes cancelled appearances at the last moment or only took one or two students. I'd wasted nearly 2000 hours researching, job hunting, and applying for countless jobs and only interviewed for a handful. At some point, I think I started this company mainly just to give myself something to do - to create a brand and product the way I'd imagined. So in 2010, we got to it. I developed a prototype for a guitar idea that couldn't get off the ground, so it became important for us to release something, so that we wouldn't be one of those vaporware startups that I loathe. I made about forty units of what we called our Wave Cannon® drive pedal and it sold quickly among friends, and 4500 pedals or so later, I guess we'll keep going!
Q3: Now, tell us about Caroline Guitar.
We're a guitar effects pedal company that has achieved critical acclaim from major industry press, noteworthy artists, and serious touring and professional players. While we have over 40 retailers, we only have about 5-6 models available because we know what real product development entails from scratchpad to ship. We do original work in a copycat industry with zero barriers to entry, one that has little to no respect for intellectual property, and easily a couple hundred new companies arrive each year. And yet we've established a name for ourselves among serious users and grown at least 20% each year we've been at this. We were the first company to use Kickstarter in our industry and surpassed our fundraising goals by 234% and 268% on two projects. We walk the walk.
Q4: What have been the major contributions of the local accelerator, USC/Columbia Technology Incubator, to your business?
The Incubator has been a good home for us. I was warned very early about the allure of a home office; you think you'll get work done, but by 2:00 p.m., you've done nothing but the laundry and lunch, the TV is on and you're counting down to your mid-afternoon latte. Having a real workspace where we can get things done, around other people hustling to get their businesses rolling, is a total difference maker.
Q5: What has been the most rewarding aspect about running your business?
This may sound heretical in modern capitalism, but candidly, I'm not sure I really even work that hard. I think about my work and ideas all the time, I hustle to satisfy our customers and get our work made and shipped quickly, and I'm committed like a pig to bacon when it comes to making payroll for our employees and paying our vendors. But as a new parent, it's amazing to me that I get to have some air in my life and I can be there when needed for our son and my family. If he gets sick, or I just want to waste a morning with him, I don't need to ask for anyone's permission. My office is a mess. I wear shorts in the summertime to work. We listen to podcasts while building things. So yeah, running my own business is kind of like being a prison fugitive. I'm usually on the run, but I get to enjoy the view more than the alternative.
Q6: Where did your interest in the music industry come from?
I think I always was into it. My older brother played bass in high school bands, I loved the sound and experience of playing guitar, and the idea of performing sounded fun. The music industry, aside from some of its associated subsets and clusters, is a really awful place. Somebody once said to me, "if you wanted to get paid for being an artist, you should have been a 'sandwich artist' (Subway's euphemism for line worker)." So the industry side of music is a kind of grotesque place - I agree with pretty much anything Steve Albini has ever written about it. But the subset we're in is one I can appreciate and enjoy. We make sound effect devices for people who love to make music and noise. Pretty rad stuff.
Q7: Who is your favorite guitarist? Why?
Professionally, I should say Hendrix, Clapton, Page, Gilmour, Van Halen, or even Cobain, as those are names and players whose works are instantly memorable and can be recalled by almost anyone. But my personal favorite might be Chris Whitley, a guitarist, singer and songwriter who passed away in 2005. In the early 1990s, he was doing "alt country" years before it became a catchphrase for hipster Americana, and in the mid=90s, he did "Din of Ecstacy" which has just stunning guitar tones and sounds that still vex me to this day.
Q8: What do you consider to be some of the biggest challenges facing pedal makers today?
I wouldn't know where to start. There's a genuine paradox of choice with so many pedals available, where actually having so many options actually reduces the incentive to buy things and the commitment to those purchases. It helps to think of it with an analogy. Let's compare it to craft beer. An overdrive is kind of like an IPA. We make an overdrive called the Haymaker that's been successful. One of our retailers has over 250 overdrive pedal choices available. Imagine walking into your beer section of the ABC store and seeing 250 IPA choices. Now imagine that many of those IPAs are straight copies of other IPAs, including co-opting the recipe and even the branding - and now imagine that some of those expensive IPAs are literally one company buying another company's beverages and repackaging them as their own special recipe. There's a lot of empty hype and even some fraudulent behavior that has sucked bandwidth and profoundly damaged the equity of boutique pedals and tone machines made in the U.S.. But the biggest challenge has to be the growth of that audience. Too many guitar legends are the same legends when I was a teenager. I'm in my 40s now. The average age of a song on a hip-hop radio station might be five weeks, a few months max - on alternative or rock radio, it might be five years. Bands get paid less than what I did touring twenty years ago. We need to get money back into music, so young people can sustain themselves and feel some sense of promise that there could be a pot of gold to reward them for their labors. Younger guitar heroes. Get women playing. Newer bands for us to fall in love with. And get them paid. If there's less money in music, that's going to mean less money for gear to make music.
Q9: How well has the community supported Caroline Guitar?
One of our friends and customers, Chuck Sligh of Burnt Books and The Fishing Journal, put it really well for me. He said if we'd been in a purportedly "hipper" city, there would have been people bragging about how our company was going to change the world before I'd even finished a breadboard or schematic. But because we were founded in 2010 in Columbia - a city that has still a kind of wounded self-esteem, one that's been burned by false promises before - there was a much more reserved sense of support. More of an "Ok, well, when you actually have something to show...for us to hear...then we'll see." To see us prove ourselves, to have won over and been adopted by customers all over the world, to see our work from Columbia S.C. heralded in far flung places and embraced by this community means a great deal.