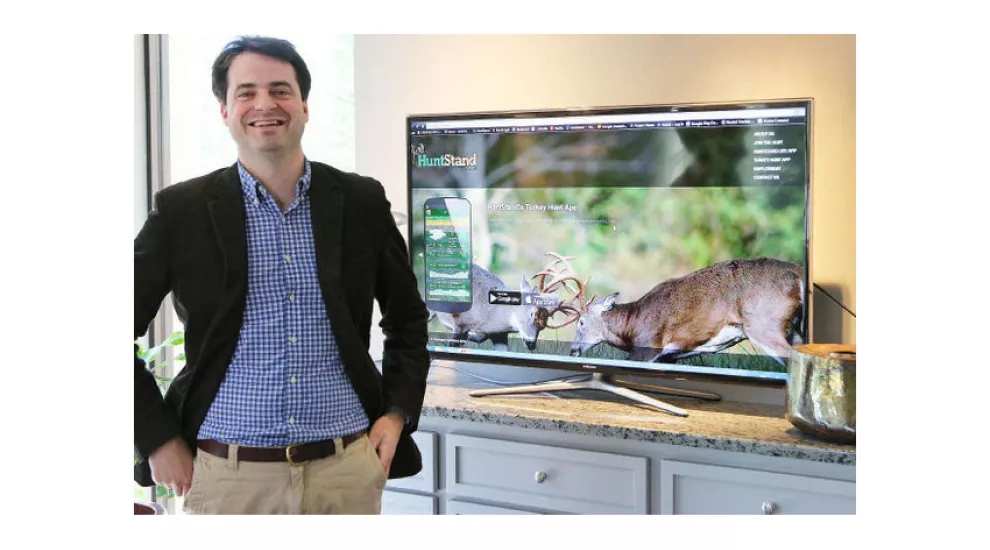 Founded in 2012, TerraStride is a company based in Columbia, S.C. TerraStride designs and produces map-based software for high-value niche markets. They currently have two distinct product lines: TerraStride Pro, a land brokerage software, and HuntStand, a next generation hunting and land management software package.
TerraStride was one of the companies that received investment approval from the SCRA Technology Ventures' SC Launch board this year. 
Lanford Holloway, CEO and founder of the tech company, has his IMBA (International Master of Business Administration) from the University of South Carolina. He likes to sail, hunt, ski, hike, and mountain bike. From a business experience perspective, he has worked in both the public and private sectors in several different areas.
Q: Why did you decide to create TerraStride Inc.?
TerraStride actually started out under the name HuntStand (which is still the name of our hunting product line). While trying to manage a large piece of property and getting frustrated, I thought there had to be a better way to handle this, and we can build a system around something we all already have in our pockets: smartphones. All of the pieces were there--satellite images, GPS, a computer. They just needed to be put together. Then, while building the mapping platform to power the website, it became clear that there were other uses for that platform, in addition to hunting. So, we re-branded under the name TerraStride and now produce software for the land brokerage world, as well. We have plans to move into other markets in the future.
Q: What is unique about your business?
We tackle every problem and design decision by asking, "How can we make this as simple and logical as possible, while still providing powerful and useful tools?" That thought process has helped us to produce some pretty cool software, and I think has helped to set us apart from our competitors.
Q: How did you meet your team? What were you all doing before starting the company?
Initially, I met a lot of our software developers through a connection to the College of Engineering and Computing at the University of South Carolina. They were pursuing PhD's in Computer Science, and I pitched the concept to them. They all decided to work on the project. That was four years ago. A few of the original group are still on the team, and more have joined since then.
Q: How much funding have you raised so far? Do you have plans to raise more?
While I can't disclose the exact amount, I will say that we have raised between $1 and $2 million. We don't have any immediate plans to raise additional money and are starting to see some real revenue.
Q: Not long ago, you received investment approval from SCRA Technology Ventures' SC Launch. How were you able to accomplish that?
We had been speaking to SC Launch for a while now and have gone through a process involving presentations, demonstrations, financials, and other due diligence. By virtue of that process, we were able to demonstrate the potential of our product through radical user growth and some appreciable revenue.
Q: What is the company's plan for the next three months? What do you hope to have achieved in 12 months?
Well, within the next three months, we will release a massive update to HuntStand, our hunting, outdoor, and land management software. This update will give huntstand some of the most sophisticated mapping and social features on the Internet. Over the next year, we will continue to refine our core offerings and will likely expand into an additional market.
Q: As an entrepreneur, describe yourself in 3 words.
Driven, honest, and innovative.
Q: What CEO or entrepreneur do you admire the most and why?
Elon Musk, because he's a badass. This guy made a pile of money from selling PayPal, and instead of sitting by a massive pool and hanging out for a few years, he put almost all of his capital into three new companies, all of which have a real opportunity to have a positive and lasting impact on the world.
Q: Tell us something funny/interesting/weird/cool about you.
I have just as much fun hanging out in the woods drinking cheap beer as I do in a nice restaurant in a big city. To me, life's all about making the most of every situation and surrounding yourself with good people.
Q: How do you see technology and innovation coming out of Columbia?
Columbia has a lot of great things going for it, and the city has undergone massive (and positive) changes over the last 20 years. However, we need to do more to foster entrepreneurship in the technology sector. Finding a way to make sure that our highly educated "human capital" assets stay in Columbia after graduating, and increasing the comfort level that private investors have with tech companies would be a great start.