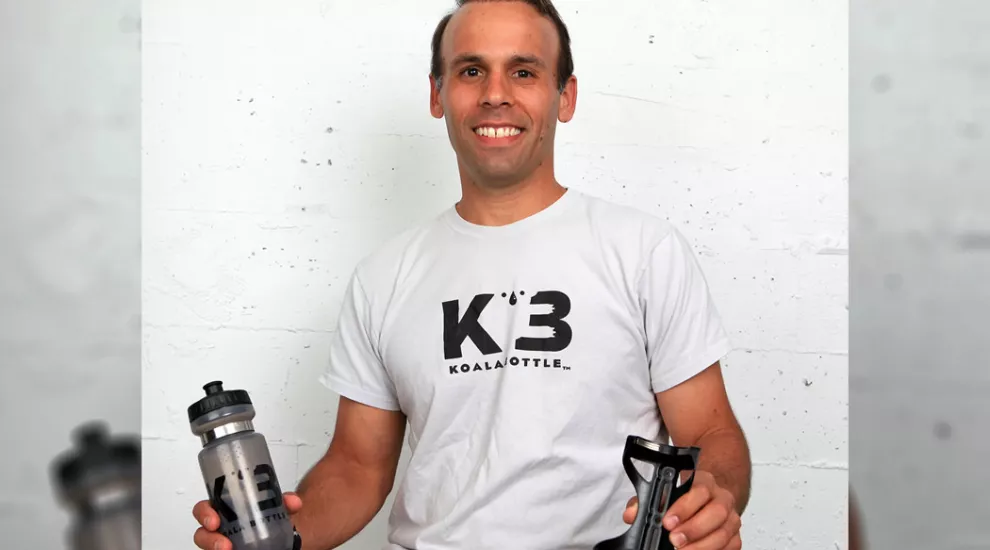 Anthony Goldman is the founder and CEO of Koala Bottle. The bottle is a magnetic bottle system designed for bicycles. It allows easier access to the water bottle while riding and greater safety because the rider does not have to take his or her eyes off the road. The bottle has a magnetic ring around its top, and it is stored in a magnetic holder on the bike. 
Q: First off, could you tell us a little about your background? What should people know about you?
A: I grew up in Boston, and I am the second oldest of five kids. There was never a dull moment in the Goldman household. I came to Columbia, South Carolina to attend college at the University Of South Carolina. During this time, I became an avid runner because several of my best friends ran on the USC cross-country team. 
After college I moved back to Boston. During this time, I joined the Boston Running Club and purchased my first bicycle. I truly fell in love with cycling and trail running. Through cycling and running I discovered a lot of the beauty of the New England countryside that I missed when I was younger. After a couple of years of working an entry-level banking job, I decided that it was time to go back to school, and I moved to Tempe, Arizona to study Economics at Arizona State University.
 Afterward, I accepted a job with Bank of America in Charlotte, North Carolina after graduation. I have been living in the Carolinas ever since. I moved back to South Carolina when I decided to go to law school at the Charleston School of Law.
Working on the development of Koala Bottle has drawn from all my life experiences. It has been an interesting ride thus far.
Q: What is the story behind Koala Bottle? What inspired you to create it?
A: This is a somewhat complicated and personal story. Several years ago, I had heart complications and ended up needing a defibrillator. My sister had died of sudden cardiac arrest several years prior to my situation, so it was an incredibly emotional and introspective period. In the end, I realized that it was time to start living differently. Variety is the spice of life, but mine was very one-dimensional and centered around all my athletic pursuits. I needed to channel my energy differently.
I started tinkering with CAD and 3d prototyping. Rather than continuing to think about good ideas, I decided to explore them in more detail. On a random weekend, I was in Charlotte, N.C. cycling with a friend when I had a thought, "Why isn't there a bottle for bicycles where you can simply drop the bottle back in place." Having already developed the rudimentary skills with CAD, I was able to tinker in my free time with the idea that ultimately became Koala Bottle.
Q: What was the greatest challenge you faced in starting your business, and how did you get past it?
A: There really is not any "greatest challenge" to get past, per se. Simply, the process is always challenging, just in varying degrees. Challenges can also be enjoyable. Similar to running a 5k, the process can hurt and be rewarding, all at the same time.
That said, the process of figuring out how to manufacture the ring was a puzzle and utterly frustrating. Initially, I purchased a massive amount of stainless steel tubing to be cut using a CNC lathe. The first delivery to the manufacturing facility was damaged in transit. This should have been the proverbial writing on the wall but, with the determination to persevere, a substitute supply was obtained. The frustrating moment was seeing the first batch of cut rings and realizing that the process was fraught with opportunities for error and the end product was simply junk. The process was too labor-intensive and cutting the tube on a lathe left a nasty burr on the ring.
One day while visiting the manufacturing facility, I was in the operations manager's office where he showed me a YouTube video of a machine that was making door hinges. The machine could bend and stamp metal simultaneously. That was the eureka moment when I realized the case had been solved. I found a company in Indiana with the machining capacity to make thousands of rings an hour. Unfortunately, then I began the process of figuring out how to coat the rings. That is a story for another day.
Q: How has the response been to Koala Bottle?
A: There has been true excitement about the product and the future for the brand. When Koala Bottle launched a few years ago, several well-recognized cycling blogs used the product and wrote about their experiences. It became a global product overnight.
Q: Now that Koala Bottle is up and running, what is a day in the life like for you?
A: Just like any other consumer product company, manufacturing, sales and marketing are areas that require constant attention. Koala Bottle continues to refine and improve itself in all these areas. Doing so requires developing new and original content, looking for new distribution channels, and disseminating content so that it reaches the appropriate markets.
At the same time, however, a small company must continue to innovate. As a result, time is devoted to developing new products that fit into the lifestyle brand.
Q: What are your plans for future growth?
A: Koala Bottle is a lifestyle brand. Cycling was the inspiration, but the product was designed for other uses, such as for walking, running, and hiking. This year, at Interbike, Koala Bottle had a new hydration waist belt on display. This product leverages Koala Bottle's innovative design, and the feedback was phenomenal. Bringing this product into the portfolio will allow Koala Bottle to achieve its goal of extending its reach into new markets and achieve its goals for growth. There are several other products in the pipeline, but first things first. 
Q: What is the most interesting/exciting opportunity Koala Bottle has brought for you?
Without a doubt, Koala Bottle has offered an opportunity to meet a lot of amazing people.
Q: What is your favorite outdoor adventure/activity?
A: I truly love riding a bicycle. Lately, there has not been enough time to ride for fitness but, when the opportunity presents itself, I make every excuse to get on my bike. If I need some groceries, then I will grab a backpack and head to the store. I don't have to ever worry about parking and the car doesn't save much time, usually.
Q: Any words of advice for others?
A: Live life outside your comfort zone. Take advantage of situations where you can experience something new. This is where ideas are born.