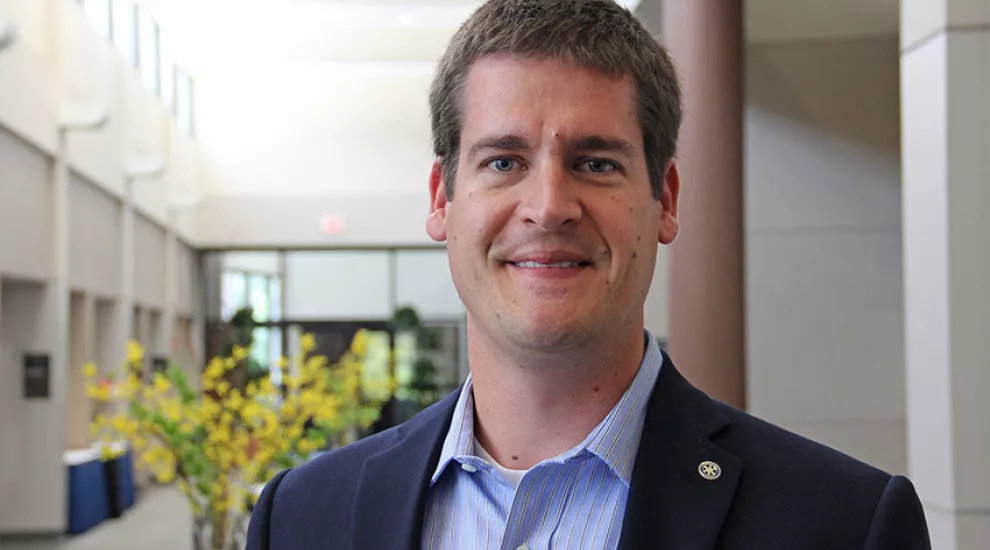 COLUMBIA, S.C. – Blake DuBose graduated from Newberry College's Schools of Business and Psychology and is president of DuBose Web Group.
In 2007, father-son team Mike and Blake DuBose partnered to form DuBose Web Group, a full-service, turnkey website design and development firm based in Columbia, South Carolina. 
Q: When did you decide you wanted to be an entrepreneur?
This apple didn't fall too far from the tree, so to speak. I am the latest in a line of five generations of entrepreneurs, so in a sense, I was born into a business mentality. I felt called to the path of entrepreneurship and have embraced that calling.
I graduated from Newberry College in 2005, double-majoring in Business Administration and Psychology. My experience at Newberry had a major impact on preparing me for the business world and equipping me with the knowledge I would need to succeed. My education there was a once-in-a-lifetime opportunity that I didn't fully appreciate until I entered the workforce.
One thing I've learned so far--and this is something that many professionals struggle with their entire lives--is to hone the skills you have that highlight your most positive attributes and apply them to doing something you truly enjoy. 
Q: Why did you start DuBose Web Group? What is the company about?
Growing up, I always enjoyed technology, whether it was video games, reassembling a speaker system, or tinkering with the Tandy computer that I got in elementary school.
In 2007, I embraced an opportunity to pursue my dual passions for technology and helping people. Along with my father, Mike DuBose, I started a company that served Columbia by providing website design with a unique customer service twist. We like to say that we are in the business of web design and development, but our specialty is customer service.
To better understand our business and our team members, I decided to gain experience in every job that a web company can offer: sales, strategy, design, programming, and support. I've worked in each of these important positions, and my experiences have enabled me to work seamlessly with people in those roles to help them serve our customers better. 
Our first customer, Lake Murray Boat Club, came to us in 2006, and we still serve them today. Since then, we've slowly grown our company, and we now serve nearly 100 clients and employ ten passionate and creative full-time team members.
Q: If you could do it again, what would you do differently?
Every person has a mentor or someone who has a major impact on their career. While I've had to find my own path and learn the hard way in most cases, I am fortunate to have had my dad coach me from his experiences, successes, and failures.
I feel that when you start a company from scratch, it's important to have a vision, share this vision with the people you're leading, and grow at a reasonable pace, so you can adapt and evolve along the way. We feel that we've grown at a healthy rate that allows us to have the best employees possible, people who love what they do and really enjoy serving our customers. Every day, I come to work to serve my employees, customers, and community and try to make a difference for each.
As long as you embrace successes and failures alike as gifts and learn from them, I don't think you should have any regrets. In my eyes, if I could go back and do something differently, it would make for different outcomes, and I value every experience that molded me into who I am today. Therefore, I wouldn't change a thing.
Q: What's the best business advice you have ever received?
I've learned that passion, preparation, and persistence are all ingredients of success. But I've also learned that it's important to have a balance between work and personal life.
Our customers come to DuBose Web Group for our experience, creativity, and expert guidance in promoting their business on the web. Our team works tirelessly collaborating, brainstorming, and debating to determine the best possible solution for each customer. We balance this, however, with a culture that  doesn't require a lot of after-hours or weekend work--a rarity for a tech company. I feel that balancing work and rest allows my team to disconnect, refresh, and be ready to give the job their all again the next day.
Q: What personality trait helps you the most?
I think there are many traits that, when combined, can produce great results in business... But the one that I feel helps me most is caring about others. While no one wants to be so caring that they are taken advantage of, a reasonable amount of this trait goes a long way in terms of caring about what you do, who you work with, the customers you serve, and your community. I come from a caring family, married a caring woman, and try to be a caring person. I hope that this trait allows me to make a difference in someone else's journey.
Q: What's the hardest part of the job?
We serve clients in the ever-changing web sector, which makes our lives challenging but fun. When we first started providing web services back in 2007, companies were still not sold on the fact that having a website was beneficial. Now, it's essential, and if you don't have a website that's mobile-friendly, well-strategized, and professionally implemented, you're being left in the dust by technologically savvy, aggressive, and hungry competitors. It is a constant effort to keep abreast of the newest trends and advances, but we enjoy the challenge of helping our clients navigate this constantly evolving industry.
Q: The easiest?
While every day presents its challenges, successes, and failures, the easiest part of the job is coming to work every day because of the people--both our employees and our customers. I believe that it's important to surround yourself (and your company) with the team members and clients who best fit your vision, culture, and values. When these things all align, it's a recipe for some great things to happen!
Q: What surprised you the most about running the business?
Not only is the web industry constantly evolving, but creating, growing, and running a small business provides frequent "surprises" that keep you on your toes. Many people think that creating an initial business concept is the most difficult challenge. In my opinion, the hardest part is actually confronting the constant changes and distractions and successfully keeping your business moving forward to serve your employees and customers the best you can.
Q: What do you love about the community where your business is located?
The DuBose family of companies is actively involved in giving back to the Columbia community, and we enjoy working with other organizations in the area to maximize our positive impact. Each month, along with other Westpark businesses, our team takes part in different initiatives to serve our local community. Some events include having a Harvest Hope food drive; hosting an American Red Cross blood donation; collecting items to benefit Pawmetto Lifeline, and picking up trash along Fernandina Road. There's a world much bigger than our company out there, and we want to be a part of making it better.
Q: What do you do in your off-time?
When I leave work, I am a family man and enjoy traveling with my wife, creating memories with my kids, and enjoying good food and friends. We really love living in Columbia and experiencing all it has to offer. Being within two hours of both the coast and mountains is an added bonus!
Q: When you leave the business behind some day, what will you do?
Whatever I involve myself with, it must be something I enjoy and am good at. One day, that time will come, but for now, I'm passionate about leading and growing my team at DuBose Web Group as we move into the future together.
For more information about DuBose Web Group and their culture, please visit their website at duboseweb.com