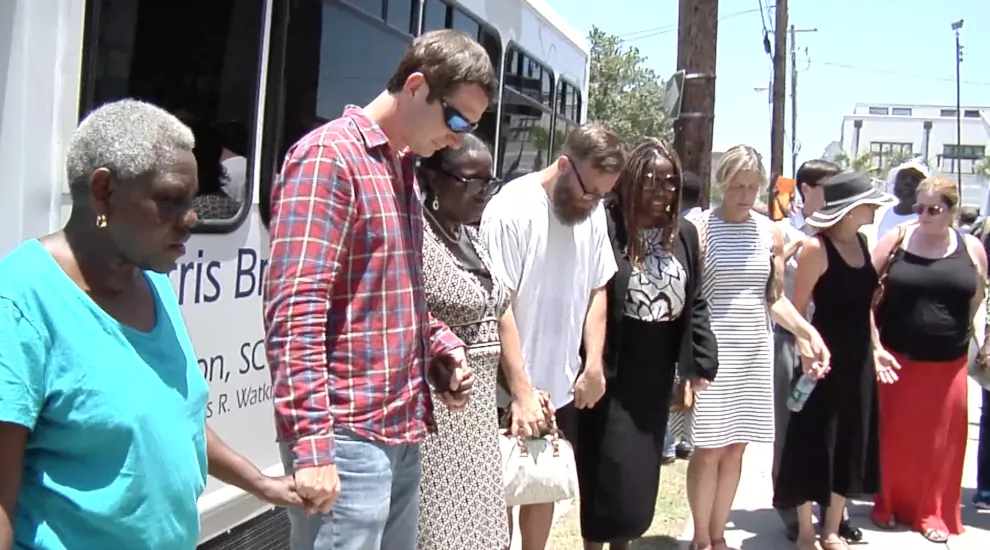 "There is no greater coward than a criminal who enters a house of God and slaughters innocent people engaged in the study of scripture."
                                                -NAACP President Cornell Williams Brown to ABC
People across South Carolina and the nation are still reeling over the news that nine victims, six women and three men, were shot in a historic Charleston church on Wednesday evening, in what is now being described as one of the worst mass shootings in South Carolina's history and a hate crime.
During Wednesday mid-week services, the sandy blonde, slender, 5'9, 21 to 25-year-old male suspect entered Emanuel AME Church at 110 Calhoun St, around 8 p.m., according to The State.
Emanuel AME Church is 150 years old. Considered the mother of AME churches, Emanuel has a rich history in civil rights efforts and houses one of the largest black congregations south of Baltimore according to the Post and Courier.
The suspect attended the prayer meeting that was taking place for about an hour before he began shooting. He then left the church in a black four-door sedan.
In addition to the victims, it is believed that 3 other people were in the church at the time of the shooting, according to statements made by Charleston Police Chief Gregory Mullen early Thursday morning. Eight victims died in the church, with the ninth passing away later at MUSC Hospital.
According to the Post and Courier, the identities of the victims have yet to be named by the coroner, but lawmakers and fellow clergymen have confirmed that Sen. Clementa Pinckney, a Jasper County State Senator (D) and the Reverend of Emanuel AME Church, was one of the victims of the lone gunman. State Sen. Katrina Shealy confirmed that the Senate will convene at 10 a.m., but no official business will be conducted, according to The State. Pinckney's desk will be covered with a black mourning cloth according to tradition, and state congressmen will gather to honor the fallen senator.
In the aftermath of the shooting, an impromptu prayer circle formed at the Embassy Suites near Emanuel AME as neighbors and other sought information. Investigations were complicated as a bomb threat was called into the Embassy Suites. Further confusion arose when a local photographer who matched the profile was detained, according to Live at 5. He has since been released, and the bomb threat has also been called off.
Investigations continue as the suspect remains at large. In a press conference with CNN, Charleston Mayor Joseph P. Riley confirmed the fatalities and ensured that city police, sherriff's deputies, state law enforcement and the FBI are working together to bring this "awful person" to justice.
"This is a most unspeakable and heartbreaking tragedy in historic Emanuel AME Church, the mother of the AME churches, people in prayer on a Wednesday evening, a ritual, coming together, praying and worshiping God. To have a person come in and shoot them is inexplicable, the most intolerable and unbelievable act possible."
Memorial services are to be held across the state, and Governor Nikki Haley will attend a noon prayer vigil at Morris Brown AME Church in Charleston. Haley released in a statement, "While we do not yet know all of the details, we do know that we'll never understand what motivates anyone to enter one of our places of worship and take the life of another."
Palmetto Scene will regularly update this story as news becomes available.
For more information, follow the City of Charleston Police Twitter.
If you have any information regarding the suspect and this case please call 1-843-743-7200