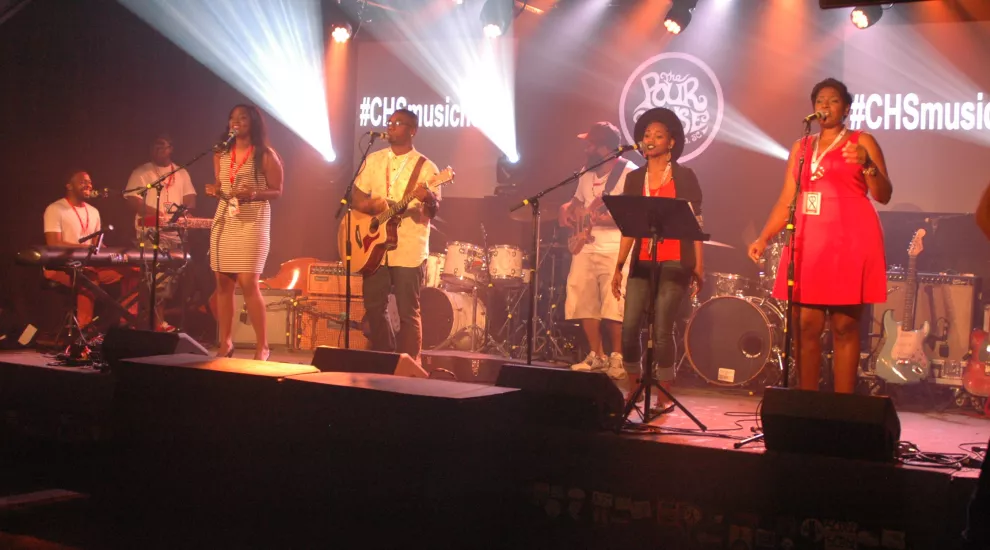 The spirit was palpable and thriving in The Charleston Pour House on Tuesday, June 23 for the Mother Emanuel Hope Fund Benefit, "Don't Tell Me This Town Ain't Got No Heart", a reference to a line in the well-known tune "Shakedown Street" by the Grateful Dead.
Over 80 musicians and over 20 Charleston businesses participated in the event, which raised over $30,000 between ticket, bar and auction sales.
Cars poured from the parking lot into the surrounding streets, dirt lots and fields for the concert. The response was so strong for the event, which was originally planned to be open to the public, that The Pour House had to instate a tiered ticketing system the day before show, breaking sessions into an outdoor deck show and the later indoor show with a portion of two-session tickets available.
Two-session tickets sold out in a matter of minutes, and the single-session tickets soon followed, with all 800 tickets sold within three hours. A live stream of the event was available to enthusiasts who were unable to attend. Widespread Panic used the live stream as their "house music" in between sets of their show in Jones Beach, N.Y.
The music community rallied in support of the Charleston Emanuel A.M.E. Church victims, putting together the event in a very short matter of days.  Many artists canceled paid appearances to be a part and others traveled to the event after playing other show in the area.
Andy Greenberg of Runaway Gin was at The Pour House the night of the shooting, "When it became clear what had happened, we were all so distraught. The music was over and you could just feel the shock waves passing through all of us. Some were very angry, some confused, some sad."
"I remember Josh Hamrick of The Pour House really stepping up to the plate. You could see the sense of purpose in his eyes. He was deeply wounded by this, as so many of us were, and you could just sense a response coming, even in the minutes after the attack. Kim Huey also was right there beside him ready to snap into action. That very Wednesday night, not even an hour after the shootings, he knew just what to do. Josh asked me if I'd be involved musically in putting together a benefit show and I, of course, said I'd do anything that I could to help. Before we knew it, virtually all the musicians in our tight-knit 'Pour House Family' and all the staff of The Pour House had volunteered to take part in the event."
Outside on the deck, acts Pinkerton and the Brinks, Sunflowers and Sin, Danger Muffin and Honey Smoke kicked the evening off with energy. Just beyond the deck outside were a draft beer tent and a Charleston Distillery Tent serving cold beverages. All proceeds from these tents, bar tabs in The Pour House, bartender tips (who worked the event for free) and ticket sales all went to the Hope Fund.
Outside was also the Silent Auction and raffle, which continued into the evening. Items included things like private limo rides, personalized coolers, signed instruments, prints and even stand-up paddling items. There were over 200 donated items, with a signed Widespread Panic poster going for $4,000.
Chris Cross and her team sold purple armbands with "CharlestonStrong" printed on them. Cross conveyed that she wanted to do something that could be a physical symbol of support, and that when printers learned of the cause, they shipped the bands free overnight, saying they hoped they could give some good energy back to Charleston and the community. Cross, a wine salesman, has placed the bands in bars across Charleston and Mt. Pleasant and hopes to raise $5000 for the Hope Fund.
The evening session indoors began with an incredibly moving set by Manny's Praise Team, who sang gospel tunes. JRATH performed, and then Chris Hyatt. Hyatt and members of the Praise Team came together to sing Michael Jackson's "Man in the Mirror," which had everyone in the crowd passionately singing along with arms raised.
"Tuesday reminded me that we are an integral part of the city and that as an artist, our small contribution is what makes Charleston such a beautiful and unique place to visit and live." Hyatt said. "The music was joyous. It was nurturing. There were moments of rapture. The music was consoling. I feel the night genuinely helped to usher in the healing our community is desperately seeking."
The night continued with some Charleston funk with artists like The Lowhills, Gaslight Street, Sol Driven Train, and Runaway Gin. Artists collaborated, coming on stage to lend their hand in particular songs, adding to the communal feeling that surrounded the event.
"I think we said so much by putting the event together and even more with the music that we played. There were artists of all races playing the even,t as there always are at The Pour House, and we showcased how integrated we are as a musical community. Hopefully that integration is spreading further and further through our society!" Andy Greenberg of Runaway Gin reflects.
The night closed with Travelin' Kine, The Dead 27's, The Reckoning/Rodeo Clown, and finally the Super Jam, where many artists came together to finish the night. By the time the event was over, the hashtag "CHSmusicheals" was trending across social media platforms.
"When The Pour House contacted us and a few others about participating, we all wanted to be a part of it. I don't think anyone said no; all that were asked participated," said Scottie Fryer of Travelin' Kine.
"Charleston's music scene is pretty close, and we all wanted to do this together. Even friends who're great musicians like Aaron Firetag or Jeff Kozelski came in and sat in with bands who took the stage. The best part, though, was how happy everyone was. Everyone. Musicians, staff, everyone that came all had a great time and raised money for a great cause. It was truly an honor to be a part of it."
Though Charleston, South Carolina, and the nation continue to heal and respond to the Emanuel A.M.E. Church tragedy, it is clear after events like The Pour House benefit on Tuesday that the community is not simply surviving, it is thriving through unity and solidarity.
"As an artist in Charleston, this event gives me hope that music will spread and bring light, peace, unity, and happiness to the lives of more and more people. It also showed me that we can make a huge difference as a musical community by aiding in directing the narrative of our societal discourse and providing these musical events for people to come together. We all want peace, love, and harmony and this is one of the things that unites us as local artists," Andy Greenburg said.