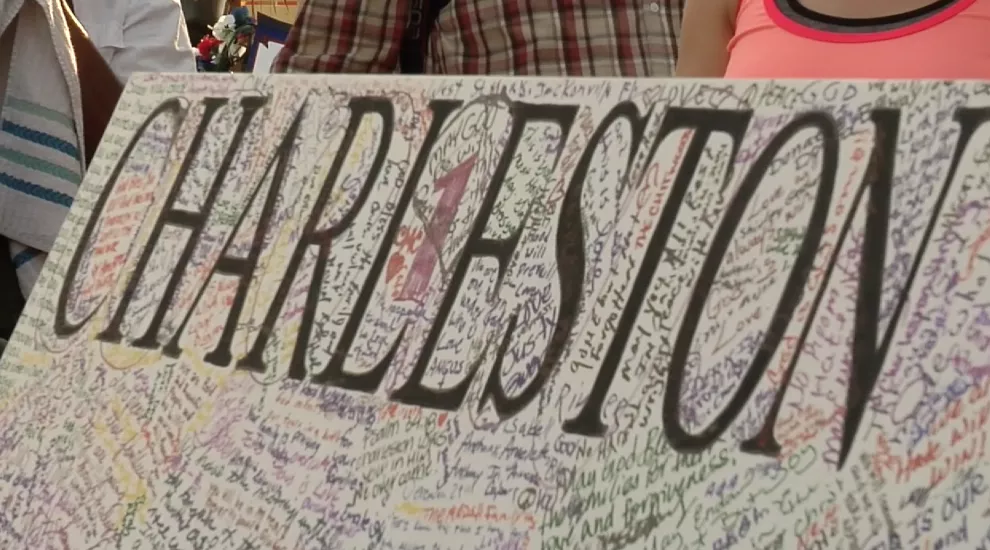 The names and identities of all nine victims of the Wednesday night shooting at Emanuel A.M.E. Church have been named. Among the fallen are students, librarians and state Sen. Clementa Pinckney.
State Sen. Pinckney had previously been identified as one of the victims, as the State Legislature remembered the leader Thursday during session. A single rose and a black mourning cloth were placed over his desk. Sen. Katrina Shealy recalls to The State, that Pinckney was the most kind and gentle man in the Senate. State Sen. Marlon Kimpson, D-Charleston called him "the moral conscience of the General Assembly."
The Jasper county senator and reverend is remembered by members of the legislature and members of his congregation alike. As Pinckney told the Post and Courier in 2010, ""Loving God is never separate from loving our brothers and sisters," Pinckney said. "It's always the same."
According to The State, the other victims has been identified as Cynthia Hurd, 54; Tywanza Sanders, 26; Sharonda Singleton; Myra Thompson, 59; Ethel Lance, 70; Susie Jackson, 87; the Rev. Daniel Simmons Sr.; and Depayne Middleton Doctor.
Cynthia Hurd, according to the Post and Courier, worked her way to becoming the manager of St. Andrews Regional Library, one of the busiest branches of the Charleston County library system. But over her love of the library, was Hurd's love for helping others. Jamie Thomas, the library system's spokeswoman and Hurd's friend, recalls her efforts to help others become educated. To honor Hurd and the victims, the library's 16 locations were closed today. The St. Andrews Regional Library will be named in her honor.
In a 2003 interview, Hurd said to the Post and Courier, "I like helping people find answers," adding that the best thing about being a librarian was service. "Your whole reason for being there is to help people."
According to the Post and Courier, Tywanza Sanders, who like Pinckney, was an Allen University alumnus had graduated with a degree in business administration.
Sharonda Coleman-Singleton was a mother, church pastor, speech therapist, and coach of the girls' track and field team at Goose Creek High School.
Myra Thompson was another pastor at the church.
Ethel Lance was a retired Gaillard Center employee and a janitor at the church.
Susie Jackson was a longtime church member and a cousin of Lance.
Rev. Daniel Simmons, Sr. was a retired pastor at another Charleston church. He passed away at MUSC following the shooting.
DePayne Middleton Doctor was the former Charleston County director of the Community Development Block Grant Program.