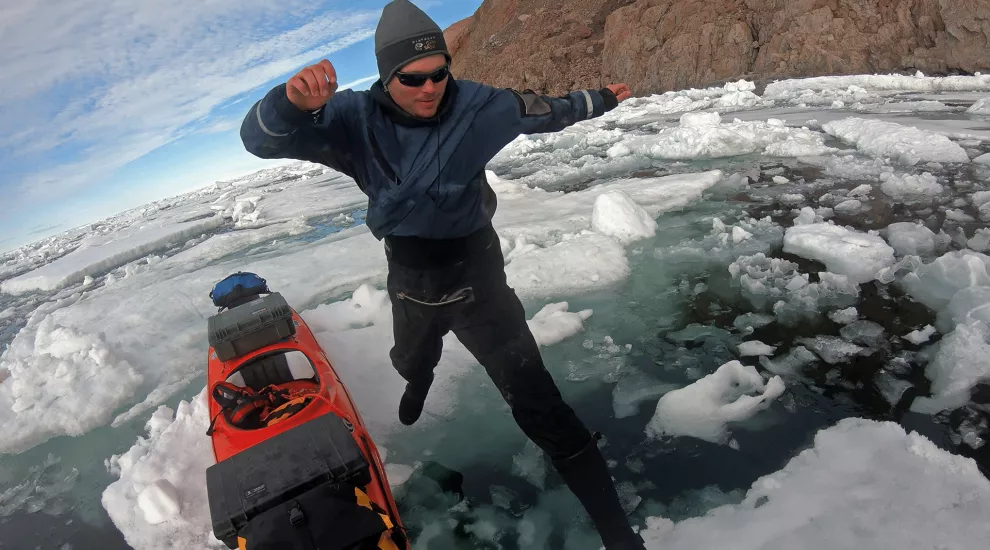 Earth Day is April 22, 2023.
Earth Day began in 1970 and is celebrated annually around the world on April 22. Various events are held worldwide to demonstrate support for environmental protection.
Check out upcoming Earth Day programming this month.
Empowered: Energy Heroes
Empowered: Energy Heroes is a mini-series that celebrates the heroes of our times - scientists, inventors, entrepreneurs, policymakers and citizens behind the renewable energy revolution. An energy system without fossil fuels allows us to save the planet. View the episodes below.
An Hour of Sunlight 
Sunday, April 2, 1:00 pm on ETVHD
The energy that hits the earth in an hour of sunlight is equivalent to all the energy the entire planet uses in one year. We can create all the energy we need from the sun. Chloe Goshay visits a microgrid in Sonoma, California where she meets researchers who show her how to do it.
The Grid
Sunday, April 9, 1:00 pm on ETVHD
Grid failures due to extreme weather events are causing deadly situations around the country. The electric grid caused the deadliest fire in California history. Now the grid is preemptively turned off during hot, dry wind events. Chloe Goshay explores how the grid was designed to work over a hundred years ago and the new challenges it faces today. A microgrid in the South Side of Chicago keeps the lights and the heat on during the worst winter storm. Batteries and fuel cells replace backup generators and help the grid balance the supply and demand.
Winds of Change
Sunday, April 16, 1:00 pm on ETVHD
Chloe Goshay goes to Somerset, Massachusetts, a small coastal town that has ridden the waves of our national energy policy. Once the home to the largest coal-burning power plant in New England, Somerset lost its bread and butter when the low cost of gas put the plant out of business. The town's state representative, Pat Haddad, writes a bill that brings offshore wind to Massachusetts and revitalizes her small town. Now Somerset will be home to North America's first offshore wind manufacturing plant.
Workin' with What You've Got
Sunday, April 23, 1:00 pm on ETVHD
Vermont generates all of its electricity without burning fossil fuels. The innovative leaders of three utilities show Chloe Goshay how they create energy using Vermont's own natural resources, including the waste from its two largest industries. Now the state has a plan to use that clean electricity to remove fossil fuels in all of the energy the state uses. Vermonters will have to switch to electric vehicles and electric heat pumps to reach their goal.
8 Billion Angels
A non-fiction motion-picture filmed through the eyes of everyday people around the world confronting the impacts of unsustainable population growth in their lives, work and research. Compelling stories, arresting cinematography, beautiful soundtrack and a hopeful message draws the viewer into an immersive and emotional journey.
Monday, April 3, 10:00 pm on ETVHD
Sunday, April 9, 7:00 pm on ETV World
Five hundred nautical miles from the North Pole, a research team sets out to measure the world's largest and oldest sea ice floes. Steve is an expedition leader who has led projects in the High Arctic for 40 years. Chris is a polar oceanographer who studies ice floes from a Harvard lab. They know the data, the models, the science. None of that has prepared them for the truth on the ground. The floes are crumbling and collapsing, the old ice is gone. Caught in a frozen maelstrom, something has to give.
Sunday, April 16, 5:00 pm on ETVHD
Tuesday, April 18, 8:00 am on ETV World
Join conservation scientist Dr. M. Sanjayan for the beginning of an ambitious 7-year project, a global environmental health check of six of Earth's bellwether biomes. From the Arctic to the Amazon, these vulnerable habitats are changing, revealing surprising animal behaviors as species adapt. On his journey he meets the inspiring scientists and communities working to bring about positive change.
Episode 1

Saturday, April 22, 1:00 pm on ETV World
Sunday, April 23, 07:00 pm on ETV World

Episode 2 

Wednesday, April 19, 9:00 pm on ETVHD
Guardians of Our Troubled Waters
For thousands of years, our rivers and streams were considered sacred. But in the industrial era, everything changed. Major industry turned rivers into sewer systems that were brown and smelly and could barely support life. But the destruction also awoke early heroes who spoke out for the river and challenged industry and the public to fight for their waterways, their drinking water, and their lifeblood of the community.
Sunday, April 23, 5:00 pm on ETVHD