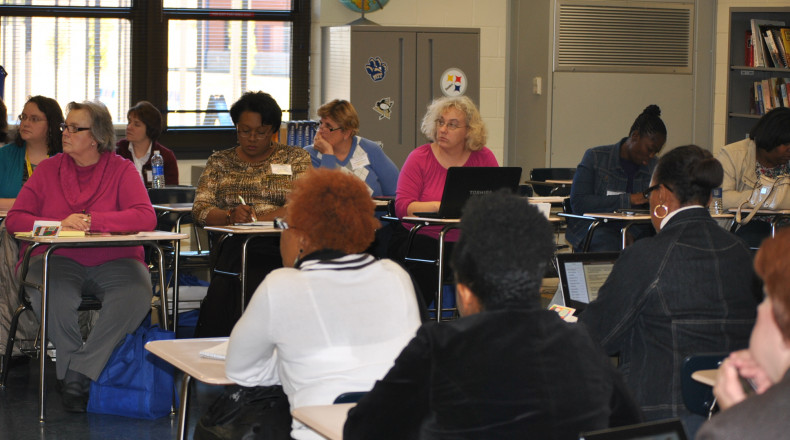 "ETV has gone over and beyond to help teachers in the Digital World." 
– Michael Bender, Kershaw Elem., LCSD

"I was pleasantly surprised at the depth of the ETV class content. Being able to get information with real examples demonstrated in the comfort of my home and on my schedule was key to my decision to look for other ETV classes to take." 
– Cynthia P., Dorchester School District 2
ETV is recognized nationwide as a model for delivery of educational content. From programming that inspires young learners, to preparation of a 21st century workforce essential to attracting businesses and jobs, to professional development for South Carolina's teachers, ETV provides lifelong learning opportunities to South Carolinians throughout our state.
ETV provides content, technology resources, and professional development training to S.C.'s 50,000+ teachers in all 81 school districts and other special schools, and their students.
ETV's commitment is to provide access and equity to educators and support staff in every school across South Carolina, especially underserved rural areas. ETV reaches teachers and students throughout the learning environment: PreK-12, universities, colleges, technical colleges, home and private schools, and child-care providers.
ETV Education collaborates with the Department of Education, the Education Oversight Committee and the S.C. K-12 School Technology Initiative to provide a variety of content services, including PBS LearningMedia, Knowitall.org, and PBS Kids. These services are made available at no charge to every public, private and home school student, regardless of economic status. ETV's annual teacher survey reports that over 95% of applicable respondents say the ETV Education services employed, including content and/or professional development, helped better facilitate learning to improve student performance/engagement.
ETV's Knowitall.org PreK-12 educational portal was the state's first educational portal designed to present students with a safe, standards-based, interactive learning experience. Most of the simulations, virtual field trips, and educational games on Knowitall were conceived and produced in South Carolina by the ETV staff. In 2015, Knowitall.org was re-launched with much of the media content (video, audio, photos, etc) optimized for tablets and mobile devices.
"What a wonderful resource for our South Carolina students! Many of our students have very limited experience with travel outside of our county and will no doubt enjoy learning more about (and feeling more connected to) the beautiful state in which they live through Knowitall.org."
– Mary Whitman, Sanders Middle School, Laurens, S.C.
ETV's early learning service and literacy programming are provided through its "Ready to Learn" schedule of programming, through which ETV airs over 4200 hours of safe-haven, noncommercial, curriculum-based children's programs for our youngest learners. The broadcast programs are complemented with online games and mobile applications that have proven to increase literacy rates and education readiness. Serving the First Steps, Head Start and Afterschool communities, ETV offers free wireless broadband hotspots to over 200 facilities bundled with PBS reading and STEAM content training.
ETV's educational initiatives also serve the state's public service officers by providing online training and recertification. The Criminal Justice Academy has access to timely videos on-demand, and online course services for 13,000 S.C. law enforcement officers throughout the state. ETV's online training delivery includes helping first-respondersunderstand the variety of emergency systems, and how local and state public safety officials react in emergencies across South Carolina.
Overall, ETV's Education Services are core to the state's lifeline and its educational directives.