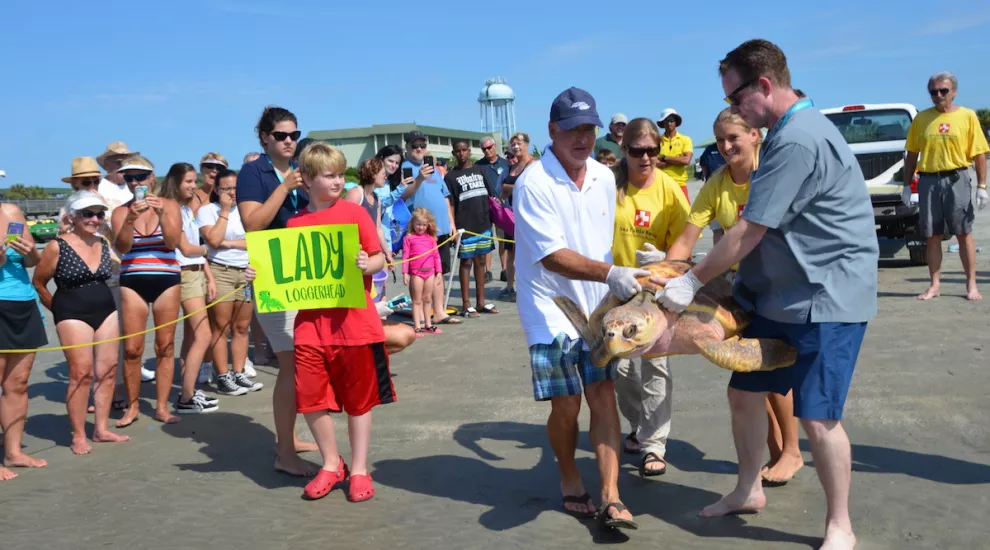 Two sea turtles were recently saved, treated and released by the Sea Turtle Hospital at the South Carolina Aquarium.
Lady, a loggerhead sea turtle, was found emaciated and covered in barnacles near Lady's Island last summer. Forest, a young green sea turtle, appeared to have been attacked and injured by a shark and was found by a group of girls at Forest Beach on Hilton Head Island back in April. The two turtles were released on the Isle of Palms Thursday morning in an effort to help clear some space in the Sea Turtle Hospital's at-capacity facility.
Lady had cataracts removed, and according to the Post and Courier, "she still could see well enough to chase blue crabs around her tank at the aquarium" after her surgery. When she first arrived at the facility, Lady weighed only 90 pounds. Upon her release, however, she weighed a healthier 140 pounds.
According to SCDNR, during the past 10 years the average number of sea turtle standings on South Carolina beaches each year is 138. Of these, roughly 10 percent are alive and successfully transported to the Sea Turtle Hospital. To date, the South Carolina Aquarium has successfully rehabilitated and released 191 sea turtles and is currently treating 18 patients. The average cost for each patient's treatment is $35 per day with the average length of stay of nine months.