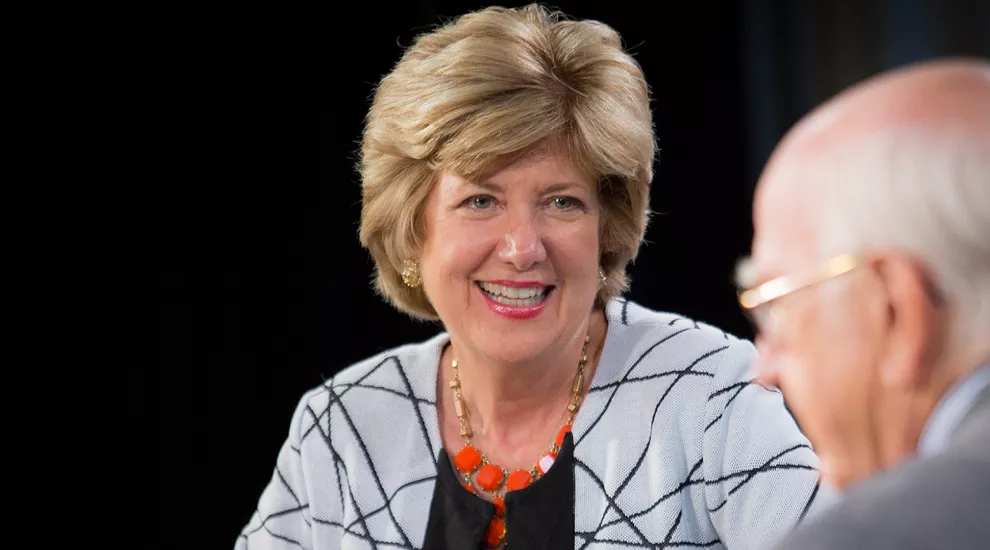 Linda O'Bryon, the president and CEO of South Carolina ETV and SC Public Radio, announced plans to step down next fall.  She advised the ETV Commission meeting Friday, Nov. 18 during its regular meeting. When O'Bryon steps down, she will have served as ETV CEO for seven years.
O'Bryon is a nationally recognized journalist and broadcaster; she is the founding executive editor of Nightly Business Report, a program she co-anchored daily for more than a decade, and a series that is still a mainstay on American Public Television. She started her career as a news reporter, and she has worked at all levels of broadcasting for 45 years, with 40 of those years in public media. 
"It has been my great honor to serve the citizens of South Carolina through heading up one of the nation's leading state networks," O'Bryon said.  "We have a terrific staff and Commission, and a strong base of donors through the ETV Endowment.  I am leaving at a time when ETV has re-ignited production of local and national programming with support from donors and underwriters.  At the same time, we have seen renewed support from the General Assembly to shore up an infrastructure that is a huge and important backbone for digital education in the schools, emergency communications and transparency.  I am very grateful for the support that makes SCETV one of the greatest examples of a public-private partnership in our state," she added.
Dr. Brent Nelsen, Chairman of the ETV Commission, said, "Linda O'Bryon came to ETV when the agency was most in need of the strong, steady leadership she immediately provided.  Over the last six years she has succeeded in making the organization a more nimble, entrepreneurial and customer-oriented organization.  Ms. O'Bryon has left a deep and lasting mark on ETV to the benefit of all South Carolinians."
Dr. Nelsen will appoint a committee made up of ETV Commissioners and ETV Endowment Board members to oversee a search process for a successor.  O'Bryon will help with the process to ensure a smooth transition. 
O'Bryon joined SCETV in 2010, and in that time the network has opened a new state-of-the art radio production facility, completed a major renovation of the ETV Telecommunications Center and has secured funding to shore up an infrastructure that includes 600 towers around the state. Under her leadership, the network has also launched a number of national and local program series/specials including the popular series on PBS, A Chef's Life, documentaries such as The Education of Harvey Gantt, A Seat at the Table, Woman on Paper, Raging Water, Reel South and the national town hall meeting, America After Charleston on PBS. During her tenure, SC Public Radio launched Song Travels with Michael Feinstein on NPR and expanded statewide news and public affairs coverage, with frequent reports coming out of South Carolina for national distribution on NPR. 
O'Bryon is founding executive editor of Nightly Business Report, which has been a mainstay on national public television for more than 35 years. She spearheaded the creation of NBR while serving as the news director for WPBT. As General Manager of NBR Enterprises in Miami, she orchestrated international co-production partnerships, managed editorial and business operations and developed digital and educational initiatives.
Before joining SCETV, O'Bryon was Chief Content Officer for KQED/San Francisco, where she oversaw Radio, TV, Interactive, Education Network, Technology and Engineering/Technology.
In 2009, O'Bryon received a national Lifetime Achievement Emmy Award in Business and Financial Reporting from the National Academy of Television Arts and Sciences. She has also received the Distinguished Achievement Award from the Society of American Business Editors and Writers and many other national and local awards. She is a fellow of the Midlands Diversity Leaders Initiative of the Riley Institute at Furman and currently serves as a board member for PBS, American Public Television (APT), the National Educational Telecommunications Association (NETA) and in the Midlands, the Central Carolina Community Foundation. 
Born and raised in Washington, D.C., O'Bryon graduated cum laude from the University of Miami with a major in communications and a minor in economics.