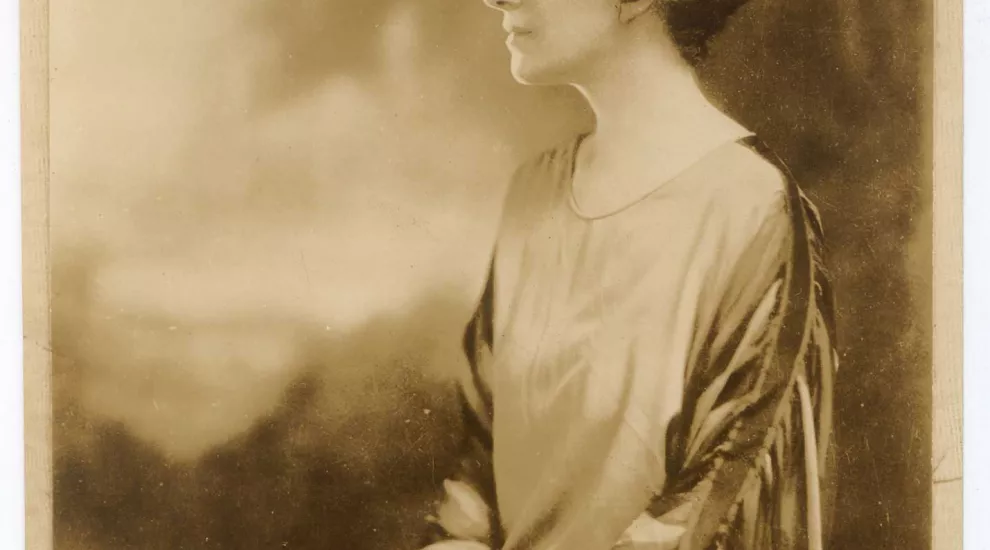 The controversial life of South Carolina author Julia Peterkin, the white wife of a plantation owner who won a 1929 Pulitzer Prize for her book, Scarlet Sister Mary, is the subject of the one-hour documentary, "The World of Julia Peterkin: Cheating the Stillness," which aired Thursday, February 18, 2016 at 8:00 p.m. on South Carolina ETV.
Produced, directed and written by Gayla Jamison, "The World of Julia Peterkin: Cheating the Stillness" tells the story of this remarkable woman who revolutionized American literature and rebelled against what was expected of a Southern lady.  Her story unfolds against the backdrop of twentieth century African American history – the era of Jim Crow, the Harlem Renaissance and the early achievements of the Civil Rights Movement – brought to life through dramatizations of her groundbreaking literature, haunting images of the South Carolina countryside, evocative archival photographs, and through interviews with writers, scholars and others who probe the paradoxes of this controversial woman.
Scarlet Sister Mary is the gritty tale of a fiercely independent single mother set in a South Carolina African American farming community.  The novel was a best seller at a time when American readers – white or black – weren't interested in rural African American life. 
So accurate was her portrayal, many who read the book wondered if its author was white or black.  According to African American scholar and activist W. E. B. DuBois, she was a Southern white woman with "the eye and the ear to see beauty and to know truth." 
At the turn of the twentieth century Julia Mood married William Peterkin and became mistress of Lang Syne, a cotton plantation located near Fort Motte, South Carolina, about 40 miles southeast of the state capital of Columbia.  The farm was home to 400 black workers, whose hardscrabble lives and African heritage Peterkin would later chronicle with a sensitivity and sympathy rare in the era of Jim Crow. 
It wasn't until the she reached the age of 40 that she began writing as a way "to cheat the stillness" of the countryside.  Her startling tales of struggling black families captivated American readers just as the Harlem Renaissance gained momentum. But with fame came a double life –the bold, witty, and much sought-after writer at New York cultural events, and the plantation mistress who many back home felt had betrayed her race, class and gender. 
She could not have both lives. She had to choose; and the choices she made tell much not just about her life, but what it meant to be black or white, male or female, in twentieth century America.
Interviewees include Susan Williams; Harlan Greene, writer and archivist of Julia Peterkin papers; A. J. Verdelle, writer; historians Margaret Washington, Theodore Rosengarten, and Sylviane Diouf; and Lang Syne descendant, Jackie Whitmore.
The film is presented nationally on public television by South Carolina ETV.
South Carolina ETV is the state's public educational broadcasting network.  Using television, radio and the web, ETV's mission is to enrich lives by educating children, informing and connecting citizens, celebrating our culture and environment and instilling the joy of learning.  ETV currently presents A Chef's Life, Expeditions, Reel South, and For Your Home on public television in addition to national radio productions Song Travels, Piano Jazz, Chamber Music from Spoleto Festival USA, and World of Opera.
ABOUT LIGHTFOOT FILMS, INC.
Lightfoot Films, Inc. is a non-profit corporation created for the production of social and cultural issue documentaries.  Recent productions include Lives for Sale, about sex trafficking, which was distributed to public television by NETA.
Gayla Jamison has more than twenty years' experience producing, directing and writing social and cultural issue documentaries filmed in 17 countries on five continents.  Her work has appeared on PBS, The Hallmark Channel, Turner Broadcasting, ABC, NBC, The Learning Channel, WGBH-TV, Univision, and Galavision.  Her documentaries have be recognized with a Gabriel Award and awards from festivals including the Chicago International Film Festival and USA Film Festival.