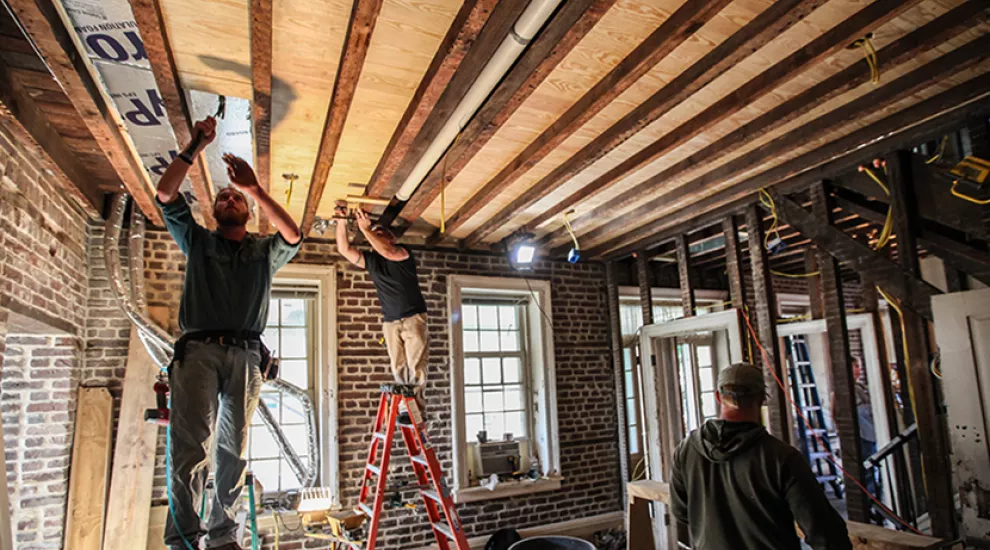 THIS OLD HOUSE®, the 18-time Emmy® Award-winning home improvement series, comes to Charleston for the second half of its 39th season with two different Charleston, South Carolina projects.  South Carolina ETV is adding a special nighttime broadcast just for the ten Charleston episodes, Thursdays at 8:00 p.m. beginning March 29 in addition to the show's regular Saturday times (9:00 a.m. and 5:30 p.m.)
The first Charleston project is a brick 1840s "single house" with a separate kitchen building. Located in the historic Ansonborough neighborhood, it will be home to Scott and Kathleen, and their two teenage kids.  It will require extensive renovations to capture its original beauty and to make it functional for a modern family.  Work will include renovation of wood floors, plaster and medallions; connecting the kitchen house to the main house; adding a dining room and living suite; and landscaping. 
The second project follows the transformation of a neglected vacation home into a full-time residence.  Situated in the Cannonborough/Elliotborough neighborhood, the house is a two-story 1890s "shotgun-style" home that has belonged to the same family for generations, but has not been lived in for 10 years.  Homeowner Judith hopes to make it her year-round home, together with her wife Julia. The couple plans to bring the 2,000-square-foot property back to its former glory by restoring such historic details as pocket doors, fireplaces, two front porches, and more.
 "Our team came back from Charleston just wowed by the amount of activity going on. The vitality, the care, the investment—those things are all evident," says senior producer John Tomlin. "A lot of fine properties have received a great deal of attention, but like any city of such historical prominence, there's a great deal more to do."
"We're excited to showcase Charleston nationally," said Anthony Padgett, President and CEO of South Carolina ETV.  "Preserving a house while modernizing it is a challenge many South Carolinians face.  The crew is exceptional, and we're pleased they will not only educate the casual viewer, but also local student apprentices."
The This Old House crew will be assisted by apprentices from Charleston's American College of the Building Arts (the only school in the U.S. that offers a bachelor's degree in traditional building trades) as part of the show's Generation NEXT initiative to encourage people to join the skilled trades.