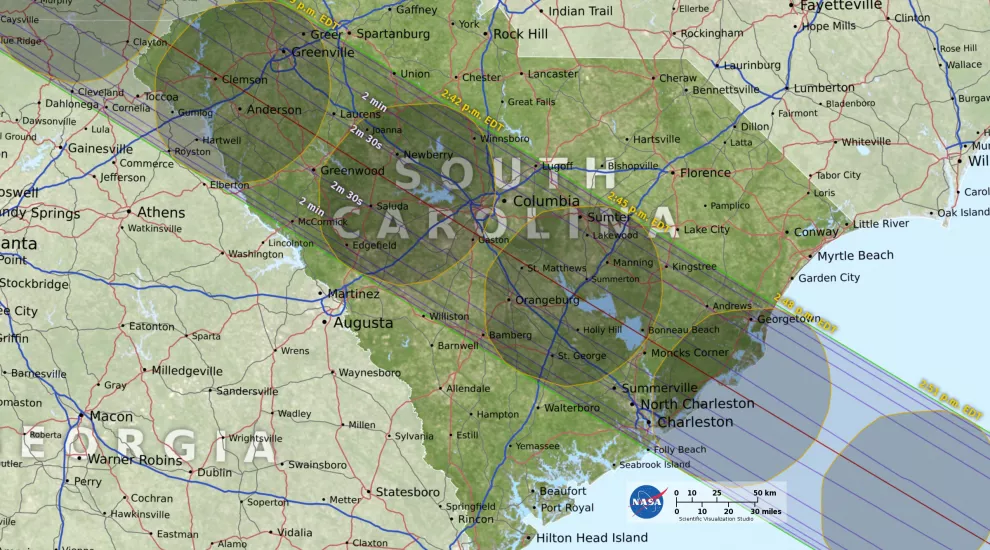 South Carolina is the prime location for a total solar eclipse crossing the U.S., coast-to-coast, for the first time since 1918. On August 21, 2017, the eclipse begins near Lincoln City, OR, at 1:15 p.m. Totality ends at 2:48 p.m. near Charleston, SC.
To find out the exact time of the start and end of the eclipse and totality for your specific area, use the following resource.
South Carolina ETV and South Carolina Public Radio Total Solar Eclipse Page
This resource includes many educational links and is updated frequently!  
ACCESS: 2017 Total Solar Eclipse
South Carolina ETV and South Carolina Public Radio will provide Solar Eclipse Coverage. Leading up to August 21, 2017, a series of multi-platform segments will prepare viewers and listeners for the total solar eclipse event. The August 21, 2017 eclipse is the first U.S. contiguous, coast-to-coast, total solar eclipse in nearly 100 years.
Pre-produced video segments include an interview with SCETV host Beryl Dakers and Astronaut Charles Duke about the 45th anniversary of his moon walk and the artifacts that are housed at the State Museum. The day of, SCETV is producing a multi-city live event for television and radio across the state, as well as feeding select segments to the producers of the PBS series NOVA, which is preparing a nationwide recap/special on the solar eclipse for that evening. We'll also simulcast live on radio and television, and stream live from the South Carolina State Museum from 2:30 – 3:30 p.m. The show will follow the "path of totality" for viewers and listeners throughout the state and beyond. The SCETV program will be re-broadcast that evening prior to the premiere of the new NOVA special. There will also be simultaneous screening events in Columbia and Charleston.
Check South Carolina ETV and South Carolina Public Radio broadcast schedules for air dates and times. Online stories and education resources can be found by following SCETV's Education Blog and South Carolina Public Radio.
Related Resources:
Solar Eclipse with Rudy Mancke - Monday, August 21, 2017 - 1:00pm to 3:30pm
Join McKissick Museum and USC's Naturalist-in-Residence for a glimpse into the science behind this historic event - Rain or Shine, Rudy will be discussing the solar eclipse prior to viewing it on the Historic Horseshoe. More details to come on the McKissick Museum website.