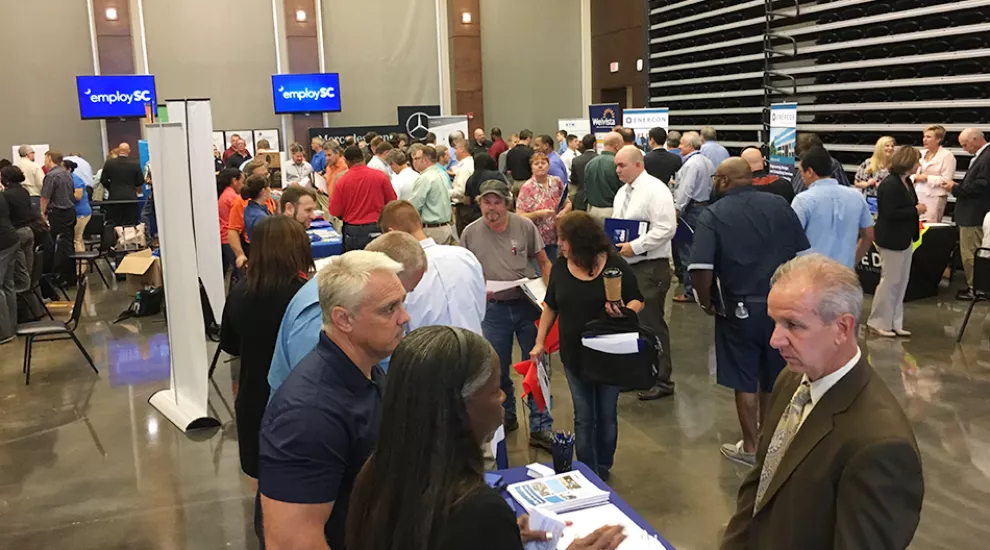 Hundreds of people attended a job fair in Chapin Monday, following the termination of the V.C. Summer nuclear project in late July.
Approximately 6,000 people were affected by the project closure, many of whom sought out job opportunities with state agencies and private companies, who jumped at the opportunity to provide help.
S.C. Department of Employment and Workforce director Cheryl Stanton said former V.C. Summer employees have skills that can translate into several of the 60,000 job openings in the state.
"Some of the things we need are some of the people impacted the most," Stanton said. "Contracting people, whether its welders, whether it's people who do basic maintenance, whether it's people who build. All of those are the jobs we're finding we need."
S.C. Department of Corrections was one state agency that was recruiting at the Center for Advanced Technical Studies in Chapin. The agency has managed to secure higher salaries and provide overtime for in-demand correctional officers, but there are other jobs available as well, director Bryan Stirling said.
"We've got positions everywhere," Sitrling said. "Again, facilities management, our correctional officers, you name it. Whatever happens in a city—a lot of people don't think of corrections as a city, but we're a small city with just under 20,000 inmates around the state."
The agency has around 800 openings for correctional officers and other positions. Stirling was optimistic that many who were laid off when SCE&G and Santee Cooper scrapped its plan to build new nuclear reactors at the power plant in Jenkinsville will be new employees--some as soon as Monday.
One applicant, Dawn Dalton, is moving forward with the process to become a correctional officer. She was laid off after working at the V.C. Summer plant and said job security with SCDC was attractive.
"I came out here today looking for work," Dalton said. "My experience was great. I'm going in tomorrow with the South Carolina Department of Corrections to start the hiring process. So I'm very satisfied and this helped a lot."
Another Employ SC job fair will take place at the Colonial Life Arena in Columbia on Wednesday from 9 a.m. to 5 p.m. More information can be found at EmploySC.com.