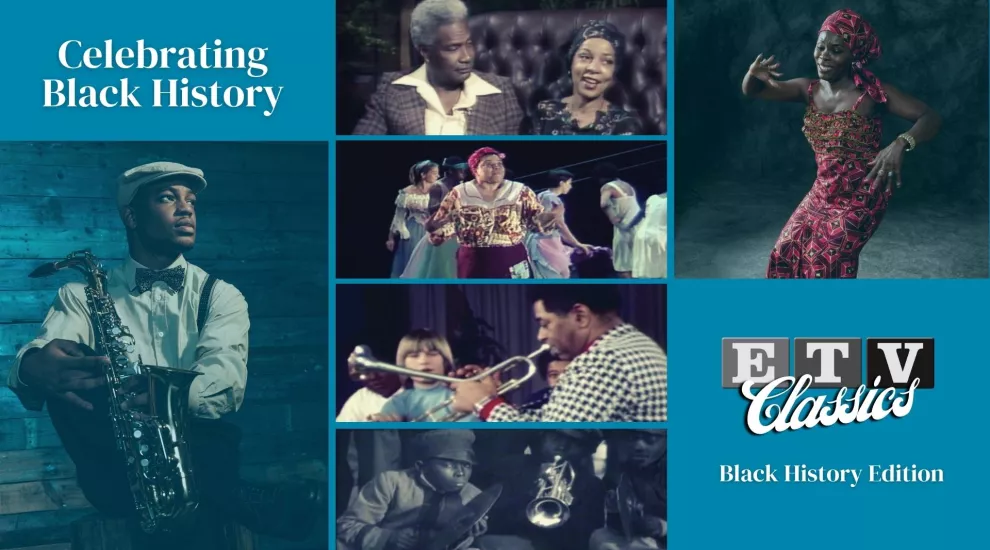 ETV Digital celebrates Black History Month with two of our digital series.  
ETV Classics – Season 2 
We're excited to kick off Black History Month with the premiere of ETV Classics: Season 2 on Tuesday, February 7, 2023. With a special focus on the Arts and History, check out this upcoming line-up. 
Tuesday, February 7, 2023
Art's The Thing! – Black History Month: Traditional Arts (1984) 
Hosted by Beryl Dakers, Art's The Thing! was a weekly magazine program featuring segments about the local South Carolina arts scene. In this special Black History Month episode, the focus is on Oral Traditions. The episode features the legendary acting couple, Ossie Davis and Ruby Dee.
Tuesday, February 14, 2023
Praise House: A Tradition (1991)  
This documentary dives deep into praise houses, what they meant to enslaved Africans and how the tradition has thrived through the years.
Tuesday, February 21, 2023 
Jenkins Orphanage Band (1995) 
The Jenkins Orphanage Band was organized in 1895 as a way to gain funds for the orphanage. It became the first and only Black instrumental group organized in South Carolina. 
Tuesday, February 28, 2023
For the People: Black History Month (1981) 
Legendary host Listervelt Middleton Interviews Lerone Bennett, Jr, a historian, Senior Editor of Ebony Magazine and author of several books, among them Black Power USA, and Before the Mayflower. Dr. Bennett shares his list of great moments in Black History. 
We also have a few EXTRAS that premiere on Fridays starting February 10.
What's coming up next? 
This season of ETV Classics continues in March with a focus on South Carolina female legends for Women's History Month.  Season 3 wraps up in April with a "Then and Now" comparative look back at some prominent places in our state including Historic Brattonsville, the South Carolina Statehouse, and more. 
Watch these classics online at https://www.scetv.org/watch/etvclassics.
Find content for the classroom on ETV Classics Classroom on KnowItAll.org. 
Carolina Snaps – Season 3 
Carolina Snaps returns for Season 3 on Thursday, February 2, 2023.
During this month, we will feature snaps of African Americans from South Carolina like S.C. Supreme Court Justice Ernest Finney, Jr., jazz legend Dizzy Gillespie, the original Catwoman Eartha Kitt, and many more.
This series is designed for audiences who love short, educational content. Enjoy new and past "snaps" at https://www.scetv.org/watch/carolina-snaps.
Educators may find resources for Carolina Snaps on KnowItAll.org.