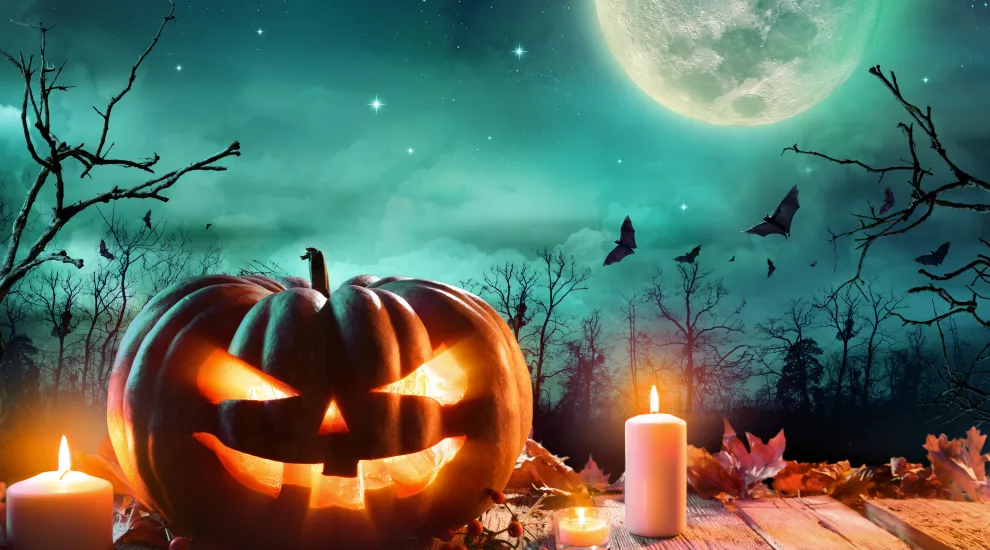 Halloween can be a fun and festive holiday for both children and adults. But it also can be a spooky time when one can have unexpected encounters with the supernatural, or paranormal. It seems that wherever one travels, each destination will have its fair share of folklore, local legends, or even ghosts. South Carolina is, of course, no exception. All throughout the state, local communities and towns have ghostly tales of their own to tell. If you would like to delve into some our state's supernatural mysteries this Halloween, then view our content on South Carolina Ghosts and Legends below!
A Spooky Good Time at Deceased Farms: During the Halloween season, Clinton Sease Farms in Lexington, SC transforms into Deceased Farms, a haunted attraction that is sure to get your spine tingling.
Bubba The Ghost: This is the story of Bubba the Ghost from the S.C. State Museum.
Alice Of The Hermitage: The story of Alice Flagg of Georgetown, who became very ill and died of malaria while in boarding school at the age of 15. Alice's fiance' had given her a diamond ring, but her brother disapproved and told her to give it back. But Alice placed the ring on a ribbon and wore it around her neck. While Alice was in a coma, her brother took the ring and threw it into the creek. Alice died in her home in Murrells Inlet and was laid to rest in the All Saints Waccamaw Episcopal Church Cemetery. It is believed that she is still searching for the ring. Her last name and dates do not appear on her gravestone because her brother wanted her to be forgotten.
The Lizard Man: First appeared in 1988, nine feet tall, with a head similar to a human head, and afraid of cars...it's Lizard Man.
The Legend of Becky Cotton: Becky Cotton was born around 1765 and married John Cotton around 1785. Becky's father was killed when three men burst into the house, but her husband did nothing to stop it. The legend has it that she waited for him to fall asleep and buried an axe into his skull. She was tried but was so beautiful and bewitching that the jury acquitted her. She married one of the jurors, but then was killed by her brother on the courthouse steps. The story goes on...
The History of Halloween: Costumes, candy, haunted houses, and ghost stories...everything we think of when it comes to Halloween, but it wasn't always this way. We take a look at how this spooky holiday has transformed over the centuries.
Drunken Jack, The Pirate: During the golden age of piracy, there came an afternoon on which a pirate ship sailed into Murrell's Inlet to bury a treasure they would imbibe in that very night. By late in the afternoon, the rum had been buried and the pirates had begun to build there bonfires. Many frolicked on until midnight. However, Jack had drunk his last, just before sundown, and was last seen crawling toward scrub oaks. When Jack awoke the next morning, the ship had gone and there he was alone. He dug up some of the rum and that became his sustenance. Two years later, the pirates returned and found bottles strewn up and down the seashore. Surely other pirates had come along...
Caught on Camera: Ghosts of the USS Yorktown at Patriot's Point: It's no secret that Charleston is one of South Carolina's most haunted cities. The SCETV production team decided to highlight a place with lots of claims of unexplained paranormal phenomena…the USS Yorktown at Patriots Point. The USS Yorktown has a long history dating back to World War II. The ship was a safe haven for her crew and now is a symbol of freedom and liberty.
South Carolina Ghost Stories: In this episode of Palmetto Scene, view ghost stories from around the state.
The Gray Man And Hurricanes: Plowden C.J. Weston went to England to be educated but returned to his beloved Pawleys Island, where he and his lovely English wife, Emily Esdaille Weston, built the Pelican Inn. He lived until almost the end of the Civil War, but died of tuberculosis in 1864. After his death, people began to see the Gray Man before every major hurricane. Could the figure in the gray greatcoat be that of Plowden C.J. Weston, who loved Pawleys Island more than anyone else?
Ghost of Zoe at Poogan's Porch: Poogan's Porch has been located on Queen Street in Charleston, S.C. since 1976. Zoe St. Amand and her sister, Elizabeth, were spinsters who lived together for more than 60 years, the last 20 of which were lived there on Queen Street. When Elizabeth died after a short illness, Zoe couldn't deal with it very well. She moved into a nursing home and died there in 1954, nine years after her sister's death. The new owners turned the house into a restaurant and many renovations were needed, which angered Zoe greatly. When the restaurant opened, Zoe was there, sometimes peering at people from around a corner, sometimes walking into the building like a customer. Being angry, she likes to startle people, and she sometimes pushes people. She can be seen haunting every floor, walking through the dining rooms, coming through the front door, and at the bar. Where might Zoe next be seen?
The Ghosts of Newberry: The legend of Madeline, the young woman who climbed the bell tower of Keller Hall at Newberry College, and while searching for her fiance', John, she slipped and fell to the ground with the bell tower rope wrapped around her neck, and was strangled. A local doctor said she died of a broken heart. Students at the college have told stories of seeing Madeline in a sheer, white dress.
In the cemetery in the mill town in Newberry on certain nights, the form of a young woman can be seen standing by the grave, sitting in the trees, or roaming the fields next to the cemetery. She is said to be waiting for her fiance to go to their wedding.
SCETV's In-Depth Look at the Folklore Surrounding "Alice" of the Hermitage: More than 150 years ago, the legend of Alice Flagg of the Hermitage began. This young lady from the banks of the inlet in Georgetown County has touched the lives of many, including the Chandler boys – who grew up sleeping in Alice's room. Variations to the history are plentiful, but there is evidence to prove…she did exist. South Carolina author and ghost tour guide, Elizabeth Robertson Huntsinger, takes SCETV viewers on a journey to the 1840s for a love story; and brings the folklore alive through research-driven storytelling and beautiful imagery. The Hermitage is now a private residence. However, if you're looking for a chance to encounter Alice, your best chances are at All Saints Cemetery in Pawleys Island, and along the banks of the marsh in Murrells Inlet, where the original Wachesaw Plantation once existed.
South Carolina Legend: The Ghost Hound of Goshen: According to Ernest Shealy, The Ghost Hound of Goshen or "Happy Dog" is not a nice spirit. But does this killer canine really exist or is it just a made-up mutt? Shealy, curator of the Newberry Museum, recounts the story of Union and Newberry counties' famous ghost dog. In this story, man's best friend holds a grudge against the townsfolk who killed his innocent master. Now he haunts a stretch of road deep in the Sumter National Forest. Some of the story seems to stray from the truth. "There are bits and pieces of the legend that don't make sense, if you stop and analyze them," says Shealy. Do you want to find out? Take a drive down Old Buncombe Road. Be warned...you may bite off more than you can chew. Maybe some mysteries are best left unsolved.
The Ghosts of Charleston's Old City Jail: Built in 1802 and operational until 1939, the Old Charleston Jail housed the city's most notorious criminals. Among those criminals, John and Lavinia Fisher and members of their gang were kept there until their execution in 1820. Among other famous prisoners, Denmark Vesey, accused of planning a slave revolt in 1822, Jaque Alexander Tardy, pirate, and Civil War POWs. In 2003, the tour company Bulldog Tours, founded by John LaVerne, started daytime and nighttime ghost tours through the building. It has been featured on multiple programs, including: Ghost Adventures, Ghost Hunters, and the Travel Channel. Bulldog Tours has contributed over $1 million to the restoration of the historical building. Many visitors have claimed to have experienced supernatural encounters. Would a tour through the Old City Jail at night be enough to make you a believer?
Pirate Captain's Buried Treasure: Folklore claims a pirate captain buried treasure at 37 Meeting Street in Charleston. There are three versions of the story. The captain later found one of his supposedly trusted crewmen attempting to dig up his treasure.  It is believed that the crewman remains to this day, still protecting this buried treasure.
Abbeville Ghosts: The Old Jail is Abbeville's oldest public building. The sheriff lived on the first floor, and prisoners were kept on the second and third floors, the worst of whom were kept on the third floor, which has high rafters, perfectly suited for hangings. A medium came to Abbeville and wanted to know about the ghosts there. Once he arrived on the third floor, he immediately went over and started a very animated conversation with an "inhabitant," who was very unhappy. His name was Earl Miller, and he was African American, 28 years old, and has been there since 1905. The story continues... 
Abbeville Tour Guide, David Eller, tells us of the first ghost to inhabit the Opera House, a construction worker who fell to his death from a 70-foot wall in 1908. He inhabits the backstage area and likes to bang pipes and make props disappear. The second ghost is that of a young lady from a New York touring company, who became ill and died during a performance there. She has a special seat in the third balcony, and a light is always left on for her, or bad things happen! There is a third story, that of a mother and daughter who were walking around the square, when the girl ran away. The mother ran after her, and came into the church, finding the girl talking very animatedly to nothing! The daughter then introduced her mother to Elizabeth, her new friend. Over the coming weeks, the mother was able to see Elizabeth, as well. They somehow helped Elizabeth to find a solution to her problem. Elizabeth told them that this had been her home for so long that she thought she would stay. Perhaps she is there to this day!
Aiken Ghosts: Find stories from the Old Post Office, Annie's Inn, and the cemetery at St. Thaddeus in Aiken, S.C.
Old Exchange Ghost: Old Exchange Building and Provost Dungeon, Charleston, S.C. Isaac Hayne was imprisoned there in 1781. He was a very popular businessman, well-off, whom they led through the streets of Charleston, by his sister's home, in shackles and chains on his way to the gallows. She asked that he please come back! He responded, "I will, if I can." It is thought that he visits her there, keeping the promise he made to her that day on the way to his execution. One more story is yet to come...
Have a safe, fun, and Happy Halloween!