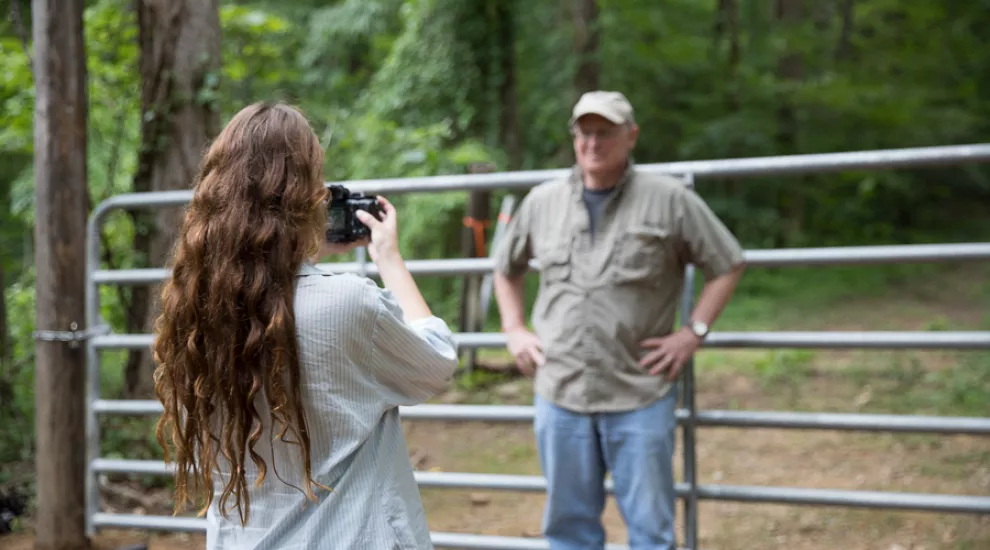 The past few days at ETV were full of new experiences. At the end of last week, I drove to Charleston with Aimee Crouch, Lynn Cornfoot, and Titus Davis to interview Michael Arad, architect of the World Trade Center memorial. Arad created a design plan for a memorial dedicated to the nine members of the Mother Emanuel AME church who were killed by white supremacist Dylann Roof in 2015. Prior to the interview, I researched Arad and drafted some questions to ask, some of which Aimee used! The design plan was unveiled on Sunday, and the renderings can be found here.
On Thursday, Rebecca Dymock and I traveled to the small town of Walhalla, South Carolina, to shoot footage for an upcoming "Our Town" episode. These digital shorts are posted online at scetv.org, under the "digital" tab. Walhalla is about three hours away, in the top left corner of the state, and is also the official end of the Palmetto Trail.
Once in Walhalla, we interviewed the mayor and three other community members. It was incredibly heartwarming to hear people speak with so much affection for the town they lived in. After the interviews, Walhalla native Dan Pollock, a county magistrate, gave us a tour of Stumphouse Tunnel Park and Issaqueena Falls. He even showed us a newly constructed entrance to a series of mountain bike trails that he hopes will serve as a new tourist destination.
Walhalla was our first "solo" shoot, and it was both exciting and nerve-wracking to do a shoot on our own. The experience is one I'll never forget, and I'm looking forward to seeing the story come alive in the next week.